Rachel & Brett's "Resourcefully Chic" Family Home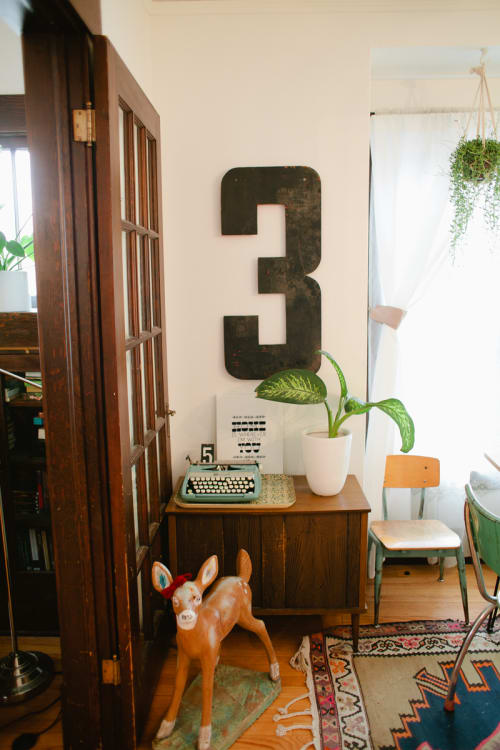 Name:
The Denbow Family:
Rachel
, Brett, Sebastian, and Ruby.
Location: Colorado Springs, Colorado
Size: 1,300 square feet
Years Lived In: 14 months
In the heart of downtown Colorado Springs sits a quaint, colorful house filled with laughter and the pitter patter of playful feet. It's the bustling Denbow home of four, headed up by crafty momma blogger Rachel Denbow, of Smile and Wave and Red Velvet Art. Upon arrival at the Denbow abode, I am greeted at the door by young Sebastian. "Izzy drink?!" he asks with excitement. "I cleaned my room!" "Can I show you my room now?!", chimes in little Ruby without missing a beat. I'm quickly ushered into the main living space by the two cuties, and am not at all surprised to find a home that so perfectly reflects the warmth and energy that just greeted me at the door.
In addition to raising a couple of really great kids with husband Brett, Rachel also runs a fantastic blog where she chronicles her life as a busy creative and stay at home mom. It's full of decor tips, crafty DIY projects, wardrobe styling ideas, and fun "before and after" furniture transformations. It's no surprise that her home and family are a direct reflection of her artful way of life.

With an incredible eye for hidden potential, Rachel has become the Craigslist treasure hunting maven and guru of all things DIY in the Denbow house. Each room in the light-filled home is defined by pieces she thoughtfully thrifted, repurposed, or created herself. Rachel and Brett attribute their collection of colorfully curated items to years spent decorating rentals during their time in the Midwest, where vintage home decor is still pretty inexpensive and abundant. Armed with tips from their favorite design blogs, they were able to gather items they loved even on a tight budget. I'm not at all surprised to now find Rachel handing out decor tips of her own.
Apartment Therapy Survey:
My Style: Can we call it Resourceful Chic? I would say 90% of the decor in
our home has been purchased second-hand through Craigslist, flea
markets, garage sales, or found on the side of the road. We also have a
lot of Etsy art, a few accessories from IKEA, and items I've made myself to
fill in the gaps. I think our general style started out Mid-Century and is
starting to incorporate more natural elements such as waxed wood,
vintage kilims, brass and copper accents, etc.
Inspiration: I'm regularly inspired by homes with a strong style that don't
seem forced. I appreciate that it takes a while to gather the things you
need to make your space both work for your needs and also be
aesthetically pleasing. I'm also truly inspired by the resourcefulness of
the 'Make Do and Mend' generation. It's taught me to look for the
potential in items when I'm thrifting in order to create interesting pieces
for our home. My bedroom end table used to be a plant stand!
Favorite Element: We have so many windows throughout our home and
even a skylight in the kitchen, so the natural light that streams in
throughout the day is kind of our home's best feature.
Biggest Challenge: The living room is long and narrow, with so many
windows, doors, and entry points that it made decorating with our preexisting furniture a little tricky. I've think I've finally landed on an arrangement that works for our family.
What Friends Say: Does your husband really let you have that much pink
in your bedroom?
Biggest Embarrassment: Our tiny mud room/laundry room/dog bed room
is right at the back of the house and is always a mess of piles and
baskets and dirty boots. There's no door to shut to hide the mess when
people enter through the back (which our neighbors and friends all do),
and I always cringe as they walk past.
Proudest DIY: I built our platform bed while my husband was away with work, and with the help of a very curious three-year-old. I had been searching for my dream bed for weeks after seeing something on Pinterest with a bad link and then decided I'd just try and make something similar myself. The fact that it's still intact six months later means it was a great success!
Biggest Indulgence: We haven't spent a ton on any one thing in our home.
Our backyard lawn however... let's just say I was determined to have
grass !
Best Advice: Learn how to spackle a hole. Renters shouldn't have to miss
out on the joys of a gallery wall.
Dream Sources: A market in Turkey and free shipping on any rugs I wanted to bring home. Also, Thrive Furniture.
Resources of Note:
ENTRY
Day bed and linens: Thrifted

Industrial Bench: Handmade by me

Curtains: Handmade by meRug: Garage Sale
Hairpin leg plant table: Thrifted
Dresser: Thrifted
LIVING ROOM
All of the vintage furniture: Thrifted
Piano: Thrifted and Painted
Poppy Art: Vol25.etsy.com
Framed Polaroid Prints: Andrea Jenkins of GirlHula.etsy.com
Framed Love Print: Gingiber.com
Enlarged Family Photo: Blueprint Copy at Kinko's
Mint lamp: Thrifted and painted
B&W Rug, Sheep Skins, B&W Pillow, and Floor Lamp: IKEA
Floral Pillows: Handmade by me
Curtains: Belong to Home owner
Light Fixture: Original to House
DINING ROOM
White Wardrobe, Desk, Record Tables: Thrifted
Dining Room Table: Handmade by me
Kilim Rug: Thrifted
B&W Woven Rug: Handmade by me
School Map: AustinModern.etsy.com
Thanks, Rachel, Brett, Sebastian, and Ruby!
(Images: Kathryn Bacalis)
• HOUSE TOUR ARCHIVE: Check out past house tours here.
• Interested in sharing your home with Apartment Therapy? Contact the editors through our House Tour Submission Form.
• Are you a designer/architect/decorator interested in sharing a residential project with Apartment Therapy readers? Contact the editors through our Professional Submission Form.
Apartment Therapy supports our readers with carefully chosen product recommendations to improve life at home. You support us through our independently chosen links, many of which earn us a commission.