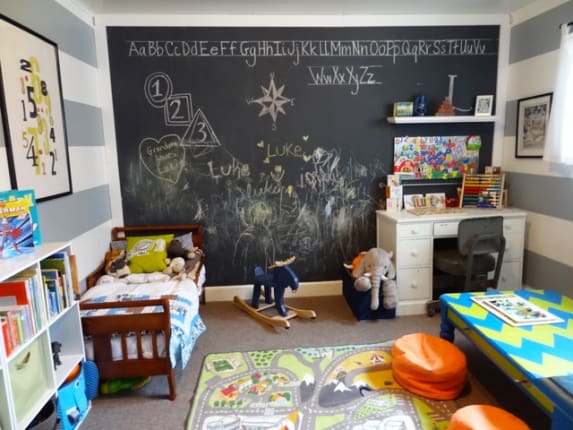 Name: Luke
Location: Chinook, Washington
The bland room we inherited when we bought our home was in no way reminiscent of our little boy with his big personality. When he transitioned from his crib to his toddler bed, the bed wasn't the only thing that got an update. His room got an entire DIY overhaul with a bold and bright color scheme, some added activity stations and a few clever storage solutions.

I painted three of the walls with contrasting bright white and bluish-gray stripes. The fourth wall was painted entirely with homemade chalkboard paint. Posters from local events like the longboard surfing competition and local concerts in addition to the Octopus Triptych I painted adorn the walls.

The vintage dresser, which was his Grandma's, got an update with Behr's Glacier Lake. An old coffee table leftover from my college days got transformed into an activity table with an IKEA Bygel rail mounted along the side to hold art supplies, a paper roll holder mounted on one end, and a fun chevron pattern in Behr's Glacier Lake and Behr's Rolling Hills. To keep magnets off the fridge and from falling on the kitchen floor, I mounted a magnetic board from IKEA above his desk and another IKEA Bygel rail below to hold art supplies and chalk. The multitude of fabric bins hold his growing collection of toys keeping the clutter out of sight.
Thanks, Meg! Readers, to see more of Meg visit her blog - Revamp Homegoods.
(Images: Meg/Revamp Homegoods)