How Do I Choose the Right Countertop Materials For My Cabinets?
Welcome to Wilsonart Wednesday! We've teamed up with the kitchen experts at Wilsonart to answer our readers' questions about kitchen renovation. We'll be posting the answers on Wilsonart Wednesdays all summer long, so ask your questions here and check back in for the answers!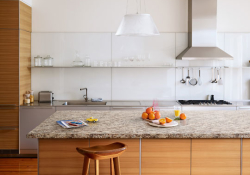 Q:
When replacing countertops, how do you make sure you pick the right materials for the cabinets you already have? Example: Friends of ours ordered new countertops and the guy who came to install them informed them that their existing cabinets would not hold the weight of the countertop and so they ended up with much higher expense for their renovation than they ever anticipated. I don't want that to happen to us!
- Paula C.
A: That's where reading up and consulting reliable experts before you start really helps. There are a lot of variables – and potential disasters – that the experts can steer you clear of.
If you suspect your cabinets aren't up to a heavyweight countertop, you should consult an expert before going too far along the process of selecting materials. You'll probably want to steer clear of marbles and granites in favor of lighter materials.
(Or, our friends at Wilsonart add, you can always choose laminate countertops which are light-weight, easy to install and are never too heavy for any cabinets!)

(Image: Wilsonart)