Classic Glam Nursery: Under $300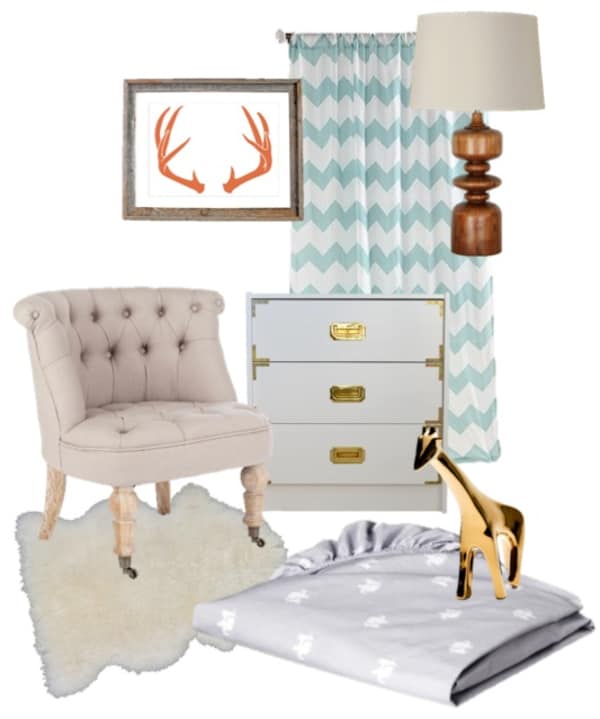 We've collated some of the best classic glam nurseries, and given instructions on how to make your own, but if that's not enough classic glam for you, how about classic glam on a budget? Here's a nursery you can put together for under $300 with a little thrifting and a little DIY.
Clockwise from top left:
Antler Silhouette Screenprint by Monorail on Etsy: $20.00
Zig Zag Curtain from Urban Outfitters: $34.00
Room Essentials Lampshade in Antique White from Target: $15.79
Faux Wood Resin Table Lamp from Target: $19.98
DIY Campaign Chest Hack using the IKEA RAST dresser. This one is by Good Brown Gravy. Estimated total cost: $75.00
Golden Menagerie Curio from Leif: $33.00
Elephant Crib Sheet from Target: $9.99
RENS Sheepskin from IKEA: $29.99
Total before the chair: $237.75
Okay, so we are going over with the chair. However, what about hunting one down second-hand for around $60? I have seen plenty of great, button tufted vintage chairs for that price from thrift stores and listed online. But if you absolutely must break the budget:
Safavieh Somerset Pull-up Chair from Overstock: $251.99
All you need to add now is a crib (anything white, grey or wood would go fine) and your beautiful, classic glam baby!
(Images: as linked above)