10 Under $50: 10 Inexpensive Items that I Use (and Love!) Everyday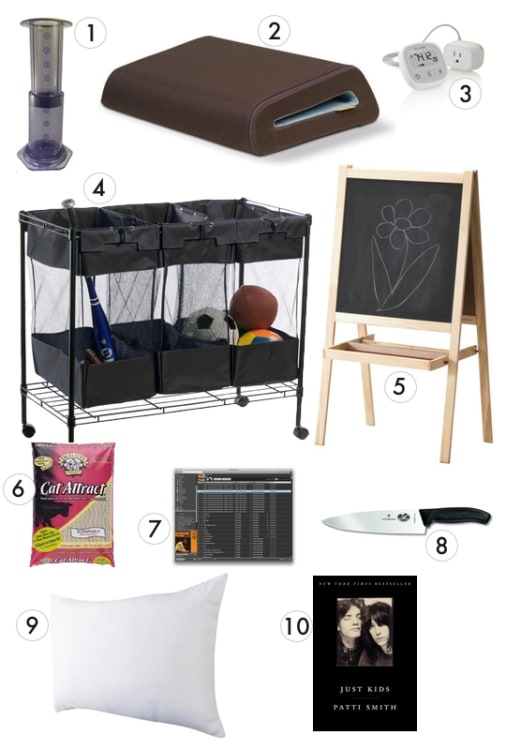 Maybe it's getting older and experiencing life's unexpected ebbs and flows, but I've really come to appreciate the niceties of home; a rich cup of coffee every morning, great music when I'm cooking, a soft pillow to rest my head. And it's a crew of inexpensive tools and items, the little workhorses, that really make a world of difference.
This list is random as all get out (and ranges from the sublime to the ridiculous), but the common thread is that they each perform their job beautifully, they are all relatively inexpensive, and I'm grateful to have discovered every one of them.
What are your daily workhorses? A perfect pan? Tea pot? A favorite house plant? Pet accessory? Feel free to add some of your favorite items in the comments below. Hopefully we can learn from each other and add some new finds to our repertoire.
1. Aerobie AeroPress Coffee and Espresso Maker ($26 on Amazon). French press, Chemex, Bialetti Moka, I still like you guys a lot, I do, but the AeroPress is now my love for daily morning coffee. Designed for single brew use, it's fast, very easy to use and clean, portable, and all those rumored caramel, cherry, and bourbon notes? They really come through using this extraction process. If you are into coffee, I cannot recommend this enough. PS: A long time ago I saw on an episode of America's Test Kitchen (PBS) that no matter how expensive an automatic coffee maker is, it won't deliver the best cup of coffee, which had been my experience as well. The expense is due to unnecessary bells and whistles. It just goes to show that higher cost does not always equal a better product.
2. Belkin CushTop Laptop Cushion ($14 on Amazon). My laptop is my primary work computer, so I use it (and this cushion) every day if I'm not working at a desk. The cushion allows for added wrist comfort and protects my lap from the heat of the computer. I've had my cushion for over five years and it's still in perfect condition.
3. Belkin Conserve Energy Use Monitor ($28 on Amazon). Last year I made a vow to become more mindful about spending and consumption, which includes energy consumption. This wasn't the most exciting purchase ever, but it's been really useful in terms of gauging how much energy our appliances and electronics are using and how much we're spending as a result. Knowledge = power and saving power = lower electric bills.
4. Heavy Duty Triple Storage Bin ($49 at The Container Store). Forget the sports equipment they show in the picture and use this bad boy for laundry. I was stuck in an over-crowded hamper rut until I discovered the HDTSB. Why did I write that like the name of a boy band? Anyway, here's the lowdown: It's large enough for lots of laundry but small enough to store out of sight and the mesh bags allow for easy sorting. For a family of four living in a multi-unit building with a shared laundry room, this is a much better solution than multiple hampers.
5. MALA Easel ($14.99 from IKEA). I had been checking out easels for my kids, ages 2 and 5, when I happened upon this very inexpensive black board/white board easel at IKEA. I was surprised at the low cost and was sure it wouldn't last long. Not the case! We've had ours for over a year and it's proven to be sturdy and still looks and works great. We have it set up in our sunroom and both my son and daughter use it every single day. It's been a great addition to our home. It's like instant access to joy for my kids.
6. Dr. Elsey's Precious Cat Cat Attract Problem Cat Training Litter ($31.99 for a 40 pound bag on Amazon). Ok guys, things are about to get real. This is a little embarrassing to discuss but it's for a good cause, to introduce you to this bag of magic. The back story: Our middle-aged, neutered cat Augie... was peeing on our shoes. And a cat peeing on your shoes will really take the pep out of your step, both literally and metaphorically speaking. We got hip to his game and started hiding our shoes out of the line of fire, but then he started peeing on the floor near the shoes, and it only got worse from there. After trying lots of solutions, a couple trips to the vet and hundreds of dollars, his diagnosis? Anxiety. Anxiety had prompted his "inappropriate peeing". So what to do with an anxiously peeing cat? Talk therapy? Meditation? The vet said cat pheromones. We spent a lot of money on pheromones...sprays, collars, diffusers. All of which made Augie high as a kite (well bully for him!) but he was still peeing on the floor. If you've ever had a pet with elimination problems, you know what a toll it takes, which is why I'm SO happy I discovered this cat litter. I never thought I'd be excited about litter, but this stuff is magical. I don't know what Dr. Elsey's cooking up in there, but I bought my first bag out of desperation a few months ago and Augie hasn't peed outside of the box once in the last five months. Life at home is endlessly nicer sans cat pee. If you have a cat with litter box issues, try this litter. And now for something completely different...
7. Spotify (Free to $10/month depending on subscription) and iTunes Radio (Free). I love having music on while I'm cooking, cleaning, writing, you name it, so it's nice to be able to stream music throughout the house using a computer, tablet, or my phone. As someone who used to spend hours and hours making mixtapes and CDs (back in ye olden days when we did such things), I like the "Playlist" function on Spotify, which allows you to create a virtual mixtape, while iTunes Radio is cool for discovering new music. I still buy vinyl because I love the experience of playing records and record shopping, but most of my cds I now stream through a virtual library.
8. Victorinox 8" Classic Chef's Knife ($30 on Amazon). I first found out about this knife on the Kitchn, and it's become my favorite kitchen knife. I use it every day and it's still in great shape. In her Kitchn post, Faith perfectly sums up why it's such a gem: lighter weight, perfect for both fine chopping and heavy-duty jobs, and very reasonably priced. I remember my dad talking about the importance of having good knives, and he's right. A good, sharp knife that slices and dices beautifully makes cooking more enjoyable, and once you get into cooking it becomes a really pleasurable part of life at home.
9. Room Essentials Plush Pillow ($4 at Target). That's not a typo: this extra-soft hypo-allergenic pillow is really only $4, and it's my favorite pillow by a long shot. I impulse bought one awhile back because my pricey, extra-firm pillow was causing me to wake up with neck pain. This little number, on the other hand, has been a dream. I don't know why, except apparently I respond well to marshmallow soft pillows. Pillows are one of those very specific purchases, like pants, so I wouldn't necessarily recommend this pillow as a good fit for everyone, but it's a nice example of how sometimes $4 is all you really need to spend.
10. Books! Like Just Kids by Patti Smith ($12 on Amazon). I feel like I saved the best for last. Growing up, I stumbled into some pretty profound books that made a big impact on me simply by grabbing a random book off a shelf at my parents' house. I want to keep that possibility alive, so I still buy books and keep them around, not squirreled away but out in the open. Just Kids is an example of a book I bought a few years ago because it appealed to me. I started it a few times but didn't get very far. I kept it on my bedside table and for some reason I reached for it again a few months ago. This time I couldn't put it down and I haven't been able to forget it. I'm so glad I bought this book and kept it out, just in case. I believe the right book finds you at the right time and you carry it with you forever. For that reason alone, I'll keep on buying books (and checking them out of the library); they're both inexpensive and priceless. It doesn't get much better than that.
Apartment Therapy supports our readers with carefully chosen product recommendations to improve life at home. You support us through our independently chosen links, many of which earn us a commission.