Win: A Clean Start To 2017 with a BISSELL CrossWave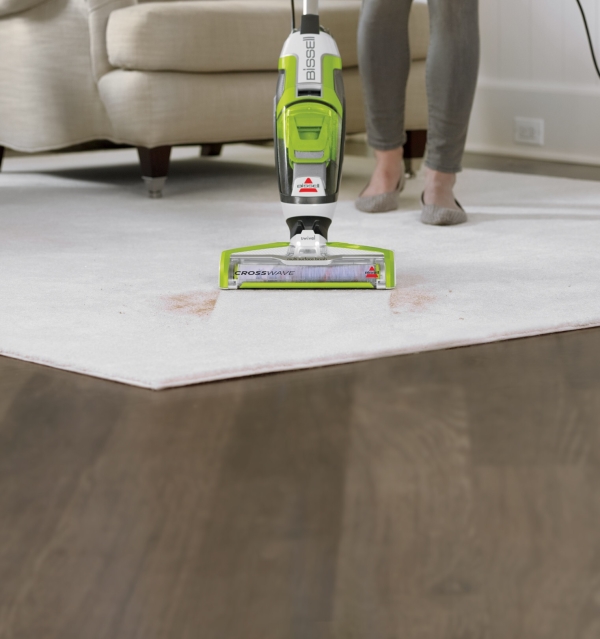 (Image credit: BISSELL)
Prize: One CrossWave All-In-One Multi-Surface Cleaner
From: Bissell
Value: $249.99
Maybe 2016 turned out to be a messy year. But hey, there's a brand new one right around the corner! Bissell is helping to kick it off with a clean start by giving two readers a CrossWave All-In-One Multi-Surface Cleaner. It's basically a combined vacuum and mop that lets you deep clean all your floors (and rugs) in one quick swoosh. Bissell is giving one each to two Apartment Therapy readers, so you can host that wild NYE party with abandon knowing your first deep clean of 2017 will be a breeze.
Two-step floor cleaning is sooo 2016. You're going to be very busy owning 2017, and that doesn't leave much time — or space — for brooms, dustpans, mops, and dirty water buckets. The Bissell CrossWave vacuums and cleans in one compact and surprisingly maneuverable machine. Here it is in action...
And here's how it works: A dual-action brush roll sweeps and scrubs at the same time, so you can power through dry messes and then mop instantly after. Fresh multi-surface cleaning solution is dispensed from one of two tanks, and then the powerful vacuum sucks everything back up into another for easy clean-up. The tanks are separate, so you're not pushing around dirty water like you do with an old-school mop.
The CrossWave also gets big points for maneuverability and versatility. A slim profile and swivel steering make it as easy as a small vacuum to use. That same design makes it a smart idea for apartment dwellers who are short on space. Meanwhile, fingertip controls let you toggle between hard floor and area rug settings without pausing a burst of housekeeping energy. Which, depending on how epic that New Year's Eve bash was, is of do-or-die importance for a clean New Year's Day.
How to Enter
Enter to win a CrossWave All-In-One Multi-Surface Cleaner from Bissell by filling out the form below. (Comments are great, but you must complete the form below to enter!) The sweepstakes begins December 19, 2016 at 10:15am ET and ends December 26, 2016 at 11:59pm. By entering to win, you are accepting the official rules.
This post is sponsored by Bissell.
Thank you for supporting the brands that make Apartment Therapy possible.