An Abandoned Florida House Turned Modern Dream Home
Name: Isabel Serna and Juan Franky
Location: Hollywood, Florida
Size: 1600 square feet
Years lived in: 2 years, owned
Isabel and Juan share this Florida home with a cute Frenchie dog named Charlie (who, as you'll be able to tell from the photos, is very much the king of the house). Because both of them are close to their families but live far away from them, being able to have a comfortable, big home for visiting loved ones was vital, as was creating a home that was fun and beautiful to entertain their friends or "just to drink wine and listen to music and be weird by ourselves." And though the home meets all of those aesthetic requirements (and more) today, when this couple bought this townhouse two years ago, it did not look like this at all.
Isabel writes: "I'm an industrial designer and I run my stationery, product and pattern design company Black Lamb Studio from my home office. I love creating patterns to be used in home goods and stationery, and my home has definitely been an inspiring place. My husband is a sound engineer and business and marketing manager. We love traveling which has been an amazing source of inspiration and also we have filled the house with cute souvenirs from our travels.
The house had been abandoned for 2 years when we first came to see it, and even though there were piles of trash, and roaches that belonged in Jurassic Park, I immediately fell in love with it. This neighborhood has the most amazing oak trees you've seen in your life, and although it's very close to everything, it feels very secluded and quiet. It's not common to find a home like this in South Florida; the architecture is very special and my designer eyes just light up with all the potential this house had.
The first thing you notice when you come in are the high wooden ceilings and this is my favorite feature of the house. I also love how bright and open it is. Believe it or not, there was a wall dividing the kitchen and the dining area which was the first thing we got rid of when we started remodeling. It's been 2 years of non-stop construction, and more set backs and frustrations than I could possibly share. But, the satisfaction of seeing this abandoned house turned into our dream home little by little has been a source of great pride and accomplishment for us."
Apartment Therapy Survey:
Our Style: Industrial, Mid Century, Rustic, Modern
Inspiration: Urban Lofts, Scandinavian Design, California Eclectic Design.
Favorite Element: High Wooden Ceilings
Biggest Challenge: Living in the house through two years of renovations
What Friends Say: Looks like a page from a magazine!
Biggest Embarrassment: Re-doing the floors three times until it was finally right
Proudest DIY: Coffee Cart
Biggest Indulgence: Living room rattan chairs we bought in Holland
Best Advice: Be patient and try not to buy a lot of things at once, the house will ask for what it needs. Also, no matter what you set out to do, it will probably cost double and take double the time.
Dream Sources: Restoration Hardware, Living and Co, West Elm, Thrift Stores
---
Explore This Style: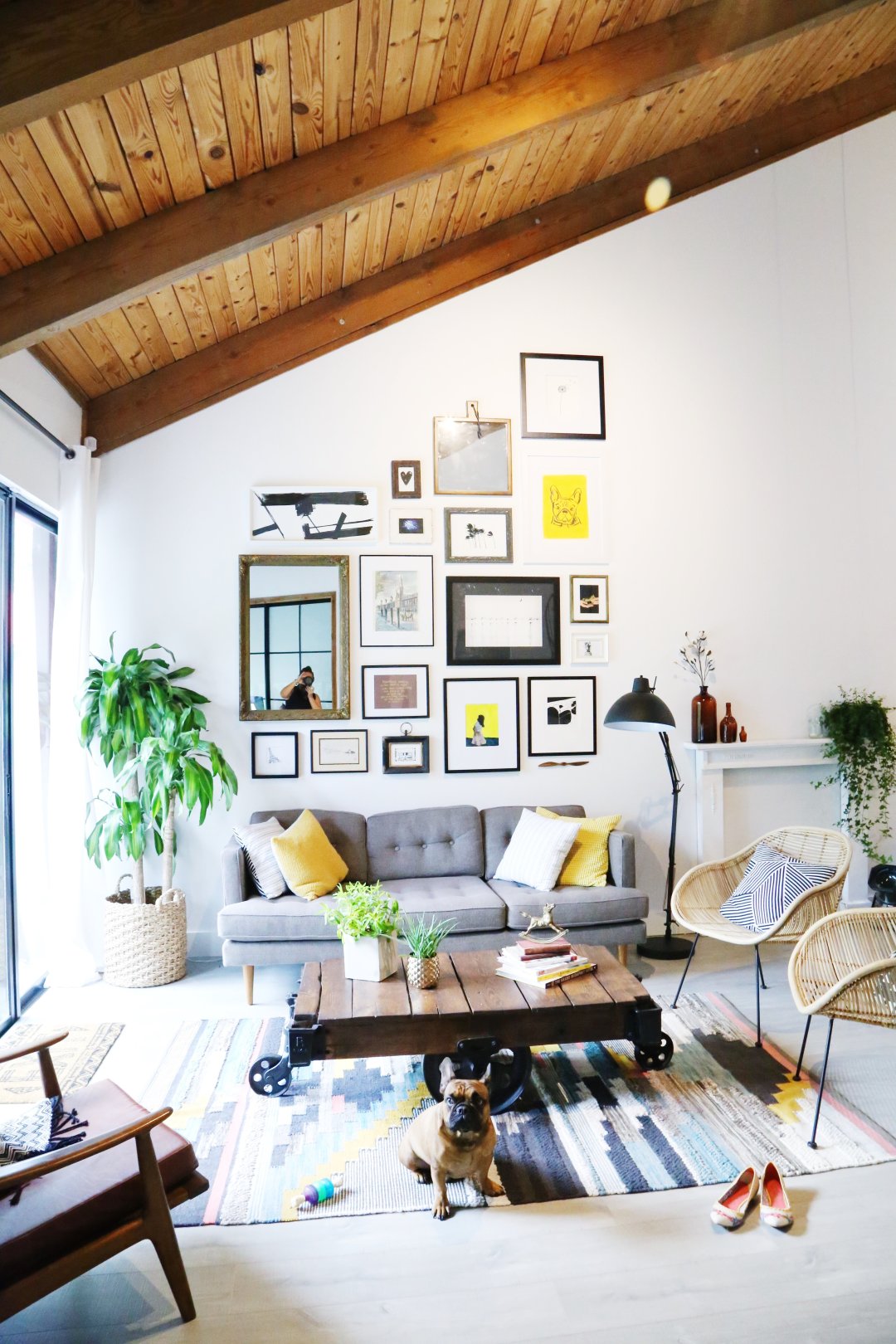 ---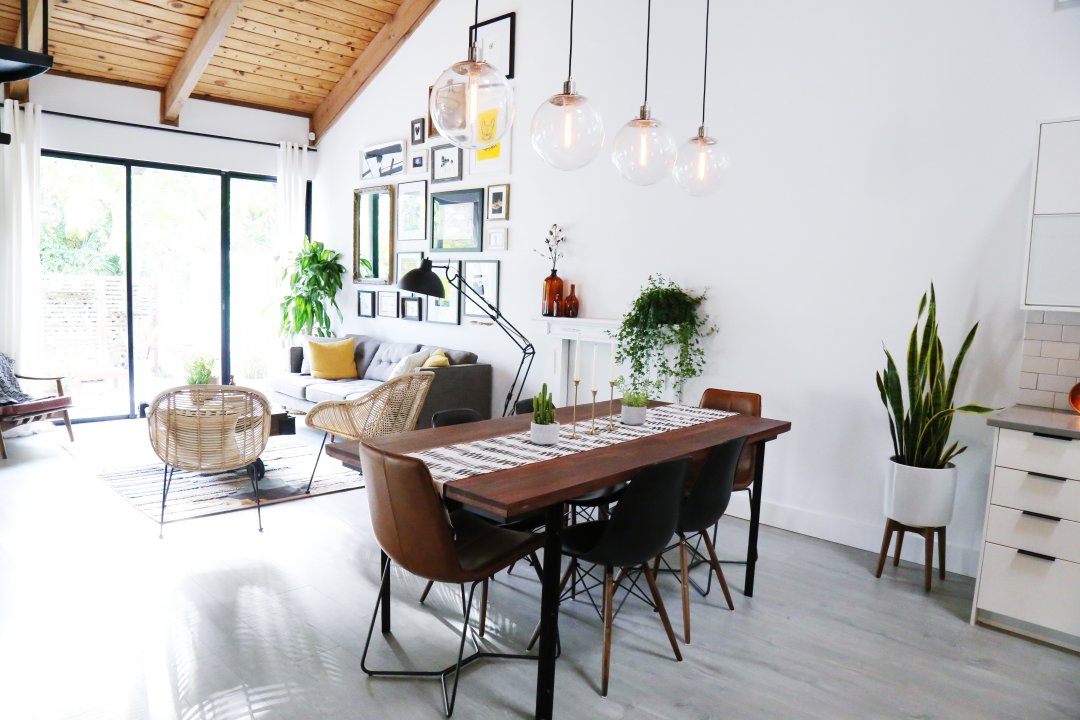 ---
---
More Resources:
PAINT & COLORS
Bejamin Moore - Decorator's White
Lindseed Oil to make wood richer

ENTRY
Entry hangers - CB2
Console Table - DIY Ikea hack, Handles - Etsy, Hairpin legs - Antique store

LIVING ROOM
Couch - West Elm
Rattan Chairs - Living and Co
Leather Chair - Vintage thrifted and reupholstered
Coffee Cart - Thrifted and restored
Rug - West Elm
Lamp - Target
Mantel - Thrifted and restored
Hanging planter - CB2

DINING ROOM
Table - West Elm
Eames Chairs - Amazon
Leather Chairs - West Elm
Lamps - West Elm

KITCHEN
Cabinets - Ikea
Black handles - Amazon
Appliances - Samsung
Decorative Scale - Thrifted
EAT lights - Thrifted

BEDROOM
Bed - Coleman Furniture
Night Tables - Target
TV console - Nadeau Furniture
Wall lamps - CB2
Hanging Light - Ikea
Chair - Thrifted

GUEST BATHROOM
Vanity - Thrifted and restored
Lamp - Cedar & Moss
Shelves - Ikea
Brackets - West Elm
Mirror - Home Goods

MASTER BATHROOM
Vanity - Ikea
Lamps - Amazon
Mirrors - Pottery Barn

UPSTAIRS LOFT
Bar Cart - West Elm
Rug - Brought from a trip to Marrakech

STUDIO
Desk - Ikea Rug - Bought in Colombia

Thanks, Isabel and Juan!
---