A Bright Organic Modern Apartment in Chicago's Logan Square
Name: Joe and Kim Klomes, plus their cats Laszlo & Eames
Location: Logan Square — Chicago, Illinois
Size: 690 square feet
Years lived in: Rented 8 months
Kim and Joe's Chicago apartment is inspiring for many reasons, but most importantly, it shows both their personalities and illustrates the true potential of patience and collaboration when decorating a home. They've filled their home with things that represent their individual and collective tastes, such as Joe's collection of Jacob Bannon posters or the large silkscreen collage from their wedding that reminds them of the special day. Every nook is filled with things they love, just as the couple intends their home to be.
Though their bright apartment is nothing short of inspiring, Joe and Kim say that it took a lot of patience to decorate their home, and even then, they are constantly moving things around to suit their style and mood. "We love projects and coming up with new ways to make our space look and feel great," they say. "[Even though we are renting], that doesn't mean a little paint and a couple holes in the walls won't help to make it the way we want it for the time that we are here."
Apartment Therapy Survey:
Our Style: Organic modern. We dabble in Scandinavian and Swiss design, while also using raw and industrial elements in our place.
Inspiration: Very clean, minimally looking but visually pleasing spaces. We like everything to have a home in our apartment without looking too staged.
Favorite Element: The evening sun coming in the kitchen window as we are cooking and eating dinner.
Biggest Challenge: The fact that we are renting makes it harder to make the place truly our own.
Biggest Embarrassment: The biggest embarrassments in our place are the things we have no control of: the floors, kitchen cabinets, certain fixtures, etc. If we had our say, the floors would be darker and the cabinets would be replaced with open, white shelving.
Proudest DIY: Joe's plant chandelier. He had the idea and ran with it using repurposed items we had around the apartment.
Biggest Indulgence: The Luxi king-sized bed. We both have never owned a brand new bed before, so we figured it was time to upgrade to a king to fit everyone (cats included) and get the softness of sleeping on a cloud that we dreamed of ever since we honeymooned in Copenhagen.
Best Advice: Slow and steady wins the race. We are constantly changing up certain elements in a room to fit our style and mood at that moment and time.
Dream Sources: Hay, Bolia, Illums Bolighus, Retrofit Home
---
Explore this style: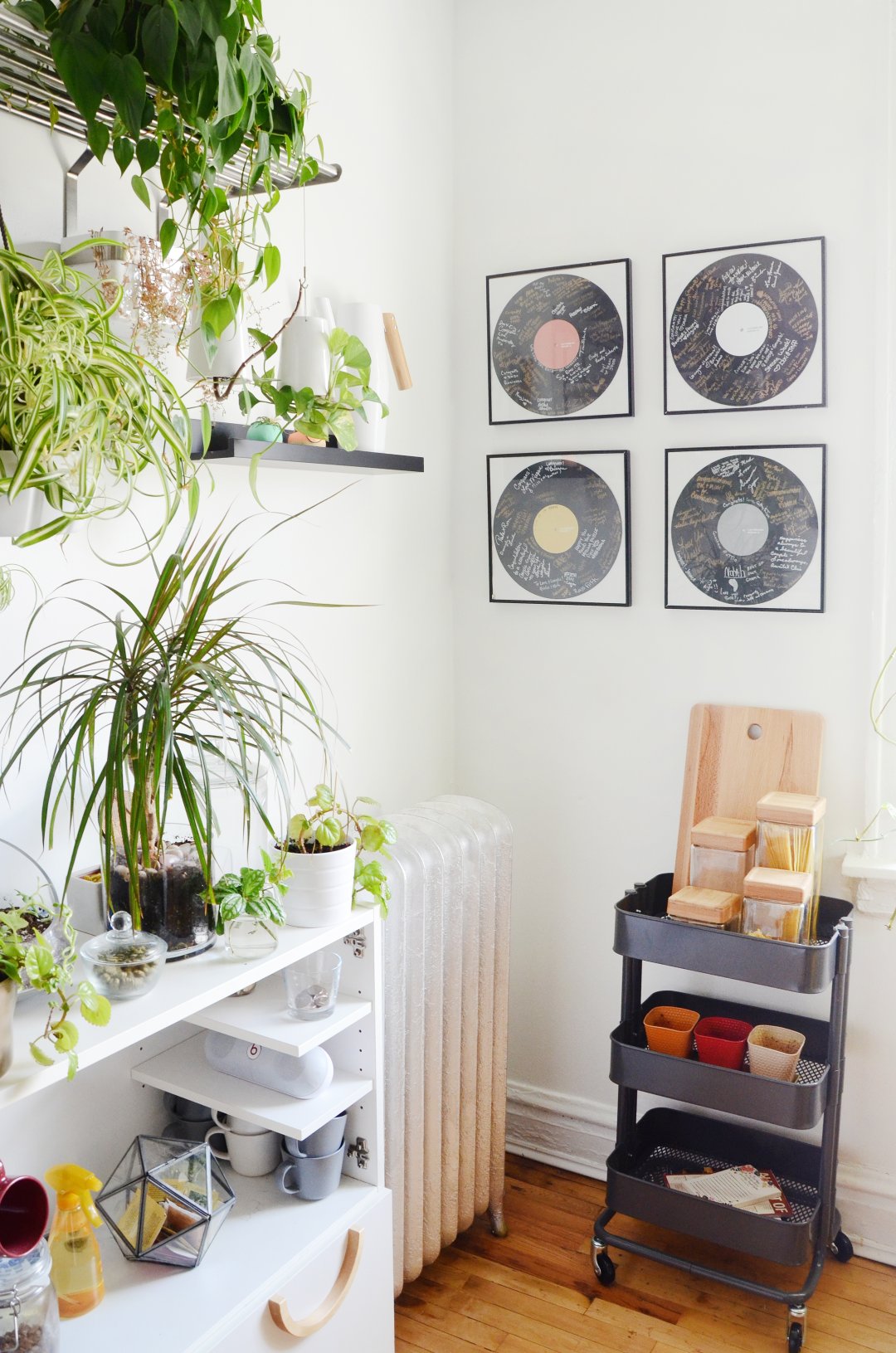 ---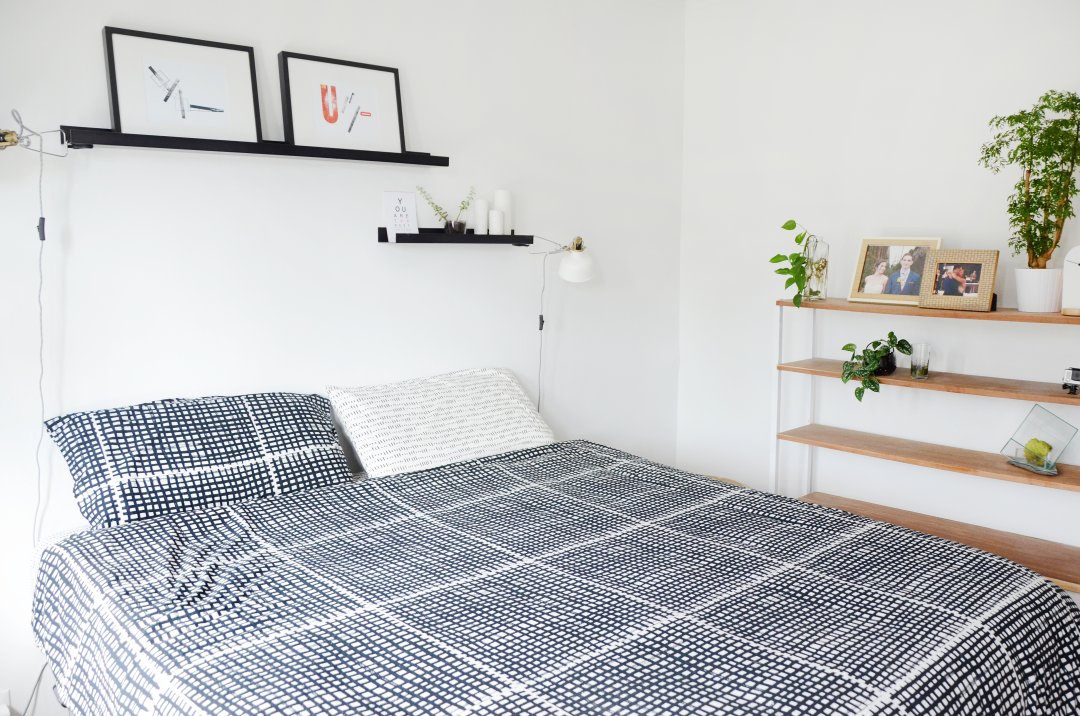 ---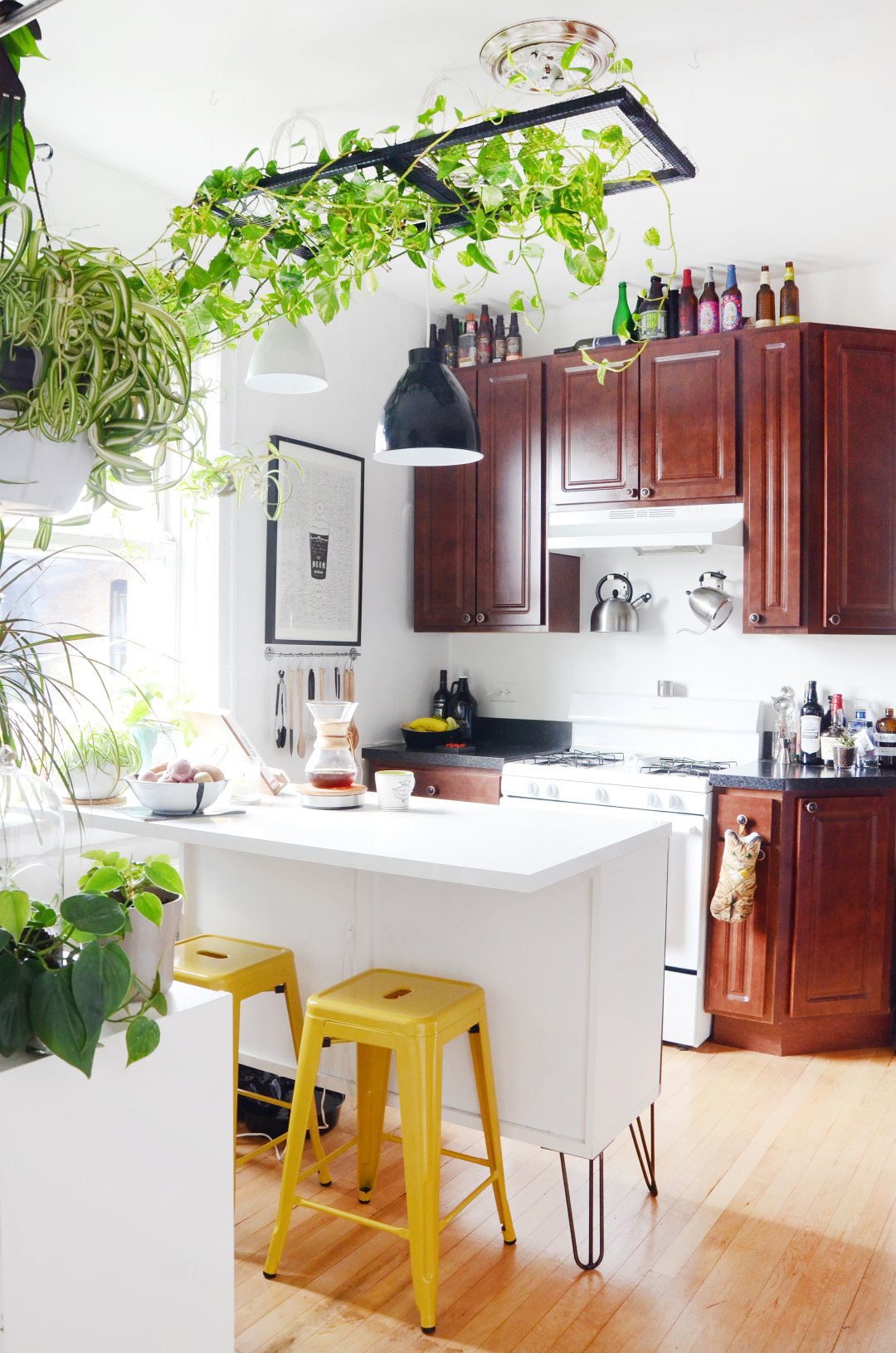 ---
More resources:
PAINT & COLORS
Behr - Glorious Gold (front door)
Glidden - White (all the walls)
ENTRY
TRONES shoe cabinets - IKEA
Coat hooks - Umbra
Cat mat - Flying Tiger
Map of Chicago Neighborhoods poster - Ork Posters
Symbolism poster - Build
Geometric mail holder - Paboom
Cat scratcher (Laszlo's throne) - Fab
Light fixture - DIY by Joe
GUEST BEDROOM
Headboard - Craigslist
TUVBRACKA duvet cover - IKEA
Artwork on wall - Renata Graw (for the Chicago Design Museum)
Baby Porcupine, Macaw & Baby Monkey No. 2 prints - The Animal Print Shop
RITVA curtain - IKEA
ALGOT wall storage system - IKEA
Letterpress prints - DIY by Joe
Plants - Adams & Sons Gardens, Home Depot
LIVING ROOM
NOCKEBY sofa - IKEA
NOCKEBY ottoman - IKEA
VARGYLLEN cushion covers - IKEA
Sailor charcoal throw pillow - Unison Home
Shapes black throw pillow - Unison Home
Arc lamp - Target
LAPPLJUNG RUTA rug - IKEA
EXPEDIT 4x4 - Craigslist
Shell chair - Interior Express Outlet
GURLI throw blanket - IKEA
EXPEDIT 2x4 - Craigslist
POANG Chair - Craigslist
Record player - U-Turn Audio
Coffee table - CB2
NORDIS curtains - IKEA
Framed prints behind sofa - Jacob Bannon
Custom cross stitch hoop - our friend Sara Itzkowitz
Triangle wall planters - Eriewood Collective
Paper airplane sculpture - Katie Levinson
Plants - Adams & Sons Gardens, Sprout, Home Depot
KITCHEN
Plywood clock - Fab
American Standard kitchen faucet - Amazon
Beer print - Pop Chart Lab
Hairpin legs - eBay
Carlisle bar stools - Target
Kitchen cabinet - Craigslist
Framed records - Guest book from our wedding
Plant Chandelier - DIY by Joe
Plants - Adams & Sons Gardens, Sprout
MASTER BEDROOM
Sometime White Clock - Unison
Framed hand woven tapestry - Our dear friend Caroline Borucki
5-drawer flat file - FREE! on Craigslist
GADDIS large basket - IKEA
Rug - IKEA
Plants: Sprout, Wallace's Garden Center, Kim's parents gave them an almost dead plant that they brought back to life
BATHROOM
Mesh fish: Dovetail
Triangle art: Brew City Salvage
Artificial plants: IKEA
Plant: Wallace's Garden Center
Thanks, Joe & Kim!
---
Apartment Therapy supports our readers with carefully chosen product recommendations to improve life at home. You support us through our independently chosen links, many of which earn us a commission.