This Floating Gym Lets You Work Out & Tour Paris at the Same Time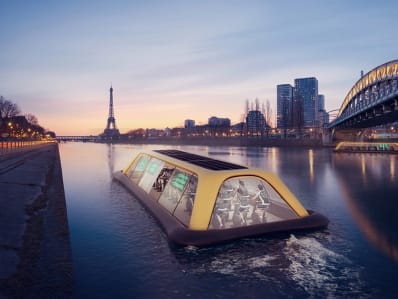 (Image credit: Courtesy of Carlo Ratti Associati)
Finding the motivation to hit the gym has to be one of the most exhausting aspects of adulting. We could probably think of a million different ways to make routine workouts more appealing (beginning with the death of all treadmills), but burning calories on the Paris Navigating Gym that's designed to float down the River Seine sounds like the perfect place to test a revised approach to fitness.
While the floating gym is only a concept at the moment, Italian design firm Carlo Ratti Associati believes that the idea of hitting the elliptical while eyeing the Eiffel Tower will appeal to Paris locals and tourists alike.
(Image credit: Courtesy of Carlo Ratti Associati)
At 66 feet long, the Paris Navigating Gym can host up to 45 people at a time. Thanks to the vessel's transparent glass covering, passengers can get their blood pumping year-round by taking in the surrounding Parisian views and working up a sweat on the vessel's Technogym-built ARTIS machines, which feature screens that display users' real-time output results. The exercise equipment also harnesses the energetic output of the passengers to propel the vessel, simultaneously highlighting the sights and sustainability.
And for anyone interested in the Seine's environmental state, sensors aboard the navigating gym will deliver that information to the passengers as well.
"It's fascinating to see how the energy generated by a workout at the gym can actually help to propel a boat," said the firm's co-founder Carlo Ratti. "It provides one with a tangible experience of what lies behind the often abstract notion of 'electric power'."
So, who else thinks working out while touring the City of Light is actually a great incentive to get your butt to the gym?