The Ultimate Throwback TV Theme Song Playlist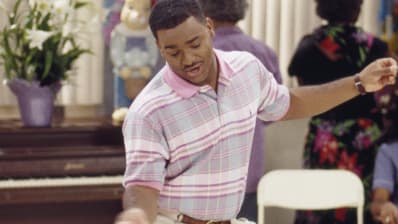 (Image credit: The Fresh Prince of Bel Air/NBC)
Over the years, TV shows have captured our hearts, made us laugh, made us cry, and sometimes made us feel things we never even thought possible. And the quickest way to find yourself back in those feels? All it takes is the opening note to your favorite theme song.
Of course, there are tons of memorable TV theme songs to choose from—no one can forget the words to The Addams Family theme, the iconic 90s "na na nas" of the Clarissa Explains It All intro, or the opening tune to The Office, and that's just to name a few. These songs are ones you can sing along to that will take you through the decades (from the 1970s to the 2000s). Some are pure nostalgia, while others are simply great songs...
On Spotify?
We already turned these songs into a playlist for you (Note: not every song was available on Spotify, but those that aren't are linked above!). You can tune into the nostalgia right now, or open the playlist in Spotify and hit "follow" to save it for later.
Did we miss any of your favorites? Add them in the comments!