Sleek New Speakers in a Classic Brownstone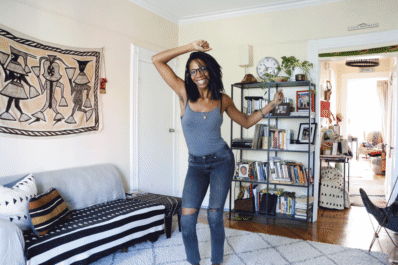 (Image credit: Nasozi Kakembo)
Full disclosure: I am not musically inclined by any stretch of the imagination. But music is how my home stays connected with our multitude of friends and family around the world. I'm currently completely into Life's Blood, the latest album of my friend Patrice who is based between Paris, Brooklyn, and Cologne. Disney's Queen of Katwe soundtrack is also a backdrop in our home. Peppered with Luganda (my father's native language), my 7-year-old son perks up every time he recognizes a melodious word (and I in turn revel in that fact). Music is principal in how I communicate values and culture in my home, in an entertaining yet non-imposing way, much the same way my parents did when I was a kid. (Which would explain my penchant for Miriam Makeba and Sade by the time I reached high school!)
Suffice it to say, sound is an essential piece of the experience of being in our home.
Because the rooms are all very separate from one another, sound does not travel easily between them. If I was cooking in the kitchen, I couldn't enjoy the music in the living room without blasting it. That is, before I got my Sonos system, a PLAY:1 and PLAY:5. I placed my speakers in these two rooms, and I plan on adding one more to my bedroom in the near future. Now, there's a steady stream of music between rooms. (Sometimes two if my son and I aren't feeling the same playlist.)
(Image credit: Nasozi Kakembo)
I also discovered when I have company over and have to make a quick run to the bodega that the Sonos system continues streaming even when my phone is out of range…or dies, which happens more than I'd like! So even if I'm not around for a few, my guests can continue enjoying the tunes.
(Image credit: Nasozi Kakembo)
It was a pleasant surprise how seamlessly the speakers blend into the interior design of my home. Home decor is my living, so this aspect couldn't be compromised. The Sonos design is sleek and unobtrusive, almost getting lost in my living room where I keep the white PLAY:5 on the corner table. And I live in a brownstone apartment, so every inch counts. The speaker can be oriented in at least three different ways, which made it super easy to find the right fit. (Added bonus: The Sonos logo is the same upside-down, right-side up, frontwards, and backwards. I got an extra kick out of that!)
(Image credit: Nasozi Kakembo)
Between my seven-year-old and our steady stream of friends who pass through our house (a perk of living super close to the A-train in Brooklyn), I didn't have much time (or desire) to dedicate to setting up a complicated system; I didn't have to worry about that at all with Sonos. After maybe five minutes of set-up using the app on my phone the system was connected to WiFi, and I was listening to music and adding my favorite radio stations. The only trouble now is that because I can so easily navigate the stations, podcasts, and songs from my phone, it's hard to stick to just one!
Visit west elm to find Sonos speakers and fill your space with the music you love.
Products were supplied to this writer by Sonos, who sponsored this post.
Thank you for supporting the brands that make Apartment Therapy possible.