See James Renovate His Kitchen from Start to Finish!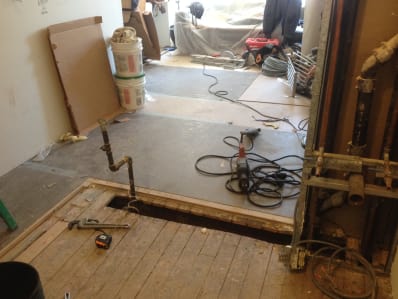 (Image credit: Submitted by James)
Name: James
Type of Project: Kitchen Remodel
Location: Prospect Heights — Brooklyn, New York
Type of building: One Bedroom Co-op
The Renovation Diaries are a collaboration with our community in which we feature your step by step renovation progress and provide monetary support towards getting it done in style. See all of our Reno Diaries here.
And he's off! Well, sort of. James begins his kitchen renovation with a delay, but he doesn't let it put a damper on his spirits!
Phase 1: Due to a delay with the contractor's previous project, my renovation got started about two weeks late. Initially, we thought that it would be too costly to remove the wall that housed the intercom (perpendicular to the main wall, near the entrance to the kitchen) and I got used to the idea that the opening would be large enough. But once demolition began, it became an easier job than expected and I told the contractor to go ahead with the removal. And I'm glad I did!
With more than half the apartment in complete disarray, I started to reconsider my decision to live in the apartment during construction. Fortunately, my boyfriend lives in the neighborhood and was willing to put me up for a few weeks.
→ Ready for More? Read James' complete Renovation Diary series right now.
Phase 2: Once the demolition was complete, it was time to lay the floor tile. Here's where we hit the first snag. After considering many options, ordering several samples, and visiting several tile stores, I settled on a dark slate tile laid in a grout-less herringbone pattern. It reminded me of my childhood home, which has herringbone hardwood throughout.
When the tiles arrived, I realized they were improperly cut. You see, to lay tiles in such a pattern, the length of each tile must be a precise multiple of the width, but the tiles were too long. Not wanting to delay the project further after a lengthy and unpleasant discussion with the unapologetic owner of the tile store in Manhattan, I considered other patterns. But my contractor insisted that we stick to the original design. He cut every single tile to the correct length. The result is beautiful.
Phase 3: I chose IKEA cabinets with DIY shaker doors from Semihandmade. Knowing that some of the new cabinets would face the dining area, I wanted to paint them the same color as the wall. I did the assembly myself and had my contractor professionally spray paint the doors for a nominal charge. To add a little architectural interest (and a spot to store glasses and cookbooks), my contractor custom built a shelving unit to face the hallway.
The second major delay involved the appliances. Both the range and refrigerator arrived dented beyond repair and had to be replaced. Excellent customer service from ABT made this easier to deal with, but because the units were backordered, it took almost six weeks for new appliances to arrive.
Meanwhile, I moved back into the apartment. While the kitchen was largely finished, I was without a refrigerator and still ordering takeout for a few more weeks.