Raden's Smart Suitcase Tells You How Long Your Security Wait Will Be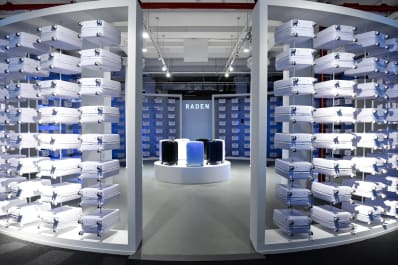 In terms of innovation and competition, luggage is the new mattress. Everyone from Warby Parker alums to Kickstarter stars are getting into the game, trying to make travel a little less stressful. Here's another new addition, Raden, where their goal is to "bring humanity to an appliance."
Raden recently opened a showroom around the corner from Apartment Therapy HQ, and while the product might look like your standard polycarbonate suitcase, it has a tech soul. There's a built-in battery for charging USB devices, a GPS that sends push notifications about its whereabouts (like when it hits the baggage carousel), and a built-in scale in the handle that can even tell you overage fees for your airline. The associated app also gives you traffic updates, and even tells you the estimated wait in the security line.
More luggage on Apartment Therapy:
What do you make of smart luggage? Tell us in the comments!