How Do I Make My Dated Apartment Sleek & Stylish for Only $12,000?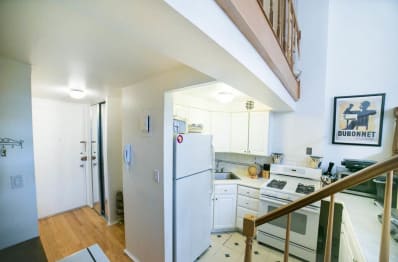 (Image credit: Kate Moscowitz)
New co-op owner Kate Moskowitz recently acquired a New York rarity: an apartment with stairs. Her triplex space has great bones but needs an update to become the simple and contemporary space she wants. Kate has $12,000 to bring the space — particularly the kitchen — up to grade.
In this series, expert Alex Bandon answers your specific renovation questions. Write in about your planned remodel, and she'll identify potential pitfalls, give recommendations, and help you get the most of your project!
(Image credit: Kate Moscowitz)
From Kate: I am looking to update this NYC apartment to be sleek, modern, and stylish. I have enough square footage to make this loft/triplex apartment a styled and chic place for me to entertain.
The bannisters look like they were the cheapest option from Home Depot in 1990. The bedroom floor and steps are carpet, with only-God-knows what kind of living things are underneath. But my real struggle is what to do with the kitchen! It's just outdated: stick-on tile floors, laminate countertops, and an unfinished cabinet where the previous owner started to build a corner/lazy-susan cabinet and just stopped in the middle and left it empty. I think the cabinets can be saved if they are painted and get new hardware but the countertops need to go. Did I mention I need to find a spot to squeeze in a dishwasher?
Alex's Answer
Oh, Kate — that railing…those cabinets…that counter! All signs of a low-budget renovation and one that settled for the most ill-fitting traditional designs in what has the potential to be a totally cool modern space. But the saddest thing is that the previous owners wouldn't have needed a huge wad of cash to make this space look mod. All that's required are a few key finishes.
(Image credit: Kate Moscowitz)
Hit the Floors
I can't tell the condition of your floors, but rather than replacing them, try refinishing them in a deeper shade, like dark walnut or ebony. At about $4.50 per square foot for refinishing, you won't be out too much dough for your small space. (You'll want to be sure to get three coats of finish over the stain to make them the most durable.) You could even do the bedroom level a cool white to differentiate it from the rest of the apartment and make it calmer and cozier. Then replace the railing with metal or a very plain wood profile stained dark.
Choose a cool blue-gray or a warm ecru for the walls and bring in some colorful furniture and now you have an updated contemporary space. As long as you're smart and shop around, you might just be able to create a modern apartment on a modest budget.
(Image credit: Kate Moscowitz)
Change the Counter and Trash the Tiles
One reason your kitchen looks so traditional is that it's monochromatic. There's no drama. The cabinets are white, the counters are white, and the tiles and floor are white. Some depth of color can make a huge difference.
Toss the laminate. Splurge for some engineered stone (the most durable countertop option, even more than granite), which now comes in really great stone-like patterns and dramatic solids. IKEA partners with some of the top manufacturers to offer good, affordable choices at about $70 to $100 a square foot. And if engineered stone is out of your range, consider acrylic solid surfacing, which runs a little less.
Similarly, get busy taking up that flooring and see if you can lay down some slate or other darker stone or tile. In both cases, you have so little square footage to cover that you won't break the bank buying materials. You might even get lucky at a place like Big Reuse; they often have enough leftovers donated from a big job to cover a small footprint like yours.
(Image credit: Kate Moscowitz)
Your Grandma's Cabinets
I'll come right out and say it: painting cabinets is a messy affair and never really looks as good as the original finish. And it won't make them look more modern, because what's wrong here are the fussy raised-panel doors.
But the good news about your off-the-shelf box-store specials is that they are likely standard sizes; new doors should be easy to find. Lowe's and Home Depot have some decent modern profiles and middle-of-the-road Shaker-style ones. Take some measurements and hit one of the big stores — or even IKEA — for doors that fit the existing boxes. And yes, definitely update the hardware. Changing knobs and pulls is one of the cheapest and easiest upgrades you can make to a kitchen.
While you're at it, pick up a new corner cabinet for that sad little black hole. You will gain a lot of much-needed storage, especially if you plan on losing another base cabinet to a dishwasher.
Speaking of Appliances…
Your kitchen look so dull partly because of the boring white appliances. Swap in stainless or even colorful enamel. The latter is likely too pricey new, but you might get lucky at a resale store, like Big Reuse or the Habitat Restore. Sometimes people bring in appliances they don't like from someone else's remodel. In fact, if yours are still in good shape, consider donating them so you can take the tax write off.
The dishwasher is going to be a little trickier. Dishwashers only come in two sizes: 18-inch and 24-inch. You definitely don't have room for a 24-inch dishwasher close enough to the sink to provide water and drainage. You're probably stuck with an 18-inch. Whichever side of the sink it ends up on, beware that you'll be a little trapped with the door open while you stand in the corner.
If you have your heart set on a full-sized dishwasher, consider a narrower and taller refrigerator to give yourself the room. Both Liebherr and Fisher & Paykel make slim models that still pack a lot of cubic footage. And remember when you order it to get a left-swing door, so you can access it easily standing at the counter.
Depending on what you do with the counters and the appliances, you can replace the backsplash with either a colorful tile or something really simple, like a white mini-subway tile. Keep in mind, though, that you will have to have someone tear out the wallboard and put up new backer board. You won't be able to salvage the walls behind the existing tile. You can expect to pay a tiler an average of $26 a square foot for the labor of laying the floors and doing the backsplash.
Alex Bandon has 18 years of experience in home renovations. She started as a writer and editor for This Old House, learning everything she could about residential construction and building materials. She now owns North River Renovation Management, and works with homeowners to design, budget, and manage their home makeovers.
Apartment Therapy supports our readers with carefully chosen product recommendations to improve life at home. You support us through our independently chosen links, many of which earn us a commission.