Pimm the Pup's Quirky Upper East Side Duplex
Name: Pimm, Mutt and "Ladypup"
Roommates: Stacie and Sean
Location: Upper East Side, New York
Apartment size: 500 square feet
Years lived together: Just over a year
It's easy to see why Pimm loves her eclectic Yorkville duplex shared with her humans, Stacie and Sean, so much. With an open circular layout and no doors, she has the freedom to run around as she pleases. And she does. A lot. Especially into her apartment's many nooks and hiding places where she keeps her toys. Like the pets featured in realtor.com's "Pets at Home" video, Pimm is very happy in her home, surrounded by Stacie and Sean's eclectic collection. Except for the vintage library card catalog. Stacie uses it to store Pimm's toys, and so it's Pimm's least favorite piece in the house.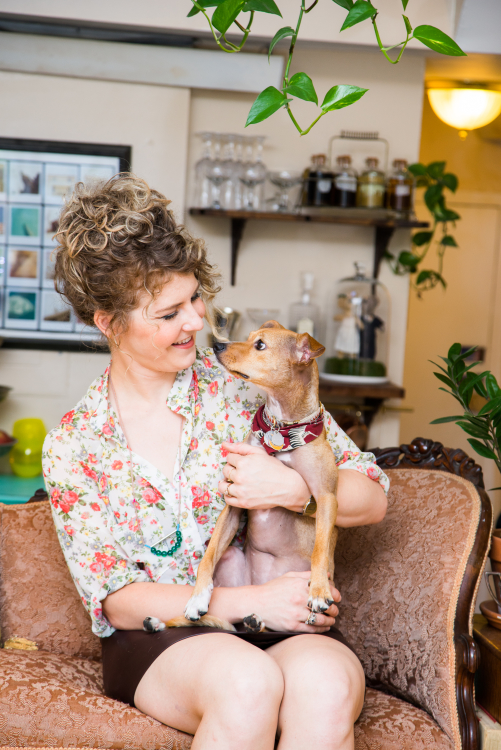 (Image credit: Pablo Enriquez)
Filled with antique details and plenty of homemade originals, Pimm's place is a bohemian playland for pups and humans alike. Her roommates are big into DIY projects, often incorporating their street finds into their work. One of their most prized decorative pieces came from an old, heavy door Stacie found (and dragged home from) behind an NYC dumpster a few years back. She bleached it clean until revealing its lovely blue, a hue which she has since tried to match and incorporate into other decor within their space. The door is currently propped against a wall in the apartment, with Stacie and Sean's names painted above. Pimm's name is hopefully forthcoming.
The apartment is great for entertaining on weekends, sort of like a pup-friendly cocktail lounge. Which is fitting, given that Stacie's favorite piece is the ornate gold bar cart. She searched for the perfect one for years before her mom found this one at an antique fair in Indiana. The cart is always stocked for impromptu cocktail creations, including (and especially) Pimm's namesake beverage.
(Image credit: Pablo Enriquez)
Despite her lack of opposable thumbs (and subsequent lack of DIY skills), Pimm is pretty much queen of the castle. Except for the bathroom, however: She's been banned for eating the trash.
Apartment Therapy Survey:
Our style
: Eclectic bungalow farmhouse.
Inspiration:
Many different things, from mid-century modern motifs to tiki style, but mostly Stacie and Sean's home state of Indiana — the gardens, animals, and antique stores.
Pimm's Favorite Part of the Home:
Next to Stacie on the couch.
Proudest Part of the Home:
All the DIY projects that Sean and Stacie created together, many of which became fodder for her
blog
.
Biggest Indulgence:
The bar cart.
Pimm's Favorite Possession:
Her many toys. She can't choose just one because she loves destroying them all equally. Also, her doggy bed.
This post is sponsored by realtor.com.
Thank you for supporting the brands that make Apartment Therapy possible.