Patrick & Anna's Light & Open Florida Home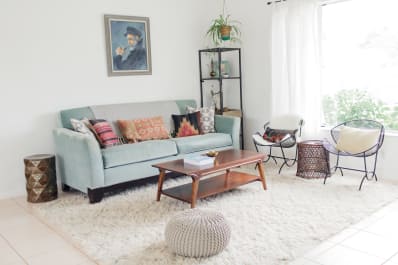 Name: Patrick & Anna
Location: Tequesta, Florida
My husband, myself, our two children, Harlee Faye (she's almost 2), our son Declan (he's almost 9 months), and our pit bull Gypsy Lou live in a 1,600 square foot home in Tequesta, Florida, which is just north of West Palm Beach.
The moment my husband and I stepped foot into our home, I knew this was the one! Having grown up in a home that had easy access to the river, Intracoastal, and ocean, I knew that water access was a must for our "forever" home. We have a neighborhood dock and boat ramp that makes it super easy to launch our boat or stroll down to the dock and have a glass of wine at sunset.
Inside our Florida-style ranch home, I love how each room opens up to the pool area and that there is natural light that floods every room... so much so that we even do occasional photoshoots inside! I co-own a vintage rental and styling company for weddings, events, and photoshoots, so each room is constantly changing or being rearranged... I think my husband has finally come to terms ;)
I tend to find one single piece that inspires how we "complete" room, like my fruit basket in the kitchen, a certain pillow in the living room, a dresser in the bedroom... but my two favorite pieces are our leather sectional and our daughter's mid century dresser - the couch being a Craigslist score and the dresser a Salvation Army find. I love our new kitchen countertops my husband made and installed himself, and how it complements the white brick found in several places throughout our home.
Right before we took these photos, we did a major haul out and donation of many of the items that were cluttering our home - we are about to head out on a cross country journey in a camper (those photos to come!) for almost a year - so I love the freedom having "less" represents, and are so excited we have a home to come back to when we're done traveling. Our home can now be rented via Airbnb!
Thanks, Patrick & Anna! You can see more photos of Anna's home on her blog, East and Up.
• Interested in sharing your home with Apartment Therapy? Contact the editors through our House Tour & House Call Submission Form.