These Sheets Are Reasonably Priced and Ridiculously Luxe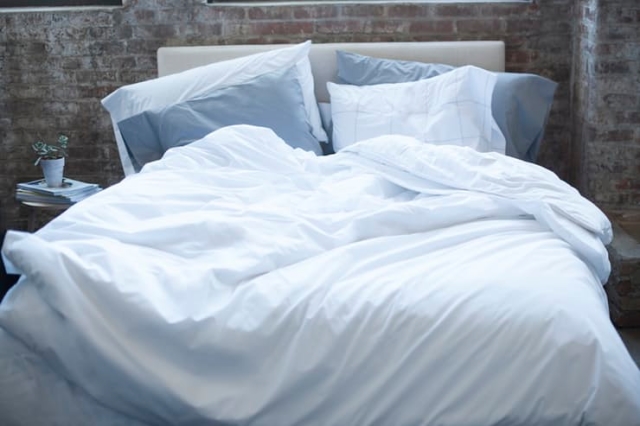 We can all agree that high-quality sheets are a solid investment. A little splurge pays off for the place where we spend a third of our lives. Key words: a little. It's one thing to spend some cash on the right bedding, but quite another to make an appointment with a bedding loans officer. Enter Brooklinen, a Brooklyn-based upstart founded to bring people beautiful, comfortable sheet sets at a reasonable price.
Brooklinen was founded in 2015 by a husband and wife who simply wanted a good set of sheets. They found a marketplace where quality came at cost, where shoppers could drop a grand on a set of sheets. Which is ridiculous. Rich and Vicki took a startup founder's approach, investigating how luxury sheet sellers came up with their $1k price tags. The answers were on overhead expenses like middlemen, storefronts, manufacturing export tariffs, blah blah blah. In other words: on stuff other than bedsheets.
The two investigated what makes a good sheet, learning about things like ply, weave, and long-staple fibers, and found that by cutting out the blah blah blah, a luxury product doesn't have to come with a luxury price tag. One person who agrees is Maxwell Ryan, founder and CEO of Apartment Therapy. For two years in a row, he selected Brooklinen's Luxe Core Sheet Set as one of his picks for best sheet sets in its price category, saying its silky feeling cotton sheet should be your go-to.
Here is the point where we'd go all out with imagery about sleeping in clouds and sheets as soft as a baby's bottom and all that, but let's have some real talk instead: That third of our lives we spend in bed isn't always pretty. There's drooling. There's sweating. There's body-oil excretion. There's, um, other recreational activities. The point is, sheets take a beating, so they have to be strong. So while Brooklinen's long-staple Egyptian cotton sheets deliver on the comfy/cozy quality test, it's Rich and Vicki's attention to details like percale vs. sateen weaves and single-ply yarn that ensure their sheets hold up to repeated use, and indeed become even softer the more you wash them.
People who've bought the sheets are loving Brooklinen, with 20 percent of their customers having already returned within the company's first 18 months. One reason is that they engage with customers who provide reviews. It was customer feedback that led to developments like the little tags on fitted sheets to delineate the long and short ends, and the flaps on the pillowcases so the pillows actually stay in them. Essentially, the direct producer-consumer conversation that started in the company's Kickstarter days has been (pardon us for this) woven into Brooklinen's fabric.
The sheets are sold in sets, ranging from basic to bonus. Core Sheet Sets include the standard bed set — a flat sheet, a fitted sheet, and two pillow cases. But we're hardcore into the value of the Luxe Hardcore Sheet Bundle, which includes the above, plus a duvet cover and two additional pillowcases (helpful not because we're sleep-droolers, of course, but our partners are). That whole package costs $228 — a 25-percent savings from buying the pieces individually. There are a variety of chic, minimalist designs and colors, but we love the Windowpane pattern for its refined swagger and the Classic White for its simple elegance.
Climb into your own set of Luxe Hardcore Sheets at brooklinen.com.
This post is sponsored by Brooklinen.
Thank you for supporting the brands that make Apartment Therapy possible.