Morty the Bulldog's Remarkable Riverside Retreat
Name: Mortimer (Morty), Australian Bulldog
Roommate: Danielle Berger
Location: Upper West Side, New York, by way of Sydney, Australia
Size: 640 square feet
Years lived together: Since he was a tiny chubby puppy. Now he's a rotund 8-year-old!
Morty might be Australian by birth, but he's a New Yorker at heart. His subtly chic Upper West Side digs are the perfect match to his personality: clean, comfortable, and just a bit quirky. While roommate Danielle has worked hard to make their home welcoming to all species, this is indeed a dog's paradise, with toys, snacks, and prime napping spots everywhere you turn. All of which brings up the same question as other pet owners in the "Pets at Home" video by realtor.com: Whose apartment is this?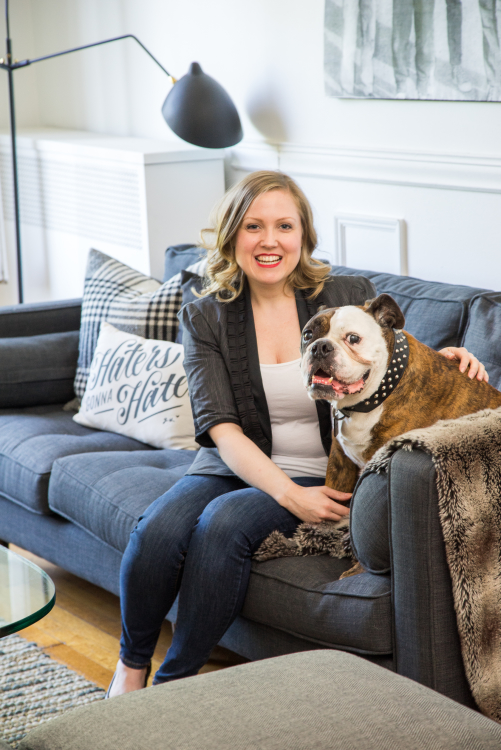 (Image credit: Pablo Enriquez)
Danielle's apartment is built with irregular angles due to an interior wall intersecting her building's curved facade. Rather than using design to minimize them, she's kept a light touch with selected strong, graphic statements to create natural subdivisions. But the space doesn't get stark, thanks to little surprises she's created with unexpected secondhand bargains.
All this suits Morty, whose attention bounces around. One minute, he's idle; the next, very busy screaming at motorbikes outside the window. There's a lot of napping on his daily agenda, and he's got a lot of places to get it done. "If sleeping (and snoring!) was an Olympic sport," Danielle says, "Morty would win gold every. single. time." But when his routine does call for activity, Danielle's mix of intersecting lines and different-weighted plaids make an appropriately stimulating space.
Since pets are notoriously bad at budgeting, Danielle was on hand to make their home "look a million bucks without costing an arm and a leg." A savvy shopper with patience for the next price drop, she furnished the place they live in at a price she could live with.
As the black studded collar suggests, Morty is a bit of a rebel: he'll boldly go off-leash in Riverside Park or stick his nose where it doesn't belong. Back home, Danielle's eclectic collection of rugs are good for more than nodding off on. They're a comfy outpost for monitoring the premises against his arch nemesis. Danielle doesn't know when he developed a hatred of Santa Claus or even why, but the chances are good he's keeping a watchful eye for him from his big, beautiful fireplace.
(Image credit: Pablo Enriquez)
By pairing clean lines and a restricted palette with unique patterns and textures, the two have established a vibe that's as striking as it is cozy. Morty's preference for bold prints and graphical elements shows that his canine colorblindness hasn't kept him from using home décor as a means of vibrant self-expression.
Apartment Therapy Survey:
Our Style: Relaxed, but with a twist. More "modern with a little midcentury" than "midcentury modern."
Inspiration: It all started with a Serge Mouille–inspired floor lamp that Danielle found on Craigslist. She likes that the design is both classic and inventive. He loves it because it looks like his favorite chew toy: an antler.
Morty's Favorite Part of the Home: Since he wasn't allowed on it initially, he feels a sense of quiet victory every time he snags a seat on the couch.
Proudest Part of the Home: While Danielle might talk about the perseverance it took to find gorgeous pieces at great prices, Morty wants to show off the number and variety of comfortable chin rests throughout the space.
Biggest indulgence: Morty knows how happy Danielle was after she splurged on the Blue Dot Strut console table, but he can't quite reach the top of it and is thus ambivalent.
Morty's Favorite Possession: Another internet find: his luxurious handmade bed from Etsy!
This post is sponsored by realtor.com.
Thank you for supporting the brands that make Apartment Therapy possible.