The "Martha & Snoop's Potluck Dinner Party" Production Designer Spills the Inside Scoop (Including the One Thing That Didn't Make the Cut)
This summer, when VH1 announced that domestic diva Martha Stewart and rap icon Snoop Dogg were teaming up for a cooking show, we first thought it was a joke, and then quickly had a lot of questions. Near the top is, what would a kitchen shared by them even look like? Well, Martha & Snoop's Potluck Dinner Party premiered last week, and I had a chance to ask the production designer, James Pearse Connelly, just how he made one set work for such different personalities.
Connelly is the Emmy-winning production designer behind shows such as The Voice, Top Chef, and the MTV VMAs. He shared with us what it's like designing for such opposites, how to compromise with your partner or roommate on design decisions, and the one thing that didn't make the final cut. (Interview has been edited and condensed for clarity.)
What was the process like designing for this show?
I came in super late in the game, ultimately three weeks before we were planning on shooting. The show initially went with somebody else, and I guess it didn't really work out. So I got a call from the executive producer, went in for a meeting—which was a crock pot of stress, opinions, and kitchen design, because when you bring together big personalities like Martha and Snoop, you know it's going to be dynamic, and that there are going to be a lot of opinions— and worked basically from four pm to four am, pulling together a 3D model and presentation of the design the next day. And after that initial okay, we went into a full-on sprint.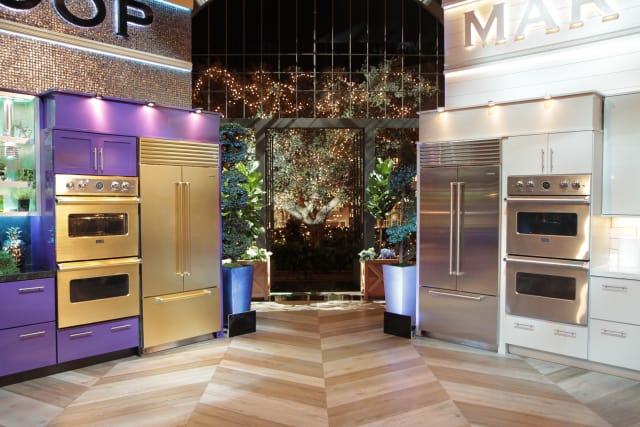 (Image credit: Courtesy VH1 & James Pearse Connelly)
I never expected something "Martha" and something "Snoop" to ever go together in the same universe. How did you make that work?
When you have the same shape, you can get away with the highest of contrasts. When you think about Snoop and Martha together at a kitchen island, you imagine Snoop on one side and Martha on the other, and the kitchen becomes another character. So while it's about each of their sides, it's also about how they're unified. So I designed a kitchen for each of them that's identical in shape and completely opposite in their finishes. But other things that bring them together are the two-tone herringbone parquet floors and the penthouse garden behind the set. The oak tree in it is a metaphorical olive branch, dead center between the two sides. Plus, the whole set sits under a triangular gable roof, with black crown molding on one side, and cream on the other, but it implies that this kitchen is all in the same home—literally under one roof. It's all simple and symmetrical, and I let the finishes do the talking.
What was the design inspiration for each kitchen?
We went with "Mid-century Martha"—Copper, white, matching kitchen utensils, very functional and not a lot of frou frou, simple white subway tile, shiplap. Snoop loves the 1964 Chevy Impala, so it's a whimsical automotive theme. Chrome, black glass tile I found at a pool store, appliances are covered in automotive vinyl in Lakers colors: high gloss purple on the cabinets and gold on the appliances.
(Image credit: Courtesy VH1 & James Pearse Connelly)
What was it like working with Martha & Snoop?
I've gotta say, I'm very into contemporary styling, and I like to think I know my shit. There are a lot of fears about what she's going to say, but when it comes to design, she really knows her shit. Martha's team brought a lot to the table; I learned about new stores even right here in LA. She was particular about three or four things. She was pretty specific about wanting a faux bois wallpaper, so I showed her a few and we picked one. Then I said, let's run it horizontally because I think it will really work with the lines we have going on elsewhere in the set, and she said, let's do it. It was really collaborative, really awesome.
They both showed up for rehearsal and it was the first time they saw it. Everyone's around, the network is there, they're all nervous about what they're going to say, and they were nothing but complimentary. She took photos of the set, Snoop gave me a huge hug and called it "upper echelon." My mom happened to be there with me. It was better than winning an Emmy.
Are there any hidden elements behind each of their counters?
You gotta watch the show, there are some great ones. On Snoop's side, there are lots of hidden gems that he chose. Movie posters, album art, et cetera. For Martha, we have a lot of her product, but here's one thing that didn't make the final show. I had an illustrator create a bunch of botanical prints that are hanging up, and one was for cannabis. A lot of people loved it but it was cut on the first day of shooting for being a bit too much. Ah well!
(Image credit: Courtesy VH1 & James Pearse Connelly)
Do you have any tips for those who are decorating real life space for people with vastly different styles?
Write down your essentials—the things the room has to have. Then each person gets to choose three or so things that are theirs, and the rest you compromise on. Snoop had to have a Chevy Impala, Martha had to have white hydrangeas, and then we compromised on the flooring, the tree in the back, to make it work for both.
Martha & Snoop's Potluck Dinner Party is on VH1 Mondays at 10pm.