IKEA Designed Refugee Shelters & One's On Display in London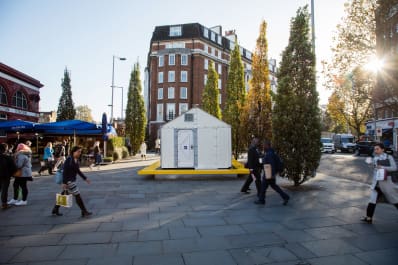 (Image credit: Luke Hays/Design Museum)
Did you know that IKEA builds refugee shelters? The Swedish giant's Better Shelter was designed in 2013 as a longer lasting and more secure alternative to tents. Since then, thousands have been put to use globally. Right now, there's one on display in London.
The Better Shelter is currently taking up residence outside the South Kensington Underground station, as it's up for the Design Museum's Designs of the Year award. It will be on display there until through November 23, after which it will move inside with the other nominated designs, which include the artwork for David Bowie's final album and Adidas shoes made from recycled ocean plastics.
Made of lightweight polymer, the flat-pack structure can be assembled by a team of four people in four to eight hours, has a solar cell that can power a light or cell phone charger, and sleeps five.
While there are currently 65 million displaced people worldwide, the shelters are also being utilized for more than just putting roofs over their heads. IKEA Foundation CEO Per Heggenes told Dezeen: "Because they are modularized, they offer a way of creating small health stations, as doctors did in Nepal, or creating temporary schools."
"This project sums up Beazley Designs of the Year and shows how the design industry can use their skills and knowledge to solve a real and pressing issue – that of temporary shelter for displaced people," said curator Gemma Curtin.
Earlier this year, IKEA created a replica of a Syrian home in its Norway store to raise awareness and funds for the relief efforts there.