Hive Mind Design: Ideas for Decorating a "Blank Canvas Plus Bold Carpet" Living Room?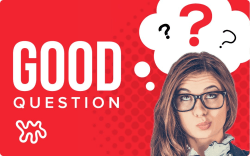 Q: I have a very brightly colored Turkish carpet [please see photo below] that only fits in my living room, and I am having trouble thinking of wall art and other accents in the room that will work with it. Replacing the couch isn't an option at this point, and although I don't love the coffee table, it will probably stay too unless I see something brilliant and affordable...
I painted the walls BM Linen White and pretty much have a blank canvas, apart from the bright blue and pink/red carpet... Help from your readers with decorating ideas? -Sent by Allison
Editor: First of all, thank you for the puppy picture! Second of all, that rug is really fabulous. Third of all, what do you think, readers? Any artwork or wall decor that you think would work with this rug (and couch)? How about some window treatment ideas? Any colors or materials that you recommend using as accents? Dream decorate away!
• Have a question for our community? Send us yours with a photo or two attached (questions with photos get answered first).