How to Set Up a Warm & Welcoming Dining Room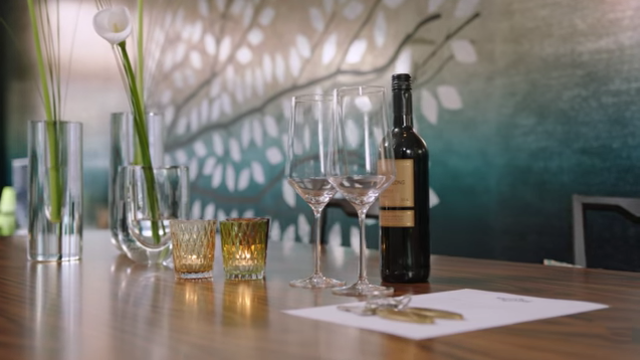 As a home's central gathering place, the dining room is where you set the tone for your personal style of hospitality. So, how does a gracious host make guests feel welcome? In this video, design expert Sabrina Soto shares tips ranging from adding ambience (candles and flowers) to providing practical necessities (like a wifi code).
Think of the dining room as a spot to make sure all the basics of hosting are covered (a clean surface & comfortable chairs), as well as those essential extras, like a bottle of local wine to make guests feel really special.
1. Add fresh cut flowers.
Keep your arrangement simple: a few stems in simple glass vases feels modern and elegant. To really freshen up a room, choose something that smells great: lilacs, gardenias, freesia or jasmine flowers.
2. Add decorative pillows to your dining chairs.
Add a small lumbar pillow to one or two chairs for color and comfort. To show off the added accent, pull out one of the dining chairs just a bit.
3. Candles add softness (but don't go overboard).
Tealights in votives up the romance in a room, but remember that a little goes a long way. Sets of three are an easy rule of thumb to remember. (This may seem obvious but it doesn't hurt to add a safety reminder: don't light them if you're going to be out of the room before your guests arrive).
4. Add a welcome note (with a wifi password).
This is a great way to make guests feel special. Write them a note and use it to include must-know details like wifi passwords and any contact numbers they'll need. Place spare keys on the paper.
5. Leave your guests a local wine bottle.
There's no better way to make guests feel welcome than giving them their own little wine party, complete with a local bottle (if it's available), a pair of glasses and a bottle opener. If you can't go local, a nice red table wine or champagne bottle is a great alternative.
List your room (big or small, in any category) on Booking.com free of charge. You choose what to list at what price, and commission is only paid after they deliver revenue through a booked customer. No sign-up fees or subscription costs. Learn more at booking.com.
Thank you for supporting the brands that make Apartment Therapy possible.