How To Make Guests Fall In Love With Your Living Room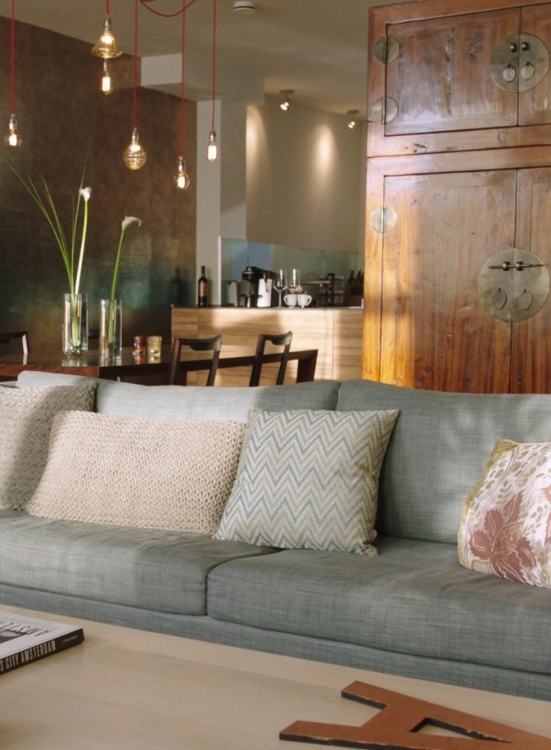 Some people just know how to make a space feel instantly inviting. Not just 'can I come over for a drink' inviting, but 'can I move in' inviting. Design expert Sabrina Soto is one of those people who knows how to make that sort of special home. In this video, she shares her ideas for making your own home the sort of place that makes people feel deliciously at home, whether you're renting it out or just hosting friends for the weekend.
Your guests will probably spend a lot of time in the living room, so invest a little time in making it comfortable. Sabrina starts with a clean, uncluttered room and then styles it with a few key things that speak to home.
1. Cozify with layered pillows and throws.
If you need a little help mixing and matching, follow this simple formula: 1 solid textured throw + 2 solid textured pillows + 1-2 printed pillows. Stick to the same color family to keep it cohesive. So, you might try a coffee-colored pashmina, a couple of matching knit pillows, and one or two patterned metallic pillows.
2. Unique antiques & local art provide a sense of place.
A home isn't only about things, it's also about the community it's connected to. Local art and antiques help to share the story behind a space. Choose pieces that feel like they fit: a mid-century cabinet adds meaning to a modern Los Angeles apartment, while an antique mirror or Shaker table make perfect sense in an upstate New York farmhouse.
3. Make it inviting, but not too intimate.
If you want to attract travelers or renters, keep the family photos out of view. The same goes for personal items like dog-eared novels or notebooks. Organize anything that's out of place and give surfaces a scrub-down before your guests arrive.
4. Put out books and magazines to make guests feel at home.
Fill those empty shelves with current books that guests might have on their reading list (New York Times best-sellers, local travel guides and art books are crowd-pleasers). To style your coffee table, arrange large-scale art and photography books, along with some good magazines for guests to flip through while they're having their morning coffee.
5. Style your space with welcoming details.
If you're listing your home online, style your space for photography. Add a laptop, a French press and a cup of coffee to show people how cozy it feels to check emails in your living room. Add a vase of flowers to freshen up your photos. Small details help guests imagine themselves staying there and loving the space.
List your room (big or small, in any category) on Booking.com free of charge. You choose what to list at what price, and commission is only paid after they deliver revenue through a booked customer. No sign-up fees or subscription costs. Learn more at booking.com.