A Designer and Her Handyman Husband's Vintage Eclectic DIY Home
Name: Danielle and Justin McKim and Great Dane Charlotte
Location: Charlotte, North Carolina
Size: 1,500 square feet
Years lived in: 4 years, owned
Danielle and Justin have a home that could not be more full of their own individual style and personality. Collecting affordable pieces and turning them into magic was once a hobby of Danielle's that soon became her career as a designer and local storefront owner here in Charlotte. Their home has special meaning and is filled with artwork and decor, all with a personal touch. Every room has really come together over the past few years, but the nursery they have built to prepare for their first child is truly a masterpiece. Charlotte, Danielle and Justin's Great Dane, is very excited to welcome her new companion.
Danielle has an incredible creative eye and Justin is a master of DIY. He has completely renovated their bathrooms and has almost completed their set of vintage doors. Danielle mentioned that one of her many goals for the house was to eventually replace all the doors with vintage doors. She goes to Habitat so often and kept seeing solid wood, amazing vintage doors at great prices so she knew they could do this without breaking the bank.
Their home is truly an inspiration and proof that you do not have to go outside of your budget to create a space that is not only gorgeous, but a reflection of who you are.
Apartment Therapy Survey:
Our Style: Vintage Eclectic
Inspiration: EVERYTHING! I get inspiration from every source out there, driving around to my local shops and thrift stores, my wonderful creative friends, random thoughts.just really everywhere. My head is constantly spinning and then I excitedly tell my husband what I have in mind and he helps me (albeit sometimes all on his own) make it come to life.
Favorite Element: Our nursery. With our first child on the way this is the first space I've designed in the house that felt different and more special than any other room. The alphabet wall is comprised of letters from friends and family, has pieces from my store, thrift stores, art from my friends — just so many items that have some special meaning. And it's just so cute we love being in there! But second to this space, the entire house is our favorite element! From the renovated kitchen and bathrooms, the unique vintage doors, our backyard...we just truly love all 1500 square feet of our home.
Biggest Challenge: Time! Outside of electrical and plumbing we have tackled every major project ourselves so we save a lot of money but for all the ideas we have there is never enough time.
What Friends Say: Our house is cozy and a good reflection of our style and way of living! Although, the brass collection always get some laughs!
Biggest Embarrassment: Because of my job as a designer and a storefront owner, my house is — more often than I would like to admit and more often than my husband likes to deal with — in chaos! Our formal living/dining area becomes storage, sometimes my sewing room...seriously sometimes it's packed to the front door so the side door is the only option!
Proudest DIY: Oooohh tough question! The master bathroom was our last major renovation and it really made the house feel complete. The vintage sliding shower doors are amazing and my husband did a bang up job with all the tiling. I didn't help at all — it was all him!
Biggest Indulgence: Always doing the projects we want to do because we know it will be tackled with the most cost efficient way we can possibly do so. We really enjoy working on our house; it's our guilty pleasure.
Best Advice: Believe that you can make your home beautiful and unique without spending a lot of money! Get out there and ask questions, read the blogs, the online resources, the before and afters (my absolute favorite) and try it out yourself!
---
Explore this style: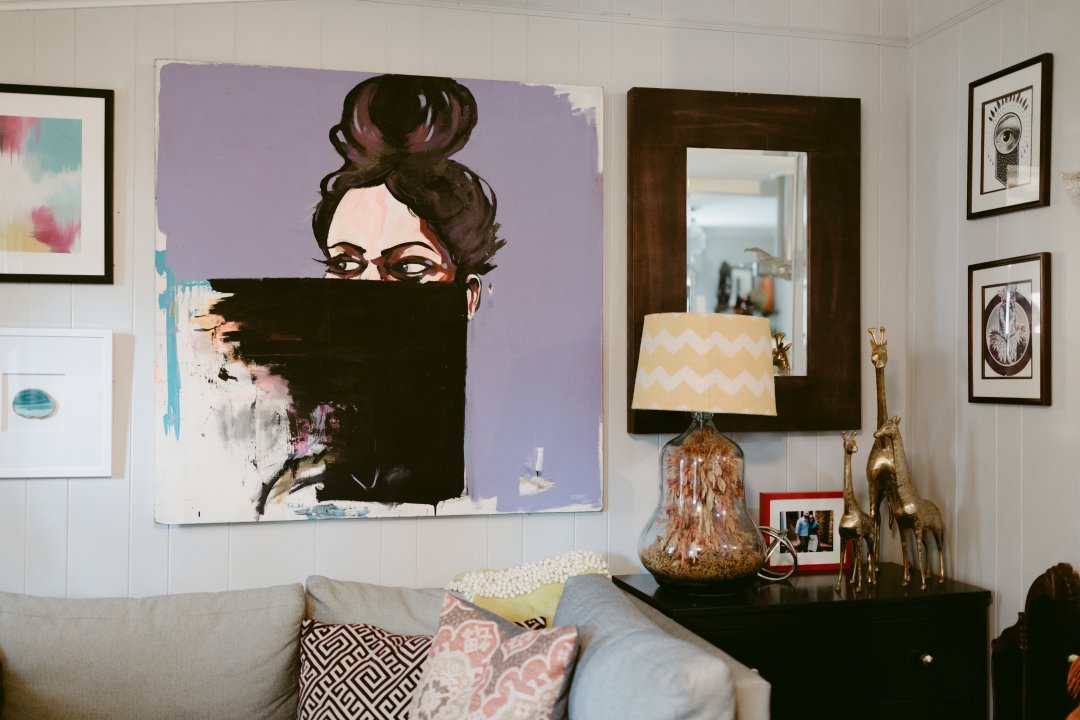 ---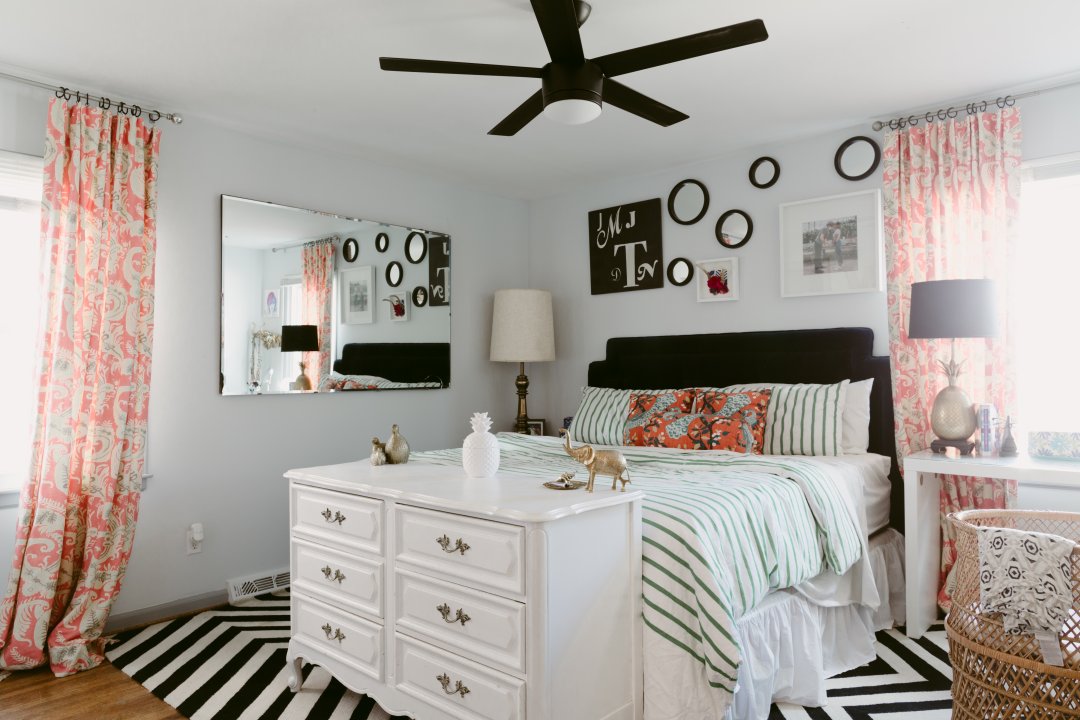 ---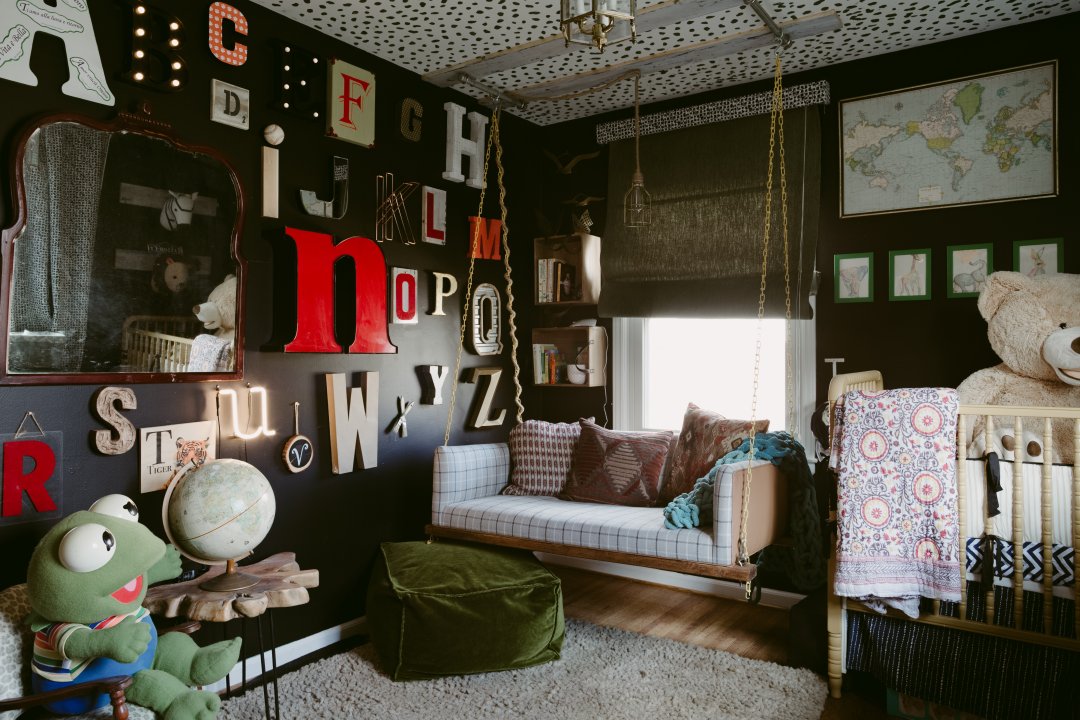 ---
More resources:
LIVING ROOM & DINING ROOM
Curtains — Chancery Design in Charlotte
EAT-IN KITCHEN
Double Chair —Modern Fabrics (reupholstered)
Feather Art — MoxieMercantile
African Statues — House of Africa
Artwork — Oscar Arango / Sierra Mendoza
DEN
Furniture — all custom from TUFT
Artwork - Dammit Wesley / Oscar Arango
Side Table — Target
Blanket Ladder — workshop hosted at TUFT
HALL BATHROOM
Vintage Door — TUFT inventory
MASTER BEDROOM
Headboard — TUFT
Pillows — TUFT
Thanks, Danielle and Justin!
---
Apartment Therapy supports our readers with carefully chosen product recommendations to improve life at home. You support us through our independently chosen links, many of which earn us a commission.