An Old World-Inspired Small Shared Studio in LA
Name: Meghan and Jesse Arlen
Location: Mid-Wilshire area — Los Angeles, California
Size: 540 square feet
Years lived in: Renting 1 year
Meghan and Jesse have made their studio apartment feel like a haven of old world charm. They focus on living a waste-free, conscientious lifestyle, and part of this involves buying older things and repurposing as much as they can. They both greatly value authenticity of objects and especially prize the stories behind each thing they own. It is truly remarkable how well they have been able to use their small space to make it both function and feel so inviting.
Meghan owns Pomp & Circumstance Haberdashery, a line of hand-crafted bow ties and accessories using vintage/deadstock fabrics and embroidery done by hand. She says, "I am always working on this project or that as well as building things with wood (my father is a carpenter/cabinet-maker so it runs deep), sewing and repurposing, cooking, embroidering, wood carving."
She hopes to continue her business indefinitely, but her life dream/goal is to go into eco-conscious, hands-on interior space design and renovation using reclaimed/estate found materials. Recently, she apprenticed with a local Venetian plaster artist, did an apartment decor/design consultation project and is hoping to get into construction to gain more of the hands-on skills (tiling, lighting, flooring, etc). Jesse is working on his PhD in Near Eastern Language and Cultures and loves researching, writing, and teaching.
Apartment Therapy Survey:
Our Style: Our tastes are very old-world; I think they were formed in another century entirely — maybe 1890s. We tend to gravitate away from most modern objects, excepting those which I make/repurpose or those that are extremely simple/utilitarian. We have a lot of antique and vintage in the house — although I also have a deep love for the industrial rust belt aesthetic, so there are elements which soften/roughen up the elegance of our antique pieces. We also pull a lot of pattern and textural elements from Byzantine and Middle Eastern art and decor. Maybe in short our studio is: reclaimed meets old-world.
Inspiration: White, wood, light, and all old details (I am a bit overactive on pinterest), the Arts & Crafts movement of the thirties, the Midwest rust belt buildings/industrial elements/Brick, Amish utilitarianism and housewares, the stucco and stone of Older European buildings, nature, illuminated manuscripts, Oushak and Armenian Rugs. Also, everything done by the design duo from Jersey Ice Cream co., as well as the restaurant design taken on and documented by Arielle Alasko, and anything photographed by Beth Kirby.
Favorite Element: The roof beams were what sold us of course, but the pull-down ironing board in the kitchen (with even a sleeve board!) is what delighted us the most. There is also a built-in old fridge/freezer box...I was bummed I couldn't convince Jesse to go non-electric with it!
Biggest Challenge: Having to learn to create more multi-functional spaces in our small apartment (example: the kitchen table doubles as a food prep surface, a sewing station, a study spot, and of course, a dining space), and transitioning them frequently from one to the other. Oh, and naturally — storage.
What Friends Say: They are often surprised at how dynamic/inviting of a space it is for how small it is. There is great separation of spaces; Jesse's studying desk, the sitting area, and the kitchen are all shut off by French doors. Also the architecture of the exterior and details in the entryway of the building are really neat.
Biggest Embarrassment: The '90s "Tuscan style" tile countertops that don't go with the apartment style at all (and sadly they surely replaced some amazing [art] deco-era tile countertops, which certainly would have gone much better with the floor). There is also oddly a giant original painting of cowboy boots (spurs and all) in the entryway, a bit kitschy and amusing.
Proudest DIY: The coffee table, with its many imperfections, was one of the larger projects I've taken on and is always something guests notice. I love the character of the reclaimed hard wood, which I got for free from a decking supplier in the valley. (And the wheels I added from the upholstered blue sitting chair that used to be an office chair.)
Biggest Indulgence: Our 100% Natural Linen Sheets
Best Advice: Wait — and only buy it if you love it; it's better (when you're a big thriftier/estate sale-r) to hold off for that perfect item because eventually you'll probably find something perfect, often when you're not looking for it. It's much better to be patient than settle. Also, look at things with a new eye, functionality of items can often be altered/catered to your need. Lastly — always add living things (plants)!
Dream Sources: Flea markets small and large (especially European!), Thrift Stores/Estate Sales, Antique Stores, Rug stores (especially Oscar Isberian Rugs!), Bookstores, Vintage Hardware stores (especially Liz's antique hardware), Kaufman Mercantile, Salvage Décor Stores (especially in Berkeley, California and the Midwest!), Trading Markets/Bazaars of the East.
---
Explore this style: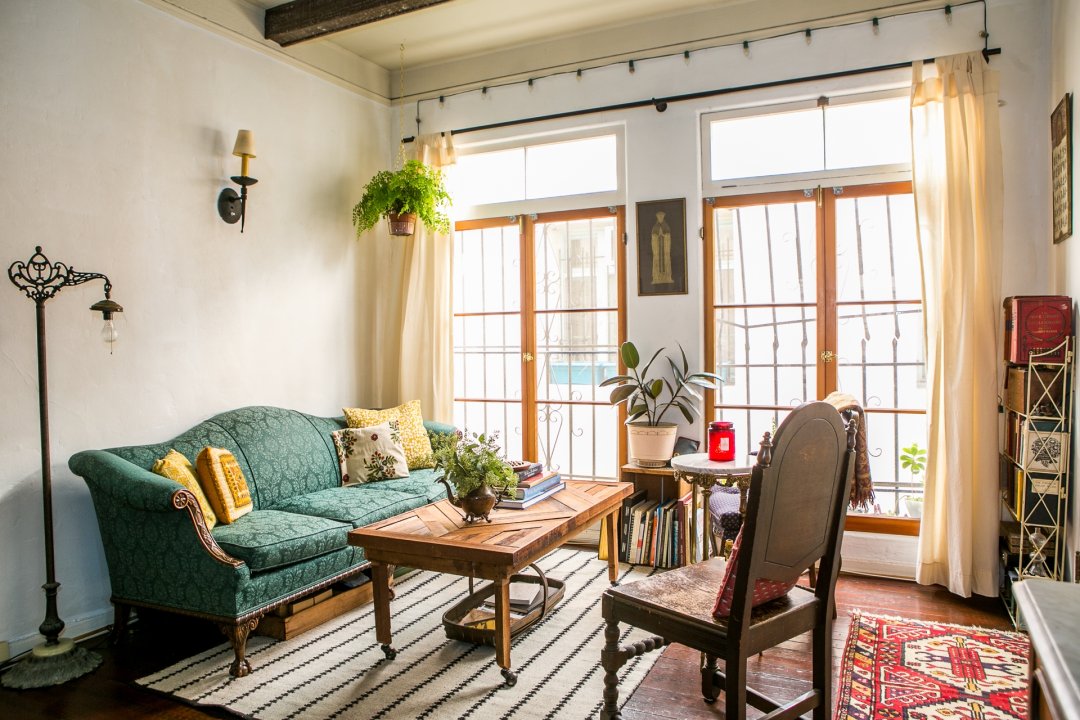 ---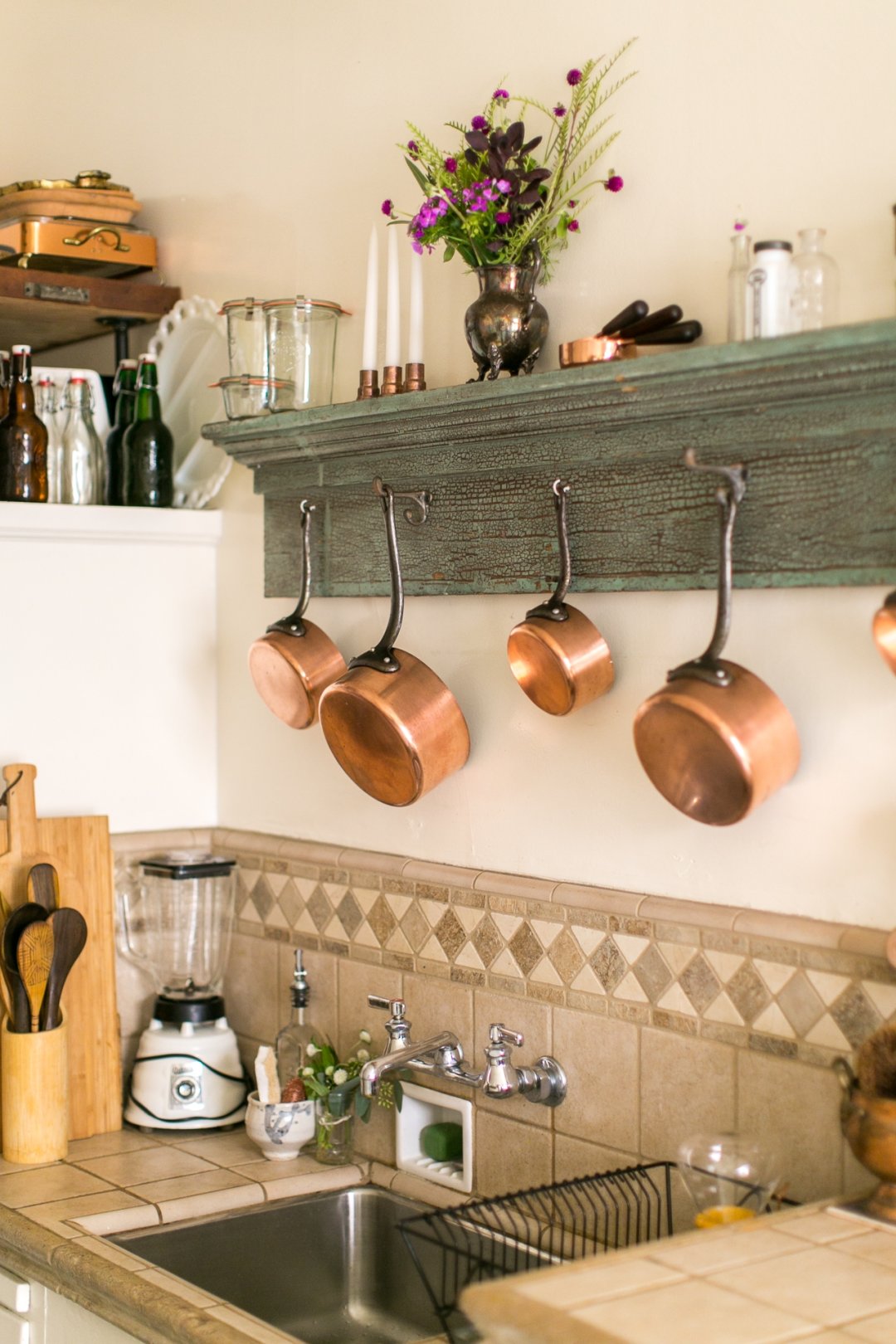 ---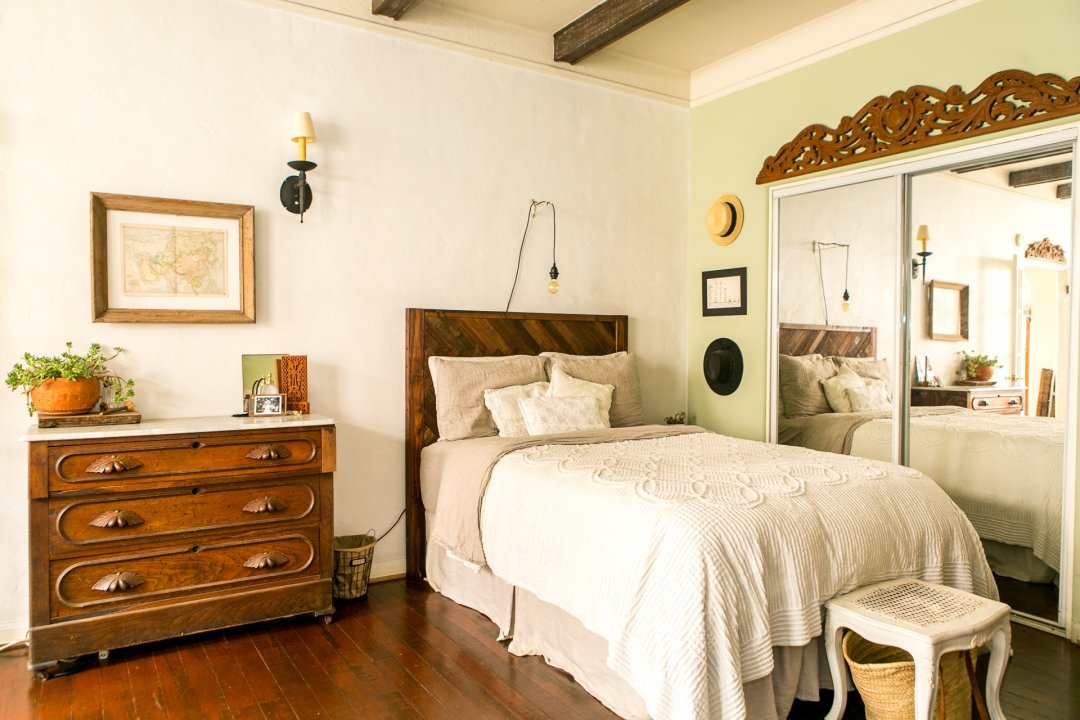 ---
More resources:
ENTRY
Forged iron for bookshelves — eBay
Rug — Found online
Landscape painting — Flea market (found by Meghan's mom)
LIVING ROOM (area)
Antique sofa and standing lamp – Meghan's great grandmother's
Marble and ornate bronze three-legged table — Jesse's grandmother's
Curtains, headboard, coffee table, yellow pillows, shelves — Made by Meghan
Hand-carved wooden chair, vintage crate — Estate sale
Black edison fan, woven Pillow, frames, magazine basket — Thrifted
Upholstered chair — Craigslist
Iron bookshelf, black framed brass rubbing of bishop— Flea market
Armenian alphabet wall hanging — Estate sale (originally from Yerevan, Armenia)
Hand-carved wooden marble solitaire — Wedding present from friend in Oxford
Black and white reversible rug — Found new at Goodwill (originally from Target)
Turkish rug — Garage sale
DINING ROOM/ KITCHEN
Walnut wood cutting board — Crate and Barrel
Marble + copper mortar and pestle — Anthropologie
Wine and cocktail glasses — Crate and Barrel
Weck canning/storage jars and full year calendar — Kauffman Mercantile
Copper measuring cups with walnut handles- Gift from Meghan's mom
Kitchen table and 50's porcelain blender — Craigslist
Wood shelves- LA reclaimed wood salvage yard
Raised shelf/tray table for storage — Made by meg from reclaimed wood
Vase & flowers paintings — Original works by our late friend Harut Manoushagian
Floral/peppers embroidery piece, old seat belt hook, antique scale — Garage sale/estate auction
Green antique wood shelf, copper hanging fruit basket, marble dough slab, other chairs — Thrifted
Antique Peugot coffee grinder, mini-bottle carrier, and copper pots — French flea market
Pot rack — Handmade (wood found from garage sale)
Hanging wire rounds holding plants — Found in a recycling yard dumpster
Antique floral upholstered chair, basket atop pot rack — Rose Bowl flea market
Vintage Pyrex chemistry containers above stove (with oil, vinegar, rosemary), old wooden folding chairs, Vintage zinc milk crates, old Pulley hook, wooden crates ­— Found at what we refer to as "the estate sale of a life time"
Mug — Ceramics made by a Korean ceramic artist downtown, Eunbi Cho. They were a gift from owners at GiorgiPorgi, where I helped install their entrance "moss wall"
BEDROOM (area)
Linen sheets — Amazon
Wood storage filing boxes — Target
Hanging pendant light (hook vintage), cord— IKEA
Marble top dresser & carved wood shelf/side table — Family heirlooms
Vintage map — A birthday gift to Meg from Jesse's late sister Tenny
Rough wood tray — Salvage wood yard
Vintage perfume bottle — Flea market
Plant + pot — Estate sale
Copper mirror and frames — World Market
Carved stone cross (Khachkar) — Estate sale
Vintage photographs book — Belonged to Meghan's great grandma
BERLICHT poster — Chicago antiquarian bookstore Bookman's Alley (best I've ever been to)
Vintage fan — A Salvation Army boutique
Taller handmade vase — gift from a friend
Smaller handmade vase and vintage blue accounting journals — Estate sale
Geneva soundsystem stereo — Side of the road find! It was so dang heavy carrying/waddling back to our apartment, but the sound is amazing.
Ceramic "little boxes" sculpture — Made by Meghan
Headboard — Made by Meghan
Marble top + Moroccan metal base bedside table — Rose Bowl Flea Market
Handmade hexagonal wooden jewelry box — A gift from a dear friend and amazing woodworker
VANITY/STORAGE HALL
Antique architectural chair — From THE estate sale of a lifetime
White plaster pot — Handmade
Poster w/Salinger quote — Handmade in a letterpress/book arts class Meghan audited
Suitcases — Thrift stores
Vintage globe — Gift from Meghan's mom to Jesse
BATHROOM
Towels and mats — Cost Plus World Market
Reed diffuser — local candlemaker scent expert Nature's Kindle
Hanging shelving — Thrifted
Armenian alphabet prints — Our artist friend Harut
Vintage fan — eBay
Vintage trash bin (milk bucket) — Rose Bowl Flea Market
Thanks, Meghan!
---
Apartment Therapy supports our readers with carefully chosen product recommendations to improve life at home. You support us through our independently chosen links, many of which earn us a commission.