A Relaxed Richmond Home Influenced by Color & Community
Name: Ashley Carruthers, Sean Williams, Ophelia the dog, and Witch King the cat
Location: Richmond, Virginia
Size: 900 square feet
Years lived in: 2 years, renting
Ashley and Sean were immediately welcoming, offering coffee and treats from Sugar Shack Donuts, a Richmond sweet shop. They were quick to discuss local makers, businesses, and unique things happening in their city, taking pride in the community they're a part of. Super kind and easy to talk to, it's no wonder the two have been able to nurture an inviting space in their home as well as at Ashley's shop downtown.
Ashley is the founder and owner of Rosewood Clothing Co., an Etsy shop turned brick and mortar in 2014 on Broad Street in Richmond, Virginia. She's a creative leader and collaborator in the community, with a sharp eye for quality vintage finds and a knack for curating independently made goods. Sean, a manager at local brewery Hardywood, is also a talented woodworker. He made the shelves in their bedroom, the living room table, and much of the shelving in Ashley's shop, too.
Although Ashley is originally from Charlottesville, Virginia, her parents hail from Peru and New York, and the South American influence on the couple's style is all over the apartment. Latin and Native American elements flow throughout the home, interspersed with unique thrifted pieces (that never made it to the shop!) and local contemporary artwork.
Sean and Ashley painted many rooms in the apartment themselves, choosing a color conducive to the type of living being done in each room; soft gray/blue for a calm living room, orange in the dining room for its appetizing and sociable qualities, green/turquoise in the office (Ashley's favorite!) to access creativity and prosperity.
This creative couple doesn't put limits on their ideas, but instead aims to foster a sense of community in their city and build a comfortable, relaxed space to call home.
Apartment Therapy Survey:
Our Style: Relaxed
Inspiration: Latin and Native American influence… I find a source of inspiration in colorful, lush, captivating artists as well. Dream team Frida+Diego (I'm a cliche, I know!), Miro, and O'Keeffe.
Favorite Element: All the space!
Biggest Challenge: Keeping everything tidy.
What Friends Say: We're the backyard party house!
Biggest Embarrassment: Our hair+dog+cat hair tumble weeds. And the basement. And the piles of clothes…
Proudest DIY: This would definitely have to be all of the hard work Sean has put into the house. He built the bar, coffee table, shelves + side table in our bedroom AND a big basement storage unit for all of my shop inventory. He also set up the outdoor lights and when the garden is in bloom, that's all him!
Biggest Indulgence: Our plants! When we have time off, we find ourselves indulging in some good food, grabbing a beer and heading to two of our favorite green houses: The Great Big Green House and Strange's. It's really hard to leave empty handed, even if we don't need anything. It always starts from a good place though!
Sean's really big on research, especially when investing in something. So when we do end up getting something for our home, it's with intention. The Wendy Peffercorn painting in the dining room, by Jonathan Hirsch, is a new venture for us. Most of the art we have in our house has been gifts from artist/designer friends, and while Jonathan is also a really good friend, it was our first super big investment for our walls. Sooo glad we have it! It fits really well with our space.
Best Advice: BREATHE
Dream Sources: If I had all the money I would spend it at this place called Born Again. It's a mid-century modern reclaimed furniture store that sets up showrooms that are so clean and beautiful. I'd also spend it at a friend's new store called 68 Home; all things comfy + cozy with the little detail pieces you always forget about like plant stands, bar carts and partitions. I'd say a source of inspiration comes from colorful, rich artists. Dream team Frida+Diego (I'm a cliche, I know!), Miro, and O'Keeffe.
---
Explore this style: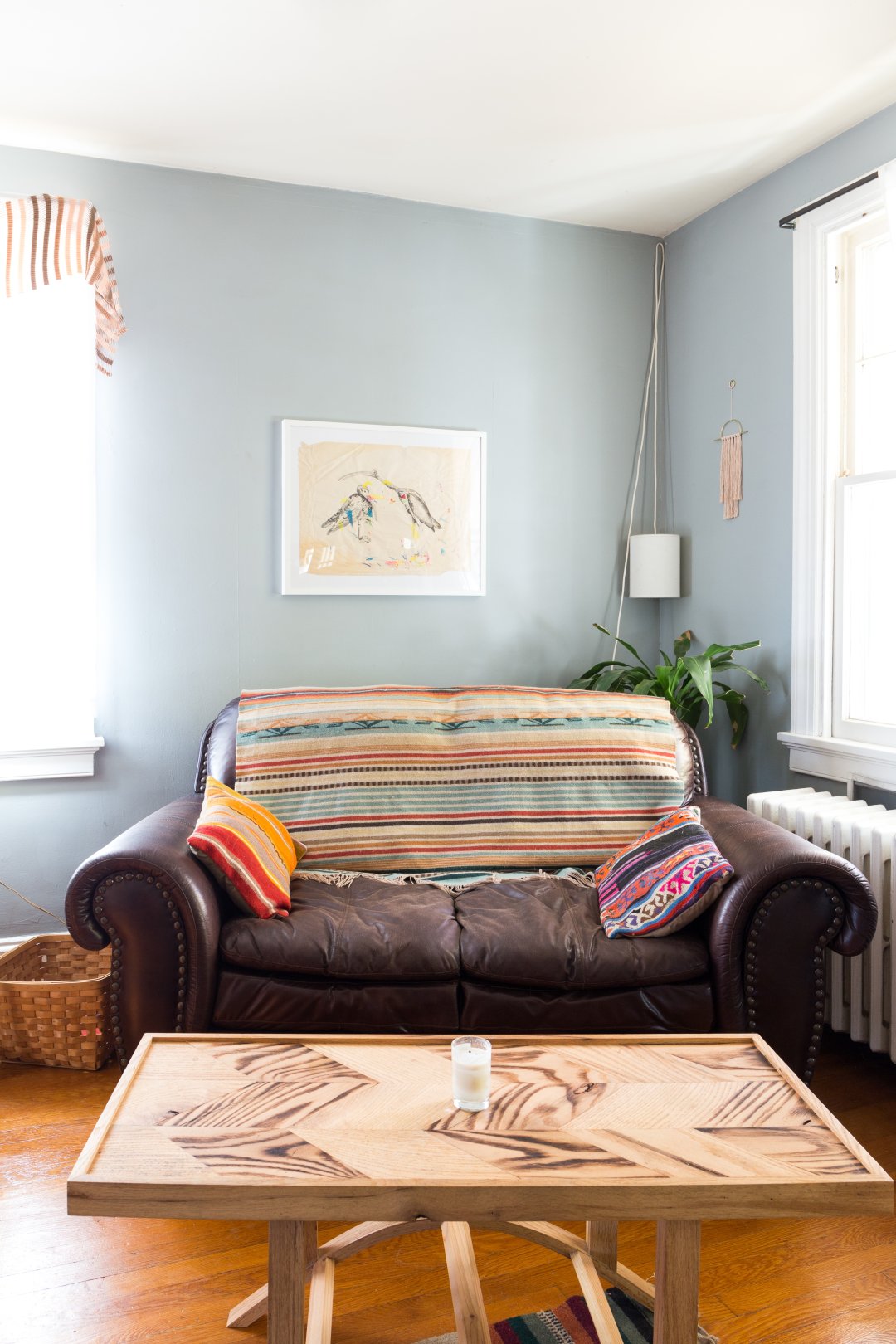 ---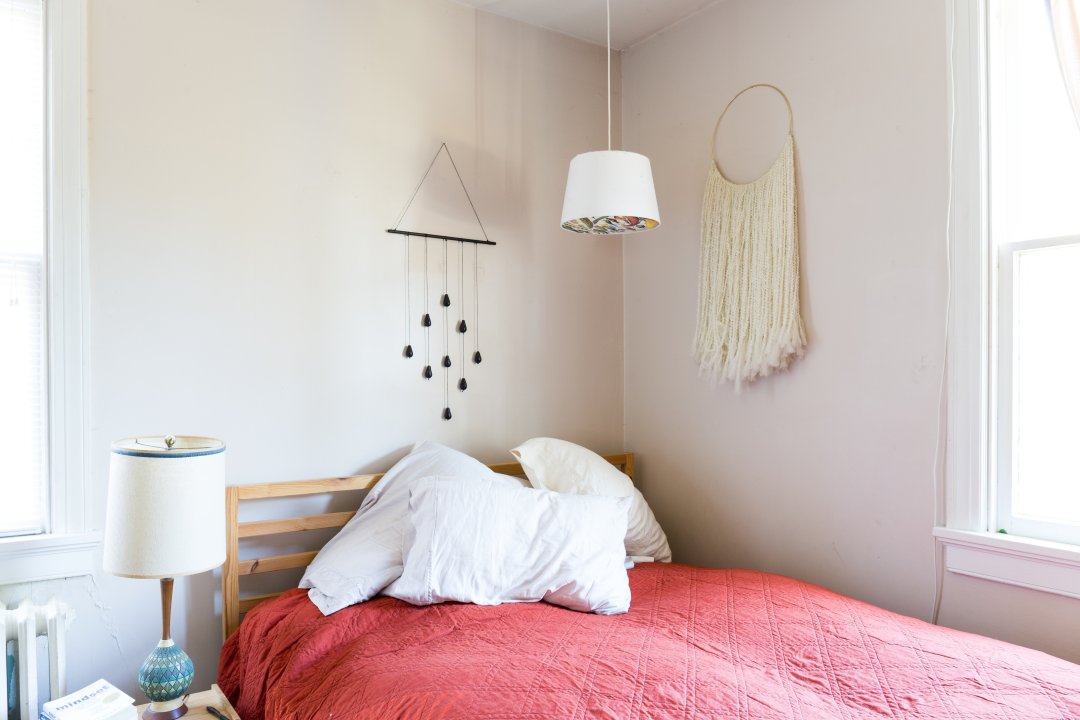 ---
Further resources:
LIVING ROOM
Kilim Pillowcases — Rosewood
Rug — Circa
Wall Hangings — Sonadora Handmade
Photography — Alexis Courtney
DINING ROOM
Photography — Alexis Courtney
Prints — Marleigh Culver
Art — Tyler Thomas
Plants — Great Big Green House, Strange's
Rug — Circa
Wendy Peffercorn Painting — Jonathan Hirsch
BEDROOM
Bench — Class and Trash
Wall Art — Sonadora Handmade, Dig Dog Dig
BATHROOM
Photography — Alexis Courtney
OFFICE
Rug — Born Again antiques
Art — Paloma Barhaugh-Bordas
Thanks Ashley, Sean, Ophelia, and Witch King!
---