Name: Phoebe, Dylan and Memphis
Location: Wye River, Great Ocean Road, Victoria, Australia
Size: 753 square feet
Years lived in: 3 years, owned
Phoebe, Dylan and their one-year-old son Memphis love escaping city life in Melbourne and driving down the Great Ocean Road to Wye River, relaxing at their Australiana fibro shack they've named Ipanema. Wye River is a small coastal town a scenic two and a half hour drive from Melbourne.
Their shack was built in the 1950s and Phoebe and Dylan feel especially blessed, as on Christmas Day last year Wye River lost 98 homes to a bush fire. The fire came within ten meters of their back door, and burned down houses immediately behind — so they feel lucky to still have the shack at all!
Once they bought their shack, Phoebe — who works for Remedy Kombucha as Communications Manager — and Dylan would set to work on weekends and any spare time to refresh their holiday home with fresh paint, sanding floorboards, re-tiling the bathroom and decorating with items from favorite designers and friends. For inspiration, Phoebe collected images on Pinterest from other fibro shacks — such as Fibro Coast on Facebook and Modernist Australia.
They have kept the layout original and really not changed much — with two bedrooms, one bathroom, living, kitchen, dining space and a separate bungalow. Built on a steep block near the top of a hill you get a great view among the gum trees from the outdoor deck, looking down to the ocean. They often have wildlife visiting. Phoebe and Dylan also rent out Ipanema through Airbnb, so others can enjoy the cozy retro fun of an Australiana fibro beach holiday shack.
Apartment Therapy Survey:
Our Style: Hmmm, let's call it "Nostalgic Mod Australiana." Essentially, we wanted to recapture the essence of the shack's '50s/'60s era roots without going too kitsch.
Inspiration: Our overarching inspiration was the classic Australian beach shack of the '50s and '60s. Modernist in its style and form, to us they sum up the best kind of holiday where the simple things bring the most enjoyment.
The '50s and '60s style in general was an inspiration. We named the house "Ipanema" after the Astrid Gilberto '60s bossa nova song "Girl from Ipanema" partly due to its '60s vibe and also because Brazil was one of the first places we traveled to together; while there we stayed at Ipanema beach. We were also inspired by our childhood beach holiday memories spent in quiet seaside towns before a lot of them became overrun by high rises and chain stores.
The other element that inspires us is Australiana — both vintage and modern. We have such a gorgeous setting amongst the gum trees, with a resident koala and echidna and lots of other wildlife; it's hard to not want to celebrate that.
Favorite Element: So hard to choose! But I would probably say the view, looking out through the gum trees to the ocean. Hard to beat.
Biggest Challenge: From a practical point of view, our block is on a very steep hill — along with just about every other property in Wye River. When we first bought the house and started renovating, the original steps from the driveway to the house had just been dug out of the ground with pavers placed on top of the earth. We renovated through a very wet winter, carting lots of stuff up and down, which meant the steps got very muddy and very slippery very quickly, making it even more challenging.
What Friends Say: Every single visitor — friends, family and Airbnb guests alike — comment on the record player and vinyl collection. We picked up the record player years ago from a friend's grandmother who was moving into a nursing home. It had been stored in a shed for years, hardly touched, and still had the original instruction manual sitting inside.
The other common comment is how relaxing people find it, with the setting and outlook. The shack didn't have TV reception connected and we haven't bothered getting it yet. There's a TV with a DVD player and a DVD collection and we also have wifi, but so many people like the excuse to disconnect from technology, play records and read books.
Biggest Embarrassment: The yard and garden. We've done some basic tidying, but we would love to do a lot more. However, now that we have it listed on Airbnb for holiday rentals and have a baby, we don't get enough time down there to get much done ourselves. So that will be our next big project!
Proudest DIY: For me (Phoebe), it would probably the wallpaper in the bungalow. My dad and I hung it together one weekend and were very proud not only of how it came up but that we were able to work so well together! For Dylan, I'd say it would be the floors. When we bought the house they were stained a really dark, organgey colour. Dylan sanded them all back himself and re-varnished them with a clear varnish to keep it light and bright. He hired a floor sander to do it, but the first one was faulty to start with and then the belt on the second one broke. So it took three weekends and lots of carting a very heavy piece of machinery up and down the slippery stairs before he got it done! He will be the first to point out the results aren't perfect, but it's a huge improvement on what they were before and satisfying given all the hard work!
Biggest Indulgence: Almost everything in the house furniture-wise was secondhand or gifted and we kept things pretty lean with the minimal renovations. Our biggest indulgence was probably paying a local painter to paint the outside of the house. We painted the inside ourselves when we first bought the shack, however the outside was going to be tricky due to the steepness of the block, not to mention a lack of time now we have a little guy to look after. In the end, it was totally worth it for quality of the result and the time it saved us.
The house had been painted a mushroom brown at some point (like so many other items in the house, it was one of many coats of paint given over the years to try and "modernise" it), but we wanted to take it back to its '50s/'60s glory, opting for a pastel blue with cool grey and white trims and pink doors.
Best Advice: If you don't yet have kids yet but are planning to and are renovating, go hard getting everything done before you do!
---
Explore this style: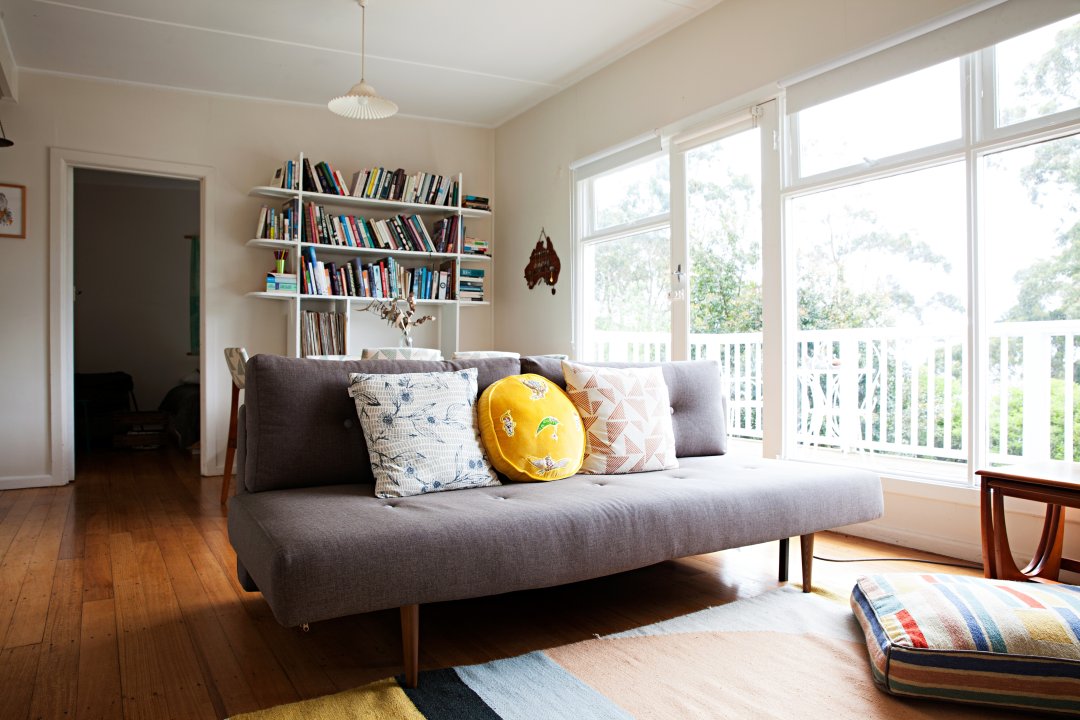 ---
---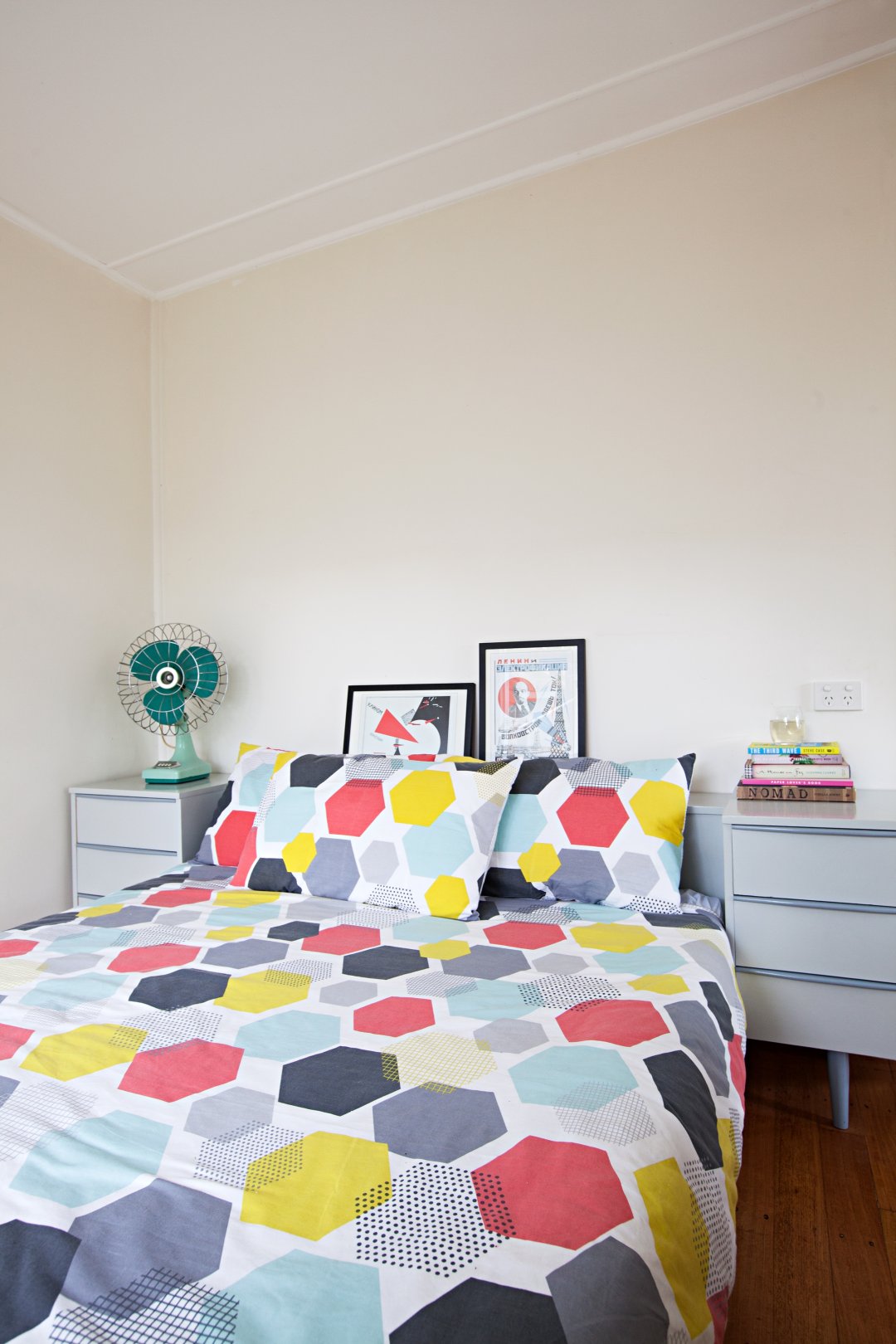 ---
More Resources:
EXTERIOR:
Baby Motive Blue Walls — Dulux
Tranquil Retreat Trim — Dulux
Vivid White Trim — Dulux
Precious Pink Doors — Dulux
Lemon Delicious Electricity Box — Dulux
ENTRY
Vivid White Paint — Dulux
Watermelon Doormat — The Woodsfolk
LIVING ROOM
Ipanema Sign — Carla Hackett
KITCHEN
Artwork beside bathroom door: Beth Emily
BATHROOM
Tiles: Classic Ceramics Nuova
Thanks, Phoebe, Dylan and Memphis!
---