A French-Chic Mix of Old & New in a Gorgeous Budapest Flat
Name: Szilvia Farkas
Location: Budapest, Hungary
Size: 990 square feet
Years lived in: Owned just finished renovation
Szilvia, a Hungarian lawyer, designed every single inch of this Budapest flat without any professional assistance. Not bad for a first home project, huh? As an avid reader of design blogs, interior design magazines and the design inspiration wonderland that is Pinterest, Szilvia was able to craft a lovely, minimal space that exudes elegance and respects the building's architecture.
Szilvia writes: "The apartment is located in a classical building in Budapest downtown, 7th district. After a massive renovation including the moving of the walls, total renewal of heating, plumbing and electricity, the 990 square feet flat consists of two bedrooms, two bathrooms (one with a bathtub and one with a shower) and a living room with an American-style kitchen. I wanted to create a mixture of old and new, with a hint of the 1900s era. So architectural details—like the moldings—creates a fresh look with the furniture when I combined antiques and Ikea.
My absolute favorite is the antique commode, the renovated turquoise armchair and the doors; they are all original! Some of the chandeliers came from the attic of my parents."
Apartment Therapy Survey:
My Style: I love eclectic design!
Inspiration: Hungarian apartments of the first part of the 1900s, French chic and also Scandinavian style. I inherited a love of interior design from my mother; she also loves to do it as a hobby.
Favorite Element: The turquoise armchair. It was made by Remodel Studio, a non-profit organization that renovates old furniture, which employs young craftsmen with disadvantaged backgrounds. Also, the antique commode that came from my mother.
Biggest Challenge: During the whole renovation, the biggest challenge was how to hide the mechanical equipment. Now the water heater is hidden in the built-in cabinet of the entryway and the washing machine and heating system is hidden in the built-in cabinet of the bathroom.
What Friends Say: They say I should start a school to become an interior designer.
Biggest Embarrassment: There were a lot during the renovation; I cannot choose one.
Proudest DIY: I am not good at DIY but I put together the IKEA rack myself in the entryway.
Biggest Indulgence: That I could manage the whole design without professional assistance. And as a lawyer, I was a part of the project from the preparation of the sales and purchase agreement.
Best Advice: Think before making a decision; your home has to be practical not just beautiful.
Dream Sources: One day I will have a Bretz sofa!
---
Explore this style: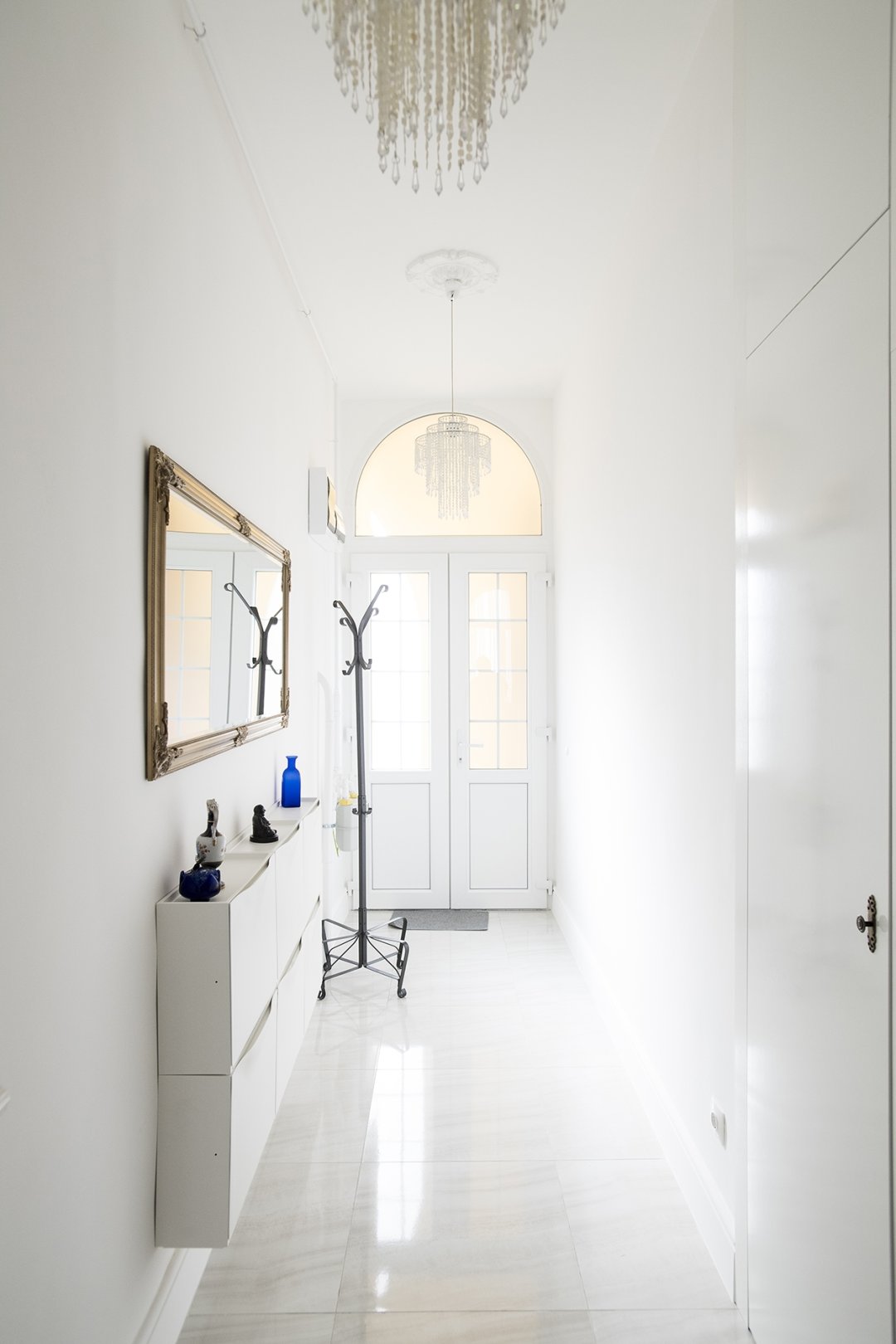 ---
---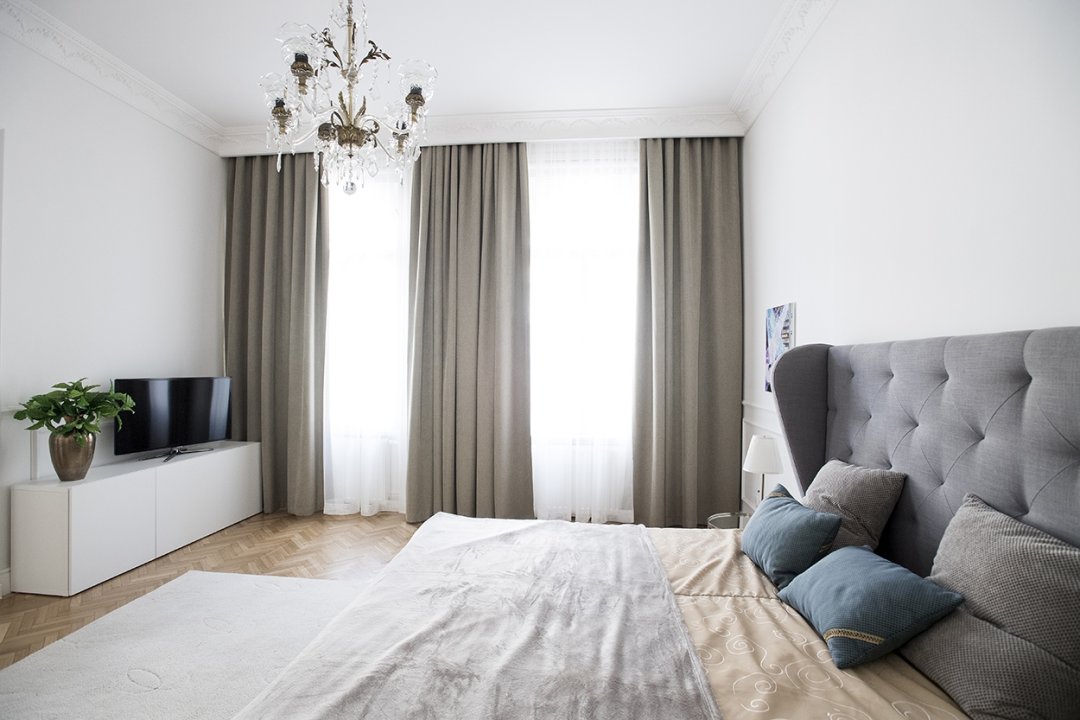 ---
More resources:
PAINT & COLORS
Héra – 01 white (a little bit of black mixed in it to soften the super white effect)
LIVING ROOM
Sofa — IKEA (can be opened as a bed)
Charlize Pillow — Mömax
Cube Pillow — Mömax
Dining table — Vatera (similar to Craiglist)
Coffee table – Vatera (it is like Craiglist)
Ghost chairs – Vivre
Turquoise armchair – Remodel
Commode – Given by my mother from the entryway of the family's house
Original Thonet Chairs – Came from my soon-to-be sister-in-law
Chandeliers — Room and the master bedroom came with the flat; chandelier in the smaller bedroom, wall light in the living room, and the light in the bigger bathroom came from my mother
Curtains and rug – Diego
Art – prints on canvas
KITCHEN
VOXTORP fronts — IKEA
MASTER BEDROOM
Cannes Bed – Mömax
Cushions – Mömax and from my mother
Wardrobe – IKEA
Rug – From my mother
Curtains – Diego
TV stand – IKEA
SMALL BEDROOM
Bed – Mömax
Wardrobe – IKEA PAX
Curtain - Diego
BATHROOM
Vanity —IKEA (in both bathrooms)
Knobs – Zara Home
Accessories – Zara Home
Gold Mirrors – Jysk
Thanks, Szilvia!
---