A Dreamy Dutch Home for Minimalists
Name: Victoria, Nikolai and Maya
Location: Amsterdam, The Netherlands
Size: 1,230 square feet
Years lived in: Owned for 1 year
Nikolai and Victoria met during their last year in university and moved around Amsterdam quite a bit until they settled down in this lovely two-floor apartment. After renting five apartments over the last 10 years they felt ready to buy their own place. Even though they both come from different countries — Nikolai is German and Victoria is Russian and raised in Israel, they both feel very much at home here, in the Netherlands.
Victoria shares, "Amsterdam is a wonderful place to call home! It's a real hub of different cultures, nationalities and religions. I find interior inspiration everywhere here: in many little boutiques, antique shops, art galleries or just by walking along the beautiful canal streets and peeking into the large first-floor windows (usually without curtains; Dutch are funny that way)."
The house was very different when they found it; it needed quite a bit of work. They changed the floor plan to make it feel light and airy, changed all the electrical and fully renovated the kitchen and bathrooms. Victoria stressed that they worked with a relatively humble budget so they had to learn to plan things well in advance; there was little room for error, which usually brings extra costs.
They were both drawn to a more minimalist design, figuring out how to simplify while keeping their home clutter and stress free. It was important to them to try and use as many local materials and work with local companies, as possible. Victoria expressed, "We still have a lot of Ikea items from our student years, but we are slowly exchanging them for more quality pieces. For now, we are just making them work in the new house and not rushing. We really want to take our time until we find things that we really love."
Apartment Therapy Survey:
Our Style: Minimalist
Inspiration: Art and design, architecture, Japanese style, nature and traveling.
Favorite Element: The whole light and airy feeling of the apartment. For us the free space is as important as the actual furniture.
Biggest Challenge: So many, from the legal issues, like ordering a skip container to move all the piping around the bathroom. This apartment is the first one we've bought so we've learned a lot from the whole renovation process.
What Friends Say: Wow! It feels so much bigger here than we thought it would be.
Biggest Embarrassment: Being too sure of myself and not putting any budget buffer on the side, even though everyone told me to put at least 20% away for unforeseen problems. Of course we've ended up needing this extra cash in the end.
Proudest DIY: Not hiring a project manager and planning out everything ourselves: from the legal issues, permits etc., to coordinating electricians, plumbers and builders. Being able to stay within the budget (somewhat) and the timelines.
Biggest Indulgence: Bathroom sinks, cupboards, and the kitchen tiles.
Best Advice: 1) Shop around. Often the best deals can be found in other countries (Europe) or other states. 2) Take your time choosing the team you'll work with, go with your gut, you'll spend a lot of time with them, so be very clear on your wishes and expectations. 3) Don't rush and buy everything straight away to fill in the space in your house. It's okay if it takes some time, sometimes years, to find the perfect art piece or furniture you are looking for. I think interior design is always a "work in progress." 4) And, the most important advice: put away 15%-20% of your budget in case something will go wrong (because it will).
Dream Sources: Pinterest, random websites, nature.
---
Explore this style: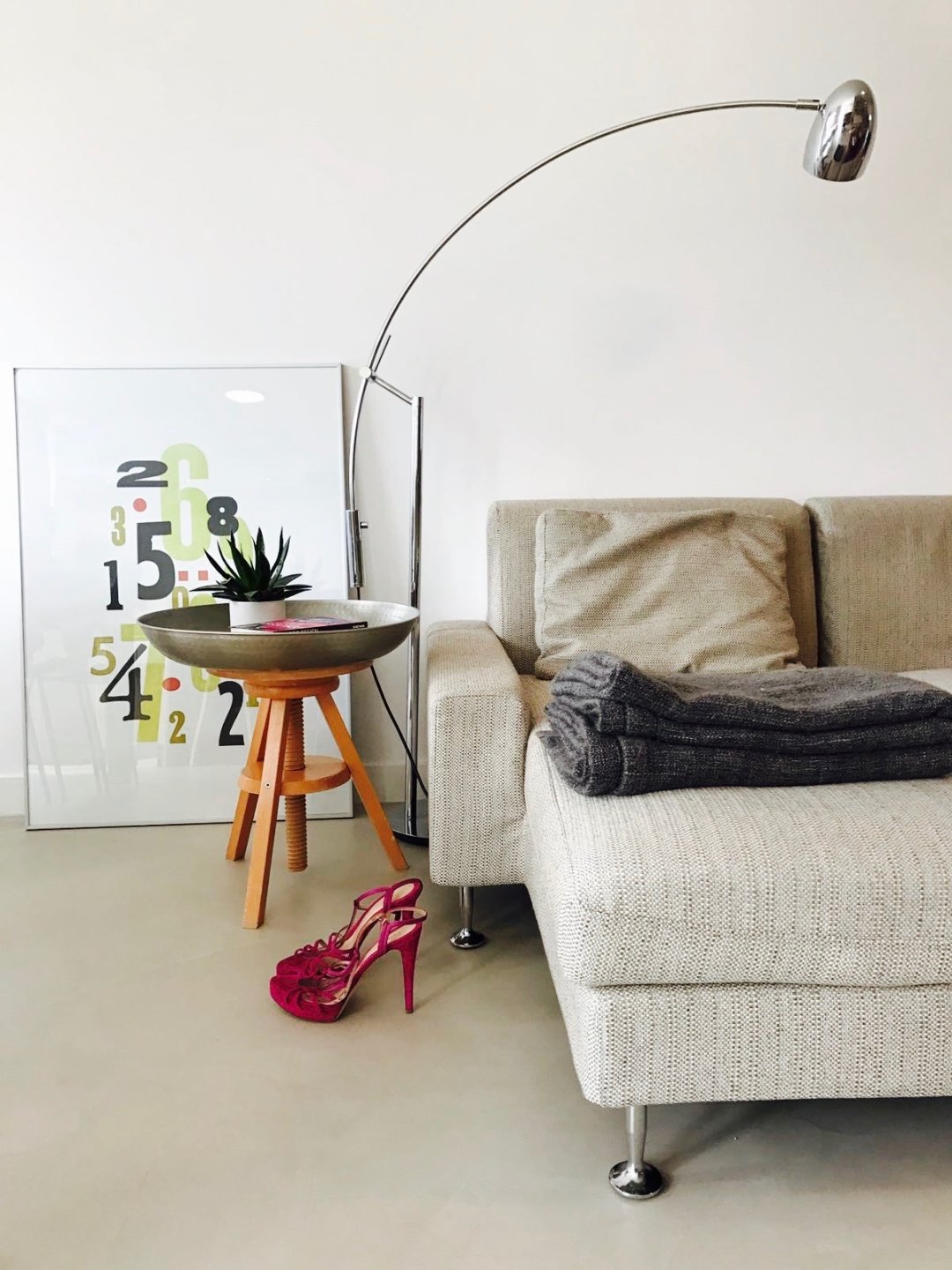 ---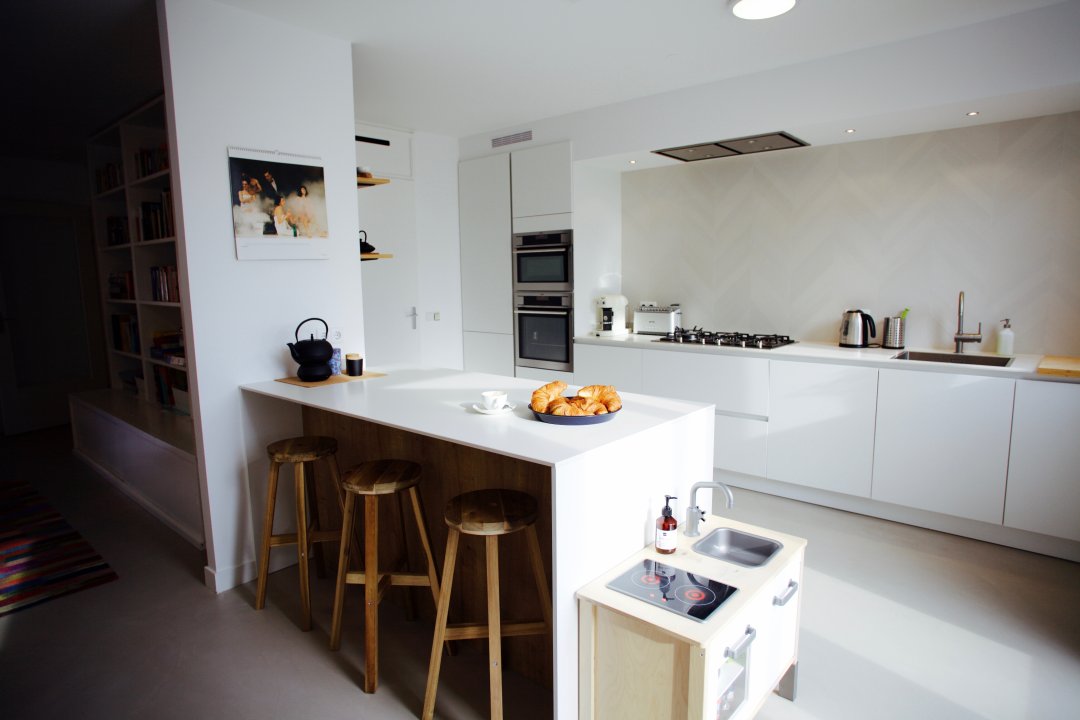 ---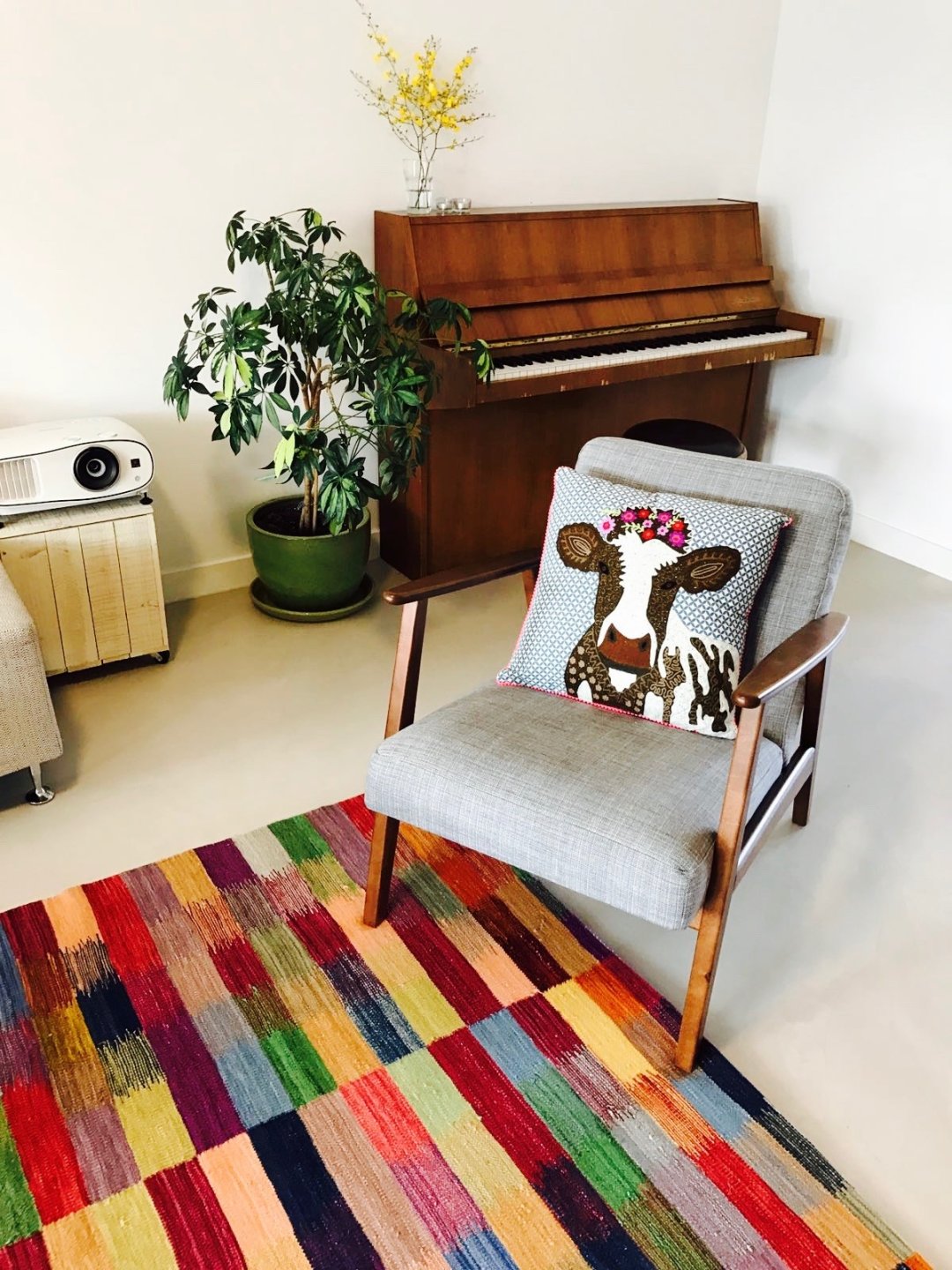 ---
More resources:
PAINT & COLORS
Flexa (white)
LIVING ROOM
Coffee Table - Vintage 70's coffee table bought at TOON Amsterdam
Sofa - Woonfabriek
Grey Armchair - IKEA
Cow Pillow - Waar
Bookshelf - self made as a "Christmas" project 6 years ago. Nikolai's parents have a large basement in their house so it was a perfect opportunity to flex our "DIY" muscles. Later on there was an adjusting cupboard built to host a projector screen inside as a part of home cinema.
Carpet - CarpetVista
Curtains - HEMA (made the curtains and blinds for the whole house)
Ceiling Light Fixtures – Rendl Light Studio
Floor Lamp - Woonfabriek
Floors - Beton-cire
KITCHEN
Kitchen Cupboards and Countertops - Mandemakers
Electric Appliances - AEG
Coffee Machine - Nespresso
Tiles - Mews, porcelain tiles designed by renowned industrial designers Edward Barber and Jay Osgerby for "Mutina"
DINING AREA
Dining Chairs — IKEA (self painted)
Lamps — Iumi
STUDY
Table and Cupboard — All made to size during the renovation by our builders
Lamp — Ninebyfour, Waarmakers, made from Stadshout; salvaged wood from Amsterdam trees. On the cork you can find the geographical coordinates of the trees' city origins by simply entering these coordinates in Google.
Sofa bed — Mørteens
Floor lamp — IKEA
Desk accessories — IKEA
HALLWAY
Our lovely builder Sergey used the floor boards form the top floor to cover the stairs. It was a mammoth task lasting a week, but we think it's really worth it. The stairs tie up the 2 levels by bringing a bit of wood down to the first floor, which is concrete.
Lamps — IKEA hack. The two are sold as a separate lamps and our electrician and I made one lamp from them.
Large posters – made during my study at University (for graphic design). The frames are from IKEA.
BEDROOM
Bed - Hulshoff
Wardrobe — Made by our friend based on our design for our last apartment. We've managed to fit it by cutting it down a bit (the previous apartment had higher ceilings). The doors are made from "IKEA" blinds, which are quite cheap and easy to replace if we would like a change of color.
Posters – Toulouse-Lautrec paintings, bought at The Musée Toulouse-Lautrec in Albi, southern France. The frames are from IKEA.
Bedside Light - Woonfabriek
BATHROOM
Vanity — Not Only White
Taps — Vola
Mortex Walls and Ceiling – The builder with the hands of gold, Bydenij Vitalij
Concrete Vase – Our local flower shop
Vintage Yakuza Photos – Second hand
MAYA'S ROOM
Baby Bed - From a friend
Furniture - Second hand from large Dutch site, Marktplaats
GUEST ROOM
Sofa bed – Innovation
Closet – PAX from IKEA
TERRACE AND BALCONY
Materials (wood) – Hillhout
Built by – Towards Nature
Large sofa cushions – Online Maat Kussens, custom-made
Thanks, Victoria and Nikolai!
---
Apartment Therapy supports our readers with carefully chosen product recommendations to improve life at home. You support us through our independently chosen links, many of which earn us a commission.