A Handmade Home in East London
Name: Aine Donovan and Eloise Jones
Location: East London
Size: 1200 square feet
Years lived in: Owned for less than a year
How much can happen in eight months? For this couple in London, Aine Donovan and Eloise Jones, turns out quite a lot. In this short period of time they have bought a house, gutted it, knocked down a few walls, painted every single surface, made beautiful furniture and even built a kitchen from scratch, all whilst being pregnant and preparing for a baby.
"We renovated the house on a small budget so apart from major building work we did it all ourselves," Eloise tells me, "It's amazing what you can learn from YouTube!" Coming from a product design background, Eloise has crafted a truly beautiful home out of inexpensive materials. She built the decking in the garden using reclaimed scaffold boards. The dining table is a hand-me-down from her uncle, which she stripped and bleached the top, then treated with Osmo and painted the legs with Farrow and Ball's All White. She also refinished the original floor throughout the house. "We had to replace lots of floorboards that were in a bad condition, after that I just gave the floor a light sand and major clean before priming, undercoating and two top coats." Painting the floor in Farrow and Ball's Downpipe really gave the floor a new lease of life.
To describe the renovation as a labour of love is an understatement; Eloise even went as far as designing and building the kitchen from scratch with the help of some friends. "The doors are in Birch plywood with finger pulls routed along the top edge; we kept the spacer sheets of ply between cupboards showing the cross section to make it look a bit more interesting." The worktop is Corian in Designer White, which was fitted professionally. The overall effect of this kitchen is absolutely stunning, but at a fraction of the cost of a standard shop-bought kitchen and is totally one-off.
The rest of the house is kitted with lots of vintage furniture from antique markets and pieces inherited from family, but freshened up by contemporary artwork dotted throughout the house. Aine, a print production director at an advertising agency who also runs the contemporary art shop They Made This is no stranger to curating exhibitions with modern artists in her day job. Her home is just like a mini gallery for her online shop and she has a real talent for spotting interesting artwork from both well-known and up-and-coming artists. The result of this eclectic mix of old and new makes this home unique and very interesting.
So maybe it's their love for crafting something beautiful using their bare hands, or it's the need to preserve family history and memories, or maybe it's simply the nesting instinct, but Aine and Eloise have certainly done themselves proud in the past eight months. With a month to go before their baby arrives, they can finally put their feet up and enjoy the house. All before the chaos start again in a few weeks time, of course.
Apartment Therapy Survey:
Our Style: An eclectic mix of old and new, lots of vintage, mid-century and contemporary art.
Inspiration: Everything and everywhere really — other projects we've worked on, all our travels, magazines, pinterest, instagram and online, shops, bars, restaurants, exhibitions and galleries.
Favorite Element: Aine: the kitchen, a lovely open, bright space to hang out in.
Eloise: all the little family treasures dotted around, not expensive antiques but bits of history that jog memories. My collection of vintage and antique magazines and books.
Biggest Challenge: Living in a building site with no kitchen for three months while Aine was pregnant.
What Friends Say: Can we have a party at yours?!
Biggest Embarrassment: Pet paw prints on our bedding!
Proudest DIY: Designing the kitchen in a tight spot was tricky but we're both happy with the result. The doors are in Birch ply with finger pulls routed along the top edge, we made them extra long — just because! We kept the spacer sheets of ply between cupboards showing the cross section to make it look a bit more interesting.
Biggest Indulgence: Knocking through the rooms at the back of the house and installing doors to the garden, it took quite a wedge of our small budget.
Best Advice: I love the William Morris quote "Have nothing in your house that you do not know to be useful, or believe to be beautiful." I first heard this at art school and I have tried to live by it. I think it also means to have what you like, not what someone else says is cool.
Dream Sources: They Made This London, ebay, Kempton antiques market, Rockett St George, Botany on Chatsworth Road, Aria.
---
Explore this style: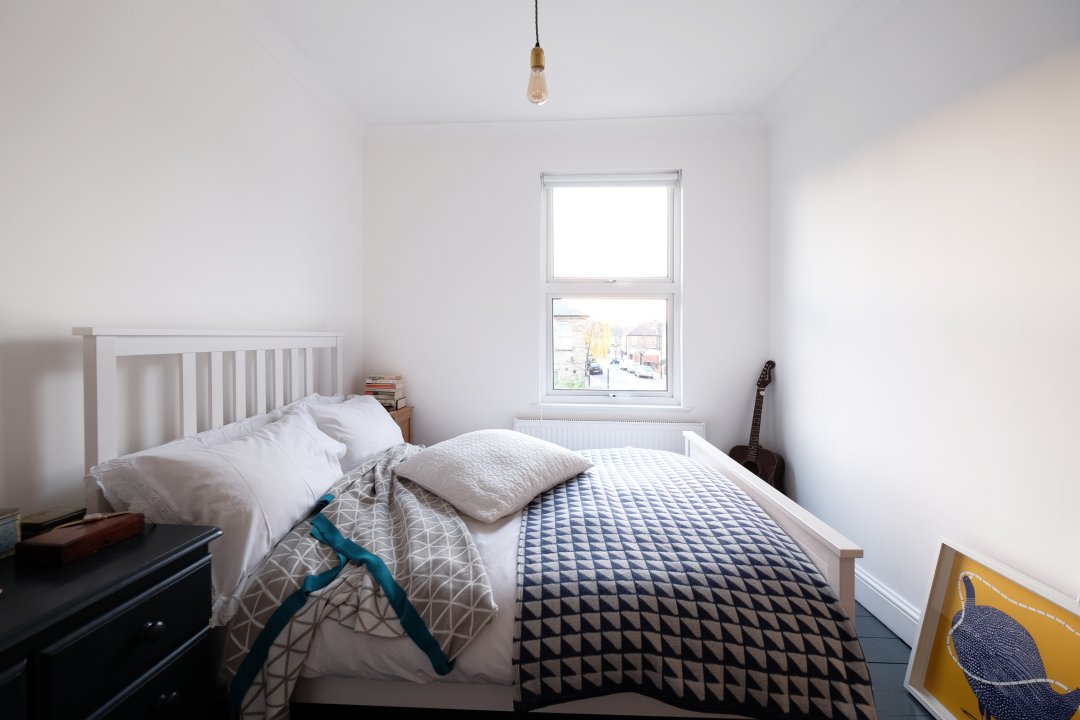 ---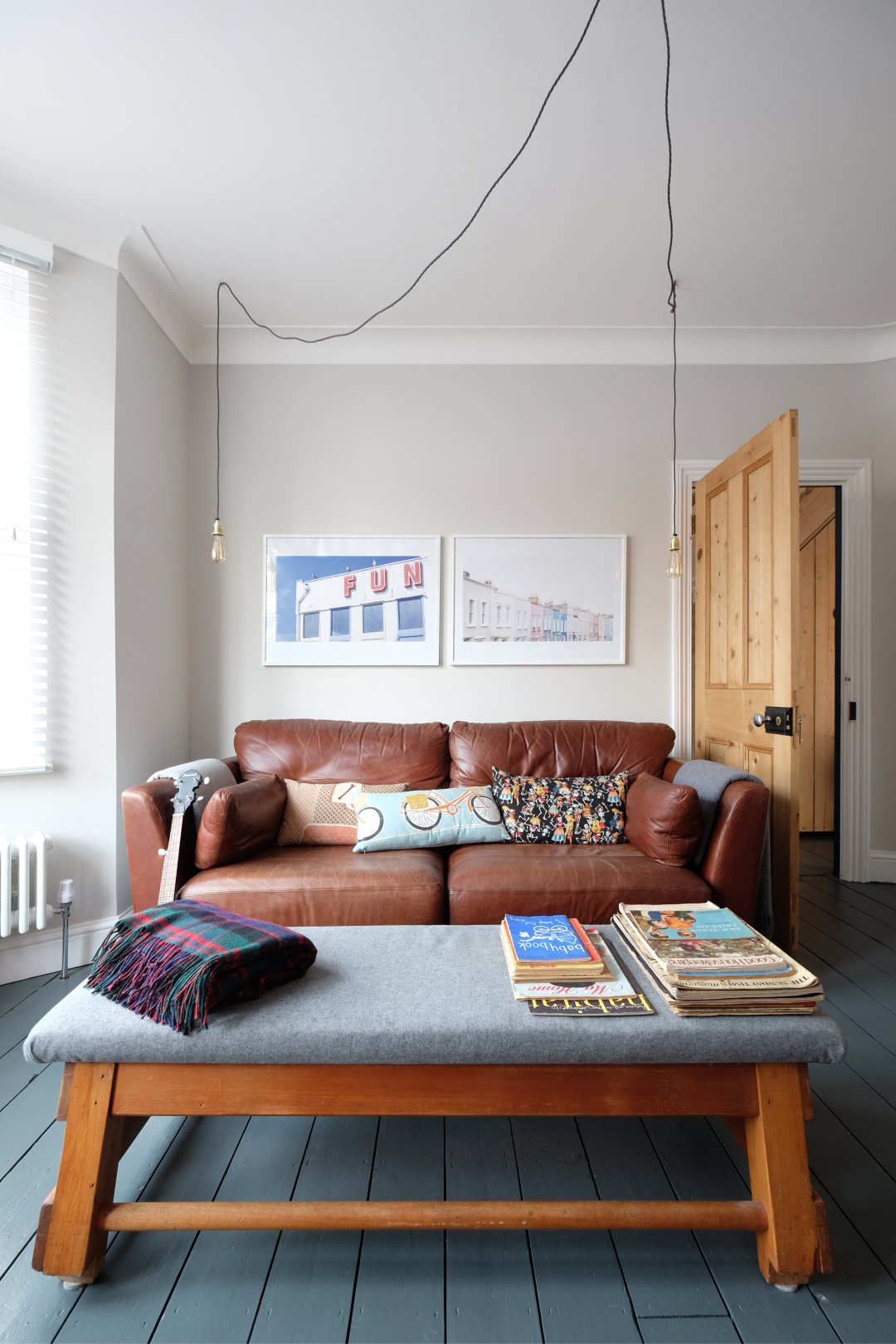 ---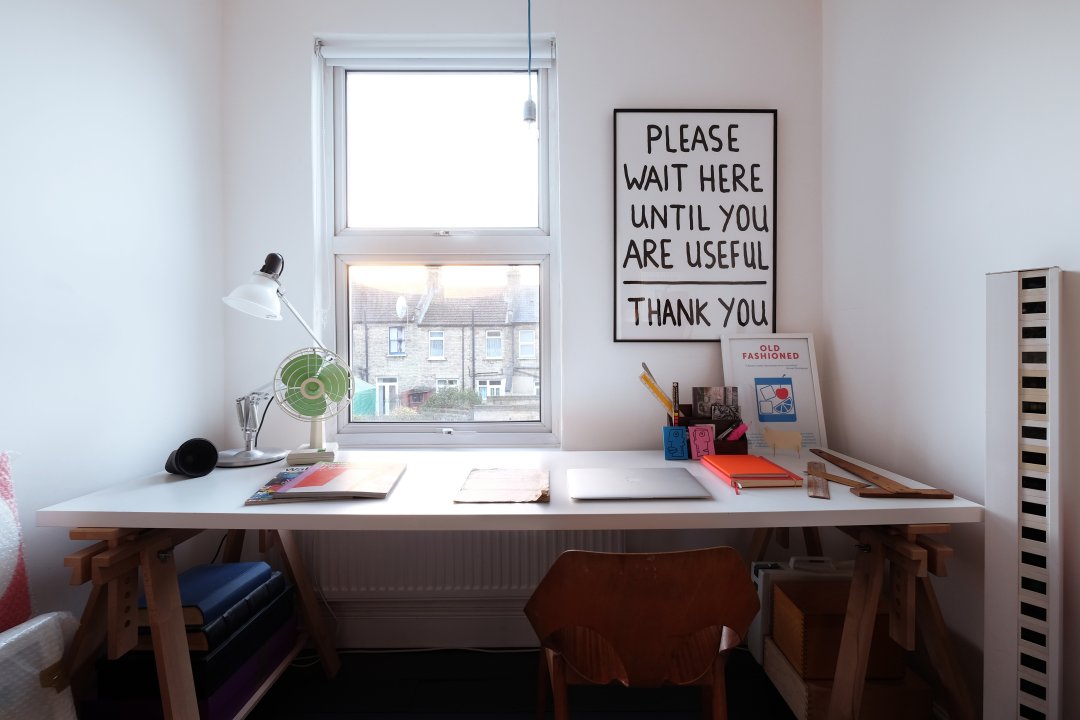 ---
More resources:
LIVING ROOM
Farrow and ball Dimpse on walls, Dulux white satinwood on woodwork
Lighting - Dowsing and Reynolds
All art work through Aine's website
G Plan sofa - El's mum made the cushions with fabric we bought in America
The foot stool/coffee table - Top of an old gym horse that we got at Kempton antiques market and recovered
Plan chest - eBay
The oil burner and metal trunk have been in El's family for over 40 years, both have been around 10 different colours over the years.
KITCHEN & DINING ROOM
Kitchen cabinets are B&Q carcasses with bespoke Birch ply doors and a Corian worktop in Designer White
Wire shelves - eBay find
The enamel signs were in the family
Artwork is from They Made This, posters we've picked up on our travels, the map is an old French school map from Kempton Market.
OFFICE
Plan chest from Ebay
Trestle table IKEA
Blue ceiling light - Dowsing and Reynolds
BATHROOM
Farrow and Ball Black Blue and Dulux matte white
Hudson and Reed bath, shower and sink fittings and towel radiator
Bath mat is vintage French grain sack material
Hot dipped galvanized mast lights are from Rockett St. George
BEDROOM
Farrow and Ball Lamp Room Grey on half the wall, skirting and door
Dulux matt white on other walls and ceiling
Farrow and Ball Lamp Room Grey on chest of drawers and clothes airer
GARDEN
Farrow and Ball Downpipe on external woodwork
Reclaimed scaffold boards for decking
Vintage enamelware and terracotta pots collected over years
Beer table and benches were a bargain, found on Gumtree
Thanks, Aine and Eloise!
---