A Vintage Lover's First Home
Name: Ana Nelson
Location: Tacoma, Washington
Size: 925 square feet
Years lived in: Owned, 1 year
Ana grew up working for her family's event company, and has always loved vintage items, so when she set out to buy her first house, she knew she would be happiest living in a home from another era. At just 25, Ana purchased a small 1920s bungalow, and has spent the past year converting the home from a dark, run-down space into the bright, cheery cottage that it is today.
Ana's knack for estate sale shopping has helped her create a fun, comfortable space that is layered with eclectic vintage furniture, art and objects. With a keen eye for arranging, and her motto, "When in doubt, paint it gold," her space feels artistic and youthful, despite the fact that almost every item in the house is an antique. Along with help from her partner Anthony and her parents, Ana has tackled many of her home's big projects, which appeals to her sense of frugality and is also a source of pride for the first-time homeowner.
Apartment Therapy Survey:
My Style: I love vintage pieces, history, worldly patterns, embroidery, and texture. Much of my decor feels timeless and a little whimsical, yet practical and comfortable. By day I design thematic special events — everything I do is highly stylized — so naturally this follows me home and I can never stop designing my spaces.
Inspiration: I wanted a cute lil old house with built-ins and hardwood floors. Sad reality check: not much fit into my first-house solo budget. In lieu of having more money to buy the pristine restored home of my dreams, I purchased a 1921 fixer-upper Craftsman with good bones. Since I couldn't afford the aesthetic I had in mind, I had to design it! Simple improvements and classic choices (from the restoration of the proper style of trim and molding) coupled with my eclectic gathering of curiosities and oddities helped to make my house into the charming home I love today. I think my story is relatable and inspiring to other first-time home buyers on picturing the possibilities, and how to get what you want on a smaller budget.
Favorite Element: I really love the natural light the house gives off in the middle of the day with large windows. The choice of thin curtains gives maximum light while still maintaining privacy from the neighbors. A warm white palette for the walls (yes, I chose to keep the wood paneling for a cottage look!) and ceilings in the living spaces are accented by bright and vibrant decor making the whole space feel very warm and comfortable to be in.
Biggest Challenge: When I first showed my family this home, their response was anything but excited. "Really?... That one?" The poor thing saw the worst of what rental properties become. It had drop-down tiled ceilings, wood paneling, old carpet over linoleum tiles secured with thick black tar goop, missing cabinet doors, covered-up windows and so many more quirks. We joke most of my projects have just been undoing previous renovations! The irony was the biggest challenge was undoing all of the "improvements" the house had seen over the years, and restoring it back to its 1920s charm.
What Friends Say: "Grandma's house. But in a good way." Is that a compliment?... I think so. My partner says, "You have a real appreciation for timeless aesthetics. That's definitely reflected in your choice of home décor as well as your passion for recovering vintage clothing and seeing it to a new home." So I guess I'm just an old soul in a modern world when it comes to my home!
Biggest Embarrassment: The outside of the house. In the past year most of our energy has been put into remaking the interior of the home that the vacant yard, the ancient shed, slumpy porch and way over-grown apple tree out front have yet to see any real attention. However, 2017 is the year of the outdoor space!
Proudest DIY: It might be considered an unusual DIY, but the project I am most proud of in my home is the transformation of my back mud room into a working online vintage shop. The shop not only feeds my soul and need to treasure hunt, it also supplements the cost of improvements and embodies a lot of the same values I look to display at home: worldly and eclectic qualities that are funky and fun.
Biggest Indulgence: Refinishing and staining the original fir floors. I prepped the floors and cleaned them up with my family, but opted to have a professional sand and stain them. It was expensive, and if I had more time I think about how we probably could have done a decent job ourselves. This house is quirky, no walls are strait, so I think our best DIY effort would have matched just fine.
Best Advice: Pick a house with good bones, and a functional layout. See through undesirable renovations. And pattern clashing is awesome!
Dream Sources: I'm a thrifty gal and most of my home decor has come from my secret weapon, estate sales. I've filled my space with worldly treasures found within a ten-mile radius. My city is near a military base, and local estate sales are full of unique pieces from overseas. It's also the thrill of the hunt, you never know what you're about to stumble upon. Furniture, textiles, knickknacks with soul, an old autopsy table…
Explore the style:
---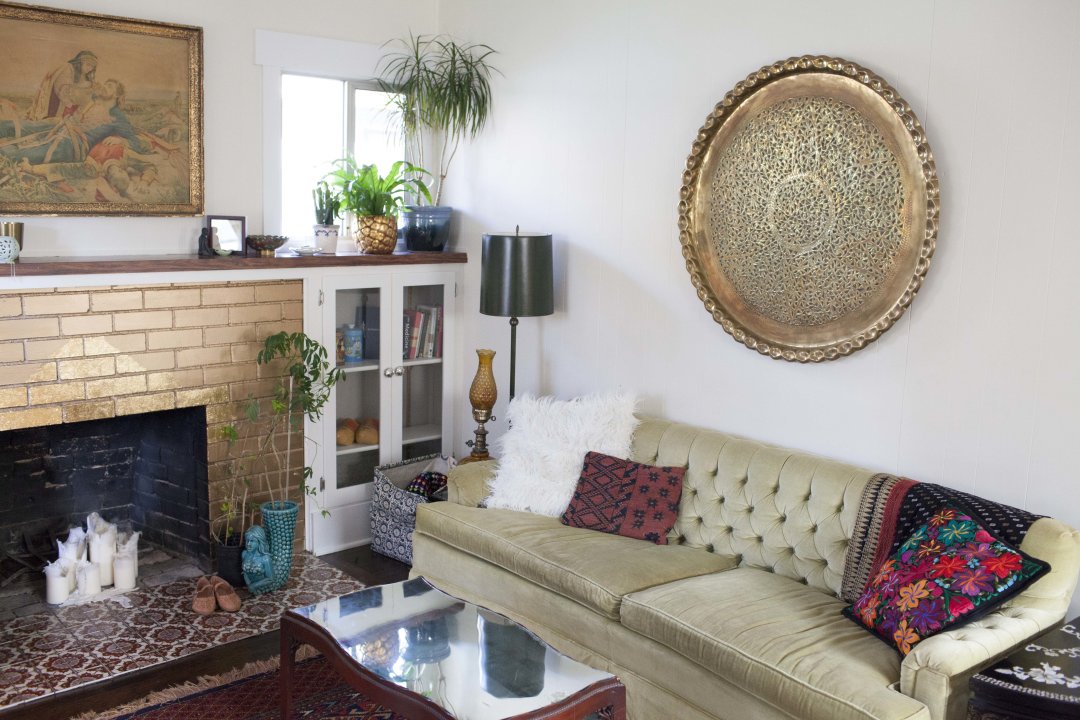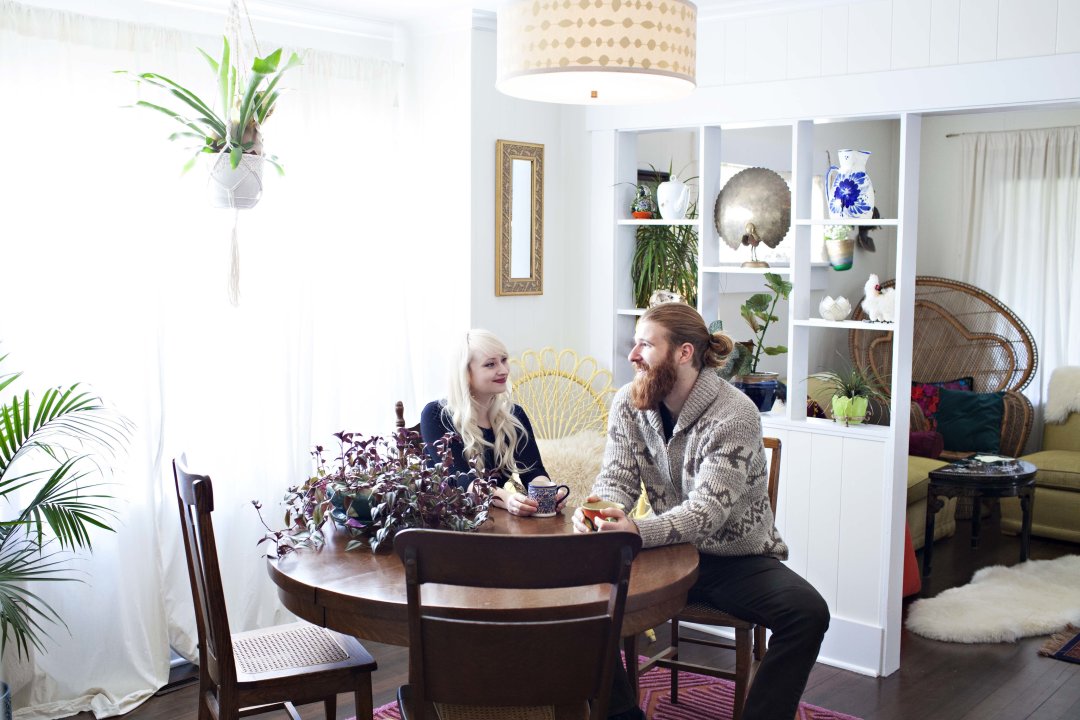 ---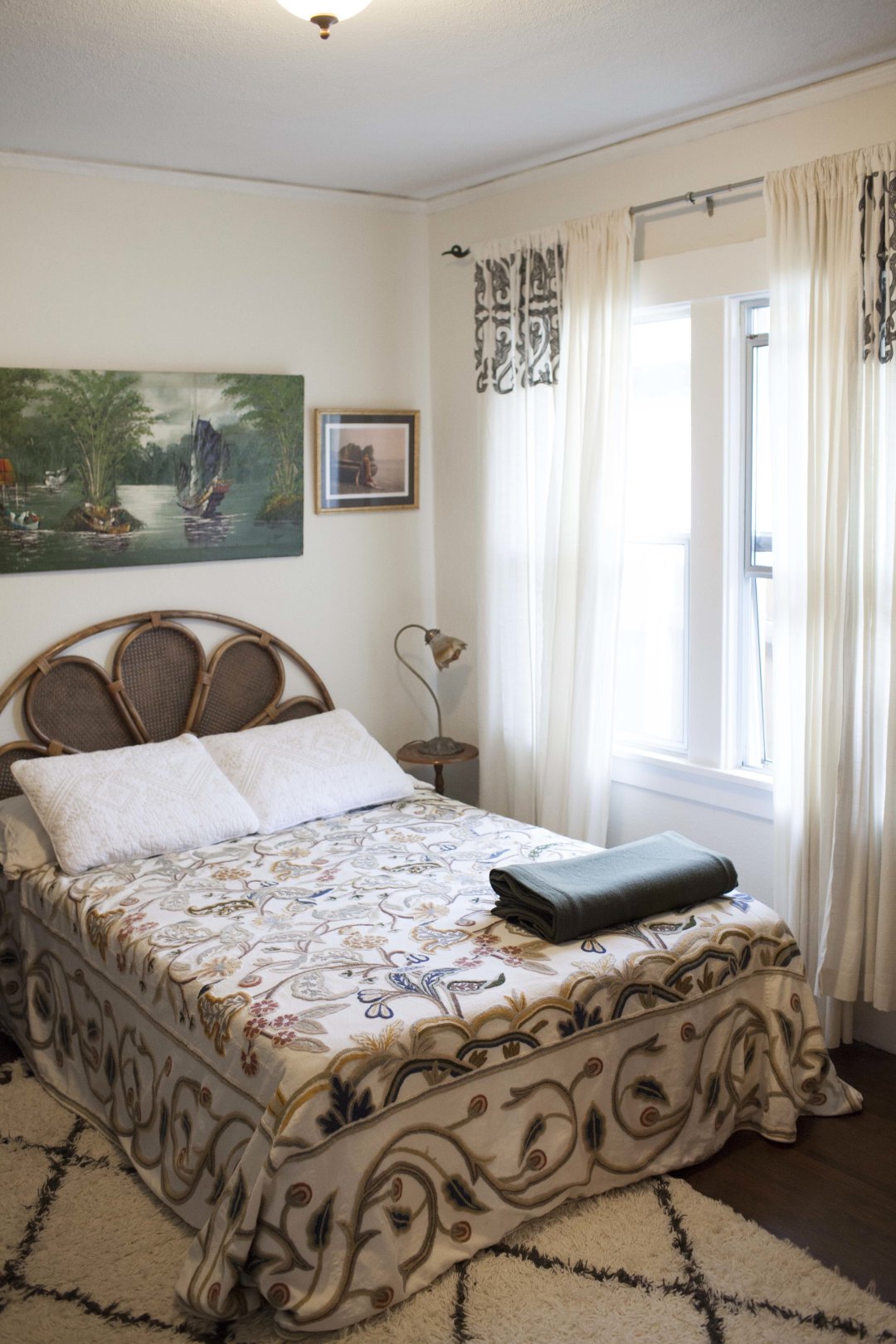 ---
Further resources:
LIVING ROOM
Crochet Valance — Amazon
Crow sculpture — Kelly E McLaughlin
Flora (Tattooed Girl) Art Print — Emily Winfield Martin
DINING ROOM
Drum pendant fixture — Seattle Lighting
KITCHEN
Jalapeño Jelly Paint — Valspar
Sheer Curtains — Target
Moon Calendar – Chelsea Granger on Etsy
HALLWAY
Cliveden Henna Red Paint — Valspar
GUEST BEDROOM
Safari Sun Paint — Valspar
ANA'S VINTAGE SHOP
Rabbit Print — Selena Goodwin
Bags, clothing and accessories- The Oh Ana Shop
Thanks, Ana!
---
Apartment Therapy supports our readers with carefully chosen product recommendations to improve life at home. You support us through our independently chosen links, many of which earn us a commission.