A Beautifully Bold Rule-Breaking Chicago Home
Name: Eva
Location: Chicago, Illinois
Size: 1,200 square feet
Years lived in: Owned 3 years
On a typical residential street in Chicago sits Eva's two-unit home. It doesn't take long to realize this one might be a little unique — a peach tree and a bed of strawberries greet you as you turn toward the pale blue front door. Upon entering you're greeted with bold-colored walls and pillows and unique decor sourced from all over the world in every room of the home. Eva's floor plan is open and spacious and spills out onto the large back porch with additional seating areas to enjoy in the backyard.
Eva isn't afraid of color or breaking a few of the usual design rules. She passes on great advice when making color choices, whether it be for walls or furniture — "You'll never regret going with the bold choice." Eva has included a thoughtful find in every corner of her home.
Apartment Therapy Survey:
My Style: Urban farmhouse, inside and out. There is a peach tree and strawberry patch in the front yard; and a grape-covered pergola and five raised vegetable beds in back. I grew up in the country, but spent my adulthood in the city. But I love the theatricality of opera and theater.
Inspiration: The previous owners had rehabbed the house with that funky rustic, brown trim. It works well with both light and dark colors in a way that white wouldn't. I just followed that modern rustic vibe. That set the tone for everything. When I hung curtains in a way that hid the trim, the personality disappeared so I set the curtains within the window frames on tension rods to keep from hiding the trim.
Favorite Element: The floor-to-ceiling bookshelves in the "library" that leads upstairs. My recipes and decorating magazines can be easily reached from the comfy chair.
Biggest Challenge: Lots of small rooms including a lopsided kitchen. I didn't want to put a breakfast table next to a dinner table so I turned the non-functional side of the kitchen into a reading nook. The chaise doubles as a banquet and the drop-leaf table opens up to make a great second games table on board game nights.
What Friends Say: Friends say it looks like me. I've had a lot of real estate agents in recently and I was afraid people would tell me to paint the walls all gray and paint the trim white, but they all love the house because it's NOT cookie cutter. They also like that it's been updated without losing its character.
Biggest Embarrassment: I tried stenciling the stair risers, but it came out blurry so I used paint samples I had on hand to cover my mistakes in various shades of teal. I also have not got around to refinishing the dresser in the library because I can't decide on a color.
Proudest DIY: Sanding and painting all the deck and porch rails, and the iron fence. I painted everything inside the house and garage, but the outdoor projects were the hardest.
Biggest Indulgence: I always have flowers around the house. In the winter, it's white poinsettias because they last forever and no one recognizes them after Christmas. In summer, it's farmer's market gladiolas. In autumn, it's mums. And of course, lots of Home Depot orchids, which I coax into re-blooming. Outdoors, I grow lots of flowers in and among the vegetables so the views from the pergola or deck are quite lush.
Best Advice: When I bought my couch, I couldn't decide between neutral upholstery or a bright color, so I asked other shoppers to decide. One woman said, "Get the blue. You'll never regret going with the bold choice." I've followed that advice when choosing colors ever since.
Black appliances are chic and you can cut down visual clutter by using black towels and potholders.
I also collect throw cushion covers that zip on and off the down inserts. It keeps me from getting bored with a room without taking up much storage space.
Dream Sources: Funny story: I dated a Swedish antiques dealer when I lived abroad. He said I had a really good eye so when I moved back to the US, I searched for 18th century Gustavian pieces like he owned and nearly fell over to discover that mirrors and chandeliers like his cost $40k and $140k respectively! I also drool over de Gourney wallpaper murals. I'd love to do an elegant pale pink living room in my next home with oversized floral wallpaper mural in the foyer.
More realistically, I love the CB2 catalogues and subscribe to a lot of decorating magazines, but I mostly shop at the Salvation Army two blocks away and other second hand shops. Also the Crate & Barrel Outlet Store which includes CB2 items, but it moved to the burbs so I can't get there anymore!
---
Explore This Style: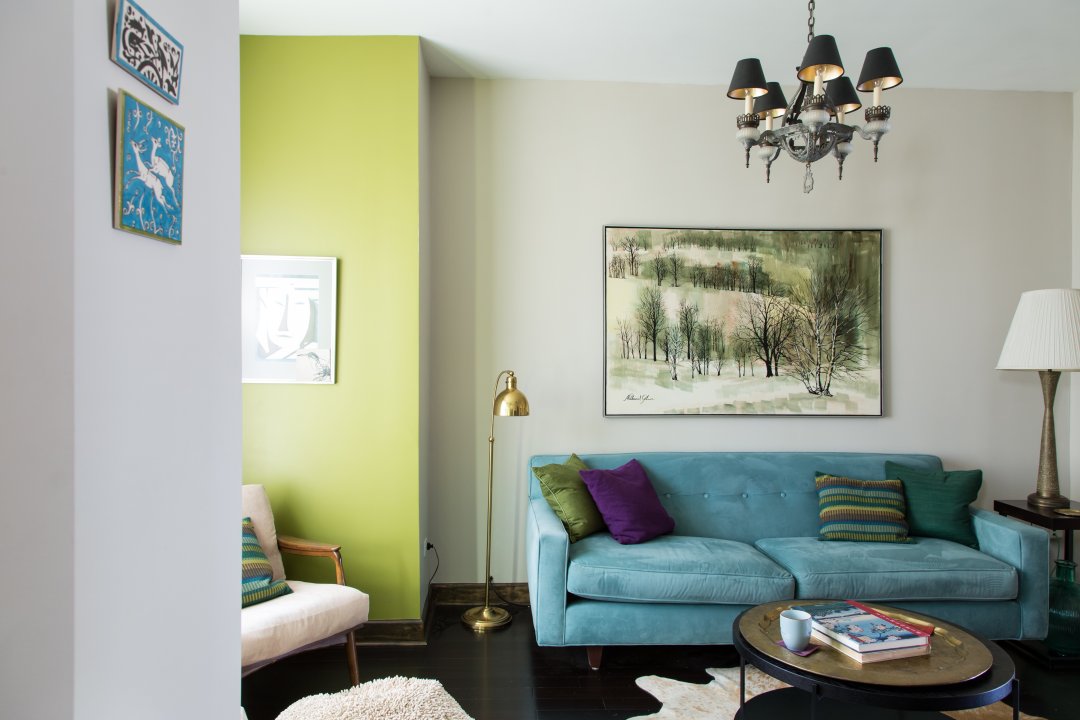 ---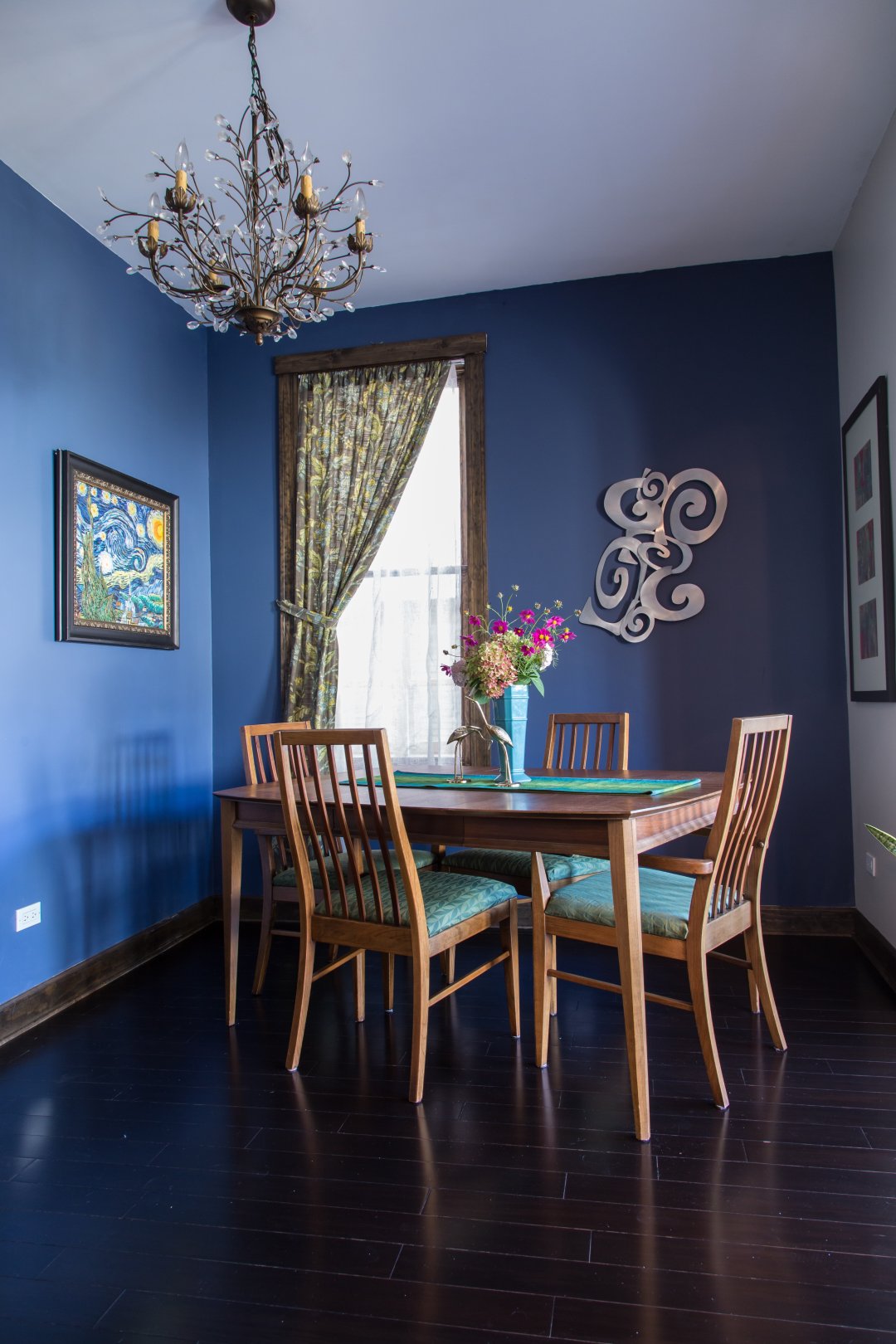 ---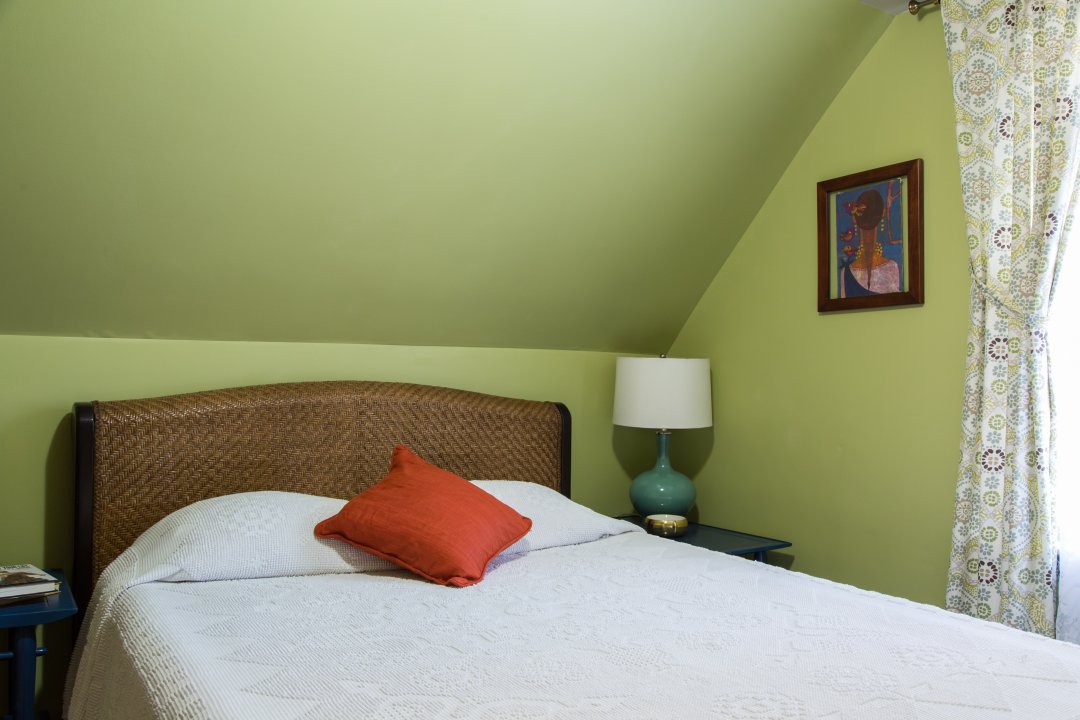 ---
More Resources:
PAINT & COLORS
Front Door — Behr Marquee from Home Depot
Entry — Benjamin Moore: Edgecomb Gray and English Channel
Living Room — Benjamin Moore: Edgecomb Gray and Forest Moss
Powder Room — Nevada Sky from Pratt & Lambert
Dining Room — Benjamin Moore: English Channel and Revere Pewter
Kitchen — Popular Gray from Sherwin Williams
Kitchen Ceiling – Nevada Sky from Pratt & Lambert
Library — Benjamin Moore: Edgecomb Gray and Forest Moss
Upstairs Bathroom — custom mixed from leftover paint

ENTRY
Bamboo mirror — Salvation Army $5, the other mirror came with the house
Gray stools at front and back doors – Threshold storage ottomans from Target (no longer available)
I stole the Asian mask from my boyfriend and the "bird" mask is a souvenir from Cirque de Soleil

LIVING ROOM
Pillows — I have a suitcase full of zip off cushion covers from Crate & Barrel that I swap out when I get bored
Mid-Century chairs — second hand, $20 each. Recovered in $5 per yard corduroy
Couch - I call it the Aqua Velvet. It's the Dorset sofa from Rowe that I bought at Casona in Andersonville
Most art is thrift shop art for $5-$40 or was bought at the Old Town Art Fair. The two ceramic plaques are from the Armenian Quarter of Jerusalem.
Small side table and glass console — Pier One (floor models on sale)
Brass lamps — Salvation Army
Brazilian cowhide rug – from Casona
Brass Tray — second hand. The folding base wasn't sturdy enough to support my boyfriend's feet so I was happy when I found a sturdy coffee table to put it on.
Coffee Table – Domicile Furniture (floor model)
POWDER ROOM
Mirror – found in the house when I bought it
Little wooden elephants – bought in Sri Lanka
Paint-by-number art — second hand
Faucet – similar to Delta's Porter in Oil Rubbed Bronze from Home Depot

DINING ROOM
Paintings — Salvation Army (including the faux Van Gogh) or Pilsen Art Fair
Wall sculpture — Old Town Art Fair
Dining room set and modular bookshelf — Edgewater Antique Mall
Runner – Crate & Barrel Outlet
Curtains – World Market
Brass egrets – Little Shop of Hoarders, Allegan, MI
White sheers – Target (no longer available)
Chandelier – Camillla six-arm chandelier from Pottery Barn

KITCHEN
Black drop-leaf table – Nadeau
Chaise – Drake, Left Arm Chaise from Crate & Barrel outlet store
Blue sconce – Unique Thrift Store
Butcher block cart – Ikea
Black Appliances – GE Profile

LIBRARY
Chair – Elyse chair, clearance (kicking myself I didn't get both I saw) Crate & Barrel outlet store. Still available in solids and other prints.
Dresser – Salvation Army
Red Berber Rug – bought in Jerusalem, Israel
Embroidered banner and green textile on window – bought in India
White sheer curtain – Target (no longer available)
Brass pineapple lamp – Salvation Army
Handwoven runner – bought in Argentina
Batik artwork over dresser – Old Town Art Fair
Other art – bought in Ecuador
Ceiling Fixture – Home Depot

BEDROOM 1
Dresser – Ikea
Rattan Chair – Salvation Army
White chenille bedspread – Salvation Army
Printed Curtain – World Market
White sheet curtains – Threshold Botanical burnout sheers from Target
Rug – Wilson blue-teal rug from Alexander Home from Overstock
Rattan Platform bed — Spices Rosebud Platform Bed from Sears (without the footboard)
Lamp – Marshalls
Artwork – bought in Ecuador

BEDROOM 2
Platform Bed – Trysel from Ikea
Dresser – Latitude from CB2 (no longer available in blue)
Leaf rug – Anthropologie clearance
White Bedspread – Indira from Ikea
Blue Pillow – Crate & Barrel outlet
Green pillows — they came with my couch
Brass Lamp – Unique Thrift Store

UPSTAIRS BATHROOM
Painted tin containers on window sill – World Market
Slate floors and shower surround
Faucet – similar to Delta's Porter 4 in. Centerset in Oil Rubbed Bronze from Home Depot
Thanks, Eva!
---
Apartment Therapy supports our readers with carefully chosen product recommendations to improve life at home. You support us through our independently chosen links, many of which earn us a commission.