Here's What $1500 Will Rent You in Each of NYC's Boroughs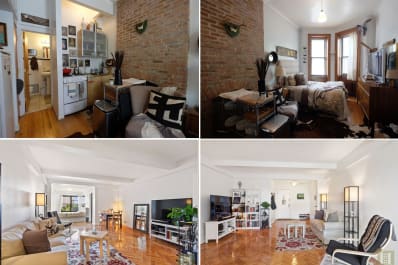 (Image credit: via Zillow)
Yep, living in New York City is expensive, especially when it comes to real estate. Even $1 million doesn't get everything on your wishlist. Yet, over 8.5 million people live in the Big Apple, and at least some of them live in relatively affordable, non-rent controlled apartments. So we scoured what's currently on the market, and came up with ten rentals across the five boroughs for around $1,500 a month. What does that get you in Manhattan versus Staten Island? Let's find out.
Manhattan
Okay, so this is... um... narrow, but there's a loft? That fits a queen bed? And it has a window and a built-in AC. Plus, its own bathroom with a shower. Probably no kitchen or closet, but who needs to cook, right? There's $1 pizza everywhere.
This studio in Harlem has a ton of charm: exposed brick, hardwood floors, sunny windows. Its small size hasn't deterred this renter from making it cute and functional— snaps to them.
Brooklyn
This 500-square-foot studio is brand new, people. The living space looks like it gets good light, there's a corner kitchenette, and... a strange closet nook/display area? But hey, no one's peed in the shower.
This brownstone one bedroom isn't shiny and new, but it has 700 square feet and a small room off the bedroom that could be an office or—dream of dreams— a walk-in closet.
Queens
This Astoria studio has some charming details like its hardwood floors and moldings. The bathroom may be narrow, but the apartment is in a cat-friendly elevator building, and it appears that there are two whole closets. Score.
This 650 square foot one bedroom is a 10-minute walk to the 7 train, and could possibly have an in-unit washer/dryer. Either that or one is "near by." Maybe you want to roll the laundry dice.
Bronx
Here's a 2 bedroom with new appliances. Sure, there's laminate throughout, but it's close to the zoo, botanical gardens, and Arthur Avenue. *Italian chef kissing fingers emoji*
This spacious studio has gorgeous floors, park views, a separate kitchen, and three whole closets. Yes, THREE. That's like a New Jersey amount of closets.
Staten Island
You get a whole 950 square feet in this Staten Island apartment. This one is the upper floor of a house, with 2 bedrooms and an eat-in kitchen.
Another 2 bedroom, this one 800 square feet and complete with a pink vintage bathroom— which is either your jam or your worst nightmare. It also has a separate entrance so you never have to run into your neighbors.