Here's the Most Nick Offerman Way to Spend New Year's Eve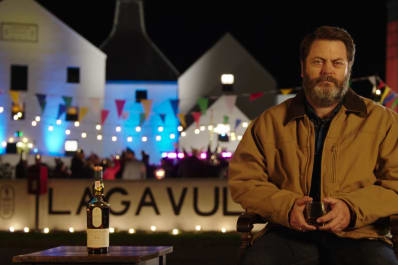 (Image credit: YouTube)
New Year's Eve usually involves the four Cs: Countdowns, Confetti, Champagne, and Crowds. However, that's not everyone's speed. If you'd rather ring in 2017 in silence with a glass of whisky, Nick Offerman has you covered.
Last year, the actor and whisky enthusiast gave us an alternative to the yule log. This year, we can say goodbye to 2016 as Offerman sips a glass at Lagavulin's headquarters in Scotland.
Running at just over an hour, the video features a countdown to midnight as the man who brought Ron Swanson to life enjoys his single malt in the foreground and a party gets increasingly festive behind him—which you can enjoy while wearing sweatpants from the comfort of your own couch.
But what about resolutions? "I never make New Year's resolutions because I apply myself to every day of the year in a fashion that can only be described as 'resolute'," Offerman said in a press release. "Because I am not a fool, my determined recipe for delicious living naturally involves a responsible savoring of Lagavulin."
Cheers to 2017.