8 GIFs That May Convince You to Pick a Colorful Couch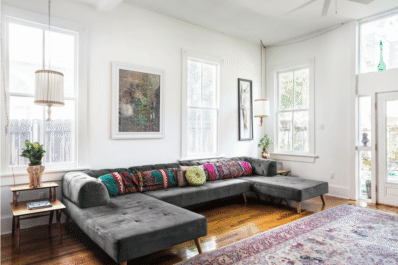 "Logic and boring people advise buying a couch in a neutral color because it's more versatile and will 'go with everything'. Logic sometimes sucks," confesses Rory of A Vibrant Urban Jungle Paradise in Downtown LA. "I subscribe to accent couches, not accent pillows."
→ Above, moss green in A Mixed Media Artist's Colorful, "Thrown Together" New Orleans Home
In this post, I've turned colorful couches into gray—a common, neutral color that shows up in homes today very often (full disclosure, even MY couch is gray). But with these GIFs below, you can see that though a nice, safe, neutral gray couch will go with just about any style of decor—a colorful couch sure makes a statement.
See below how the rooms look just dandy with a gray couch, but then come alive when color is added back in. This visual proof of the power of a colorful couch may be just the inspiration you need to skip the accent pillow and go for the accent couch next time.
→ A fun emerald green in A 500-Square-Foot Boston Studio Apartment Is Enviously Chic
→ Basic blue in A Vibrant, Beachy California Family Home
→ Bold blue in Joyce's Modern & Personalized West Oakland Loft.
→ Showstopping aqua in A Vibrant Urban Jungle Paradise in Downtown LA
→ Cheery yellow in Jag & Agata's Colorful Canadian Townhouse
→ Moss green in Amanda's California-Inspired New York Apartment
→ Electric orange in Eric's White & Technicolor Baltimore Loft