Dining Room Design Details to Steal from an Incredibly Charming English Restaurant
Manchester-based Evelyn's Cafe & Bar is a cozy-looking neighborhood spot for eating and hanging out. Designed by Central Design Studio, it feels less like a restaurant and more like a stylish friend's home. And there are some design details in this space that inspire.
From Ian Haigh, of Central Design Studio:
The aim with Evelyn's Café and Bar was to create a neighbourhood restaurant, which instantly felt like a local favourite.
Taking inspiration from the informal and relaxed all-day restaurants of the Lower East Side and Brooklyn in New York, we set about making the most of the warehouse setting of the Northern Quarter, but also concentrating on creating an atmosphere that was warm and welcoming.
Natural aniline leathers and linen upholstery were used on locally-made banquettes to give a very natural, relaxed feel, and a feature 'green chandelier' by florist Grace & Thorn was installed as a centrepiece.
Design details that give this restaurant a homey vibe: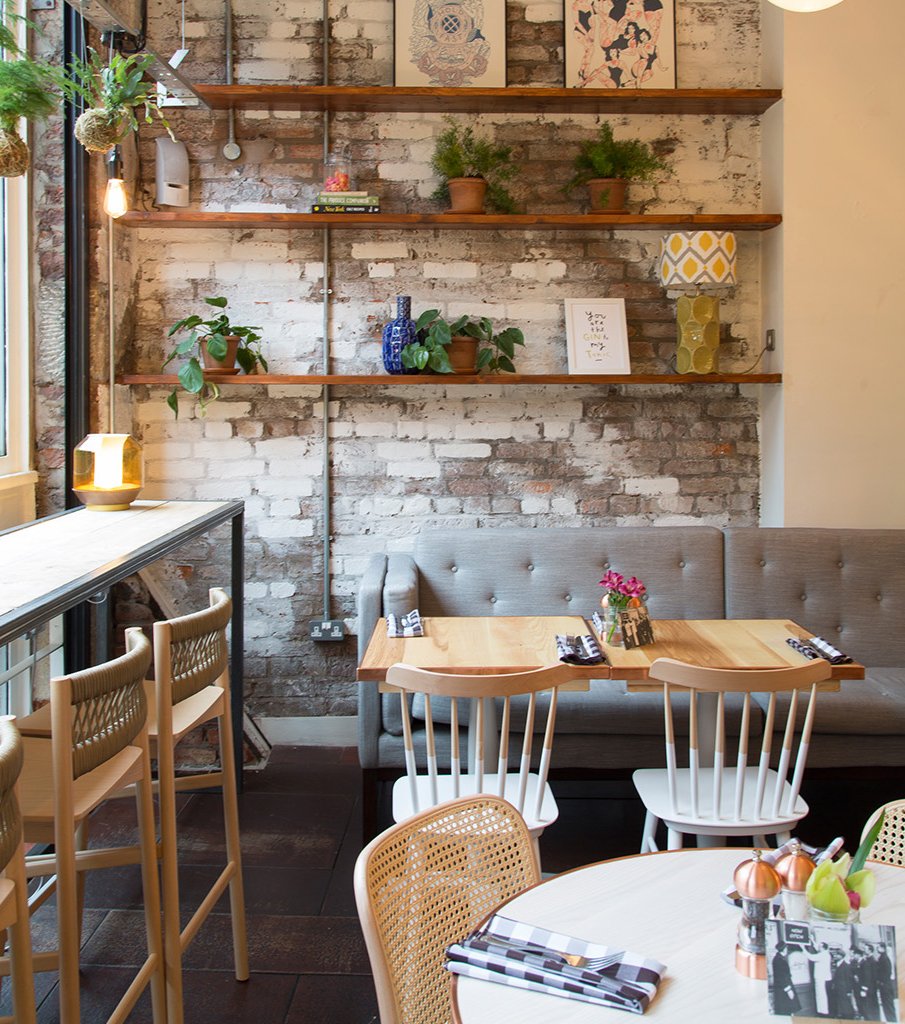 A comfy sofa mixes with conventional seating
Replace the chairs on one side of your dining room table with a sofa. Look for one that is comfy but that doesn't sink too low. I suggest a sofa with lower armrests. Find inspiration → Comfy & Chic: Best English Roll Arm Sofas
Simple paint jobs add charm
The dip-paint look is no longer a "trend," but it's still a simple idea you can employ with older furniture to spruce it up. Get help → How To Paint Furniture for a Professional-Looking Finish
Table linens are casual and fun
Table cloths and cloth napkins don't have to feel fussy or formal—DIY decor to add color and pattern to your table. Some great DIY projects to try → 40 Entertaining Items You Can Make Yourself
Caned and woven furniture adds texture and warmth
Furniture made of natural materials like wicker and rattan add great texture to an eating space, especially in the presence of a lot of solid dining furniture. It's not your grandma's wicker anymore → Rattan Redux: Updating an Old Favorite
Plants add leafy greenness
Any plant in your dining area will bring life to the space, but vine plants like Pothos create a particularly cozy feel. → We've Reached Peak Fiddle Leaf: Is This the New "It" Plant?
Lighting is low and intimate
Turn those overhead lights off when entertaining in your dining area! Table lamps and candles bring the light lower to where the eating action is. → The Very Best Lighting Under $100
• Are you a designer/architect/decorator interested in sharing a residential project with Apartment Therapy readers? Contact the editors through our Professional Project Submission Form.