Check Out This Fancy Cat's Living Room Makeover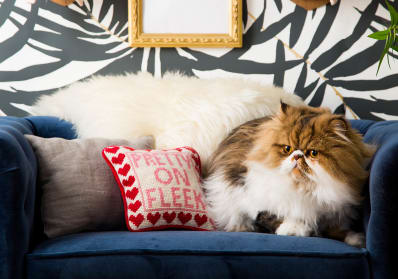 (Image credit: Dustin Walker/Laurel & Wolf)
National Cat Day was October 29, which this year fell on a Saturday (or as the more feline-inclined call it, Caturday). How does a cat celebrate this very auspicious holiday? One regal kitty got his very own living room makeover, and to be honest, we're kind of jealous of his style.
Descartes is a fluffy Persian with discerning tastes, so Laurel & Wolf designer Ashley Bussell decked out his space in velvet, high contrast wallpaper, gold accents, and some faux mice taxidermy. We have to admit, he's so Classic Glam.
(Image credit: Dustin Walker/Laurel & Wolf)
Check out more photos and details over on Laurel & Wolf.
h/t Elle Decor