Breezy Bedroom Style: How to Mix Modern Whites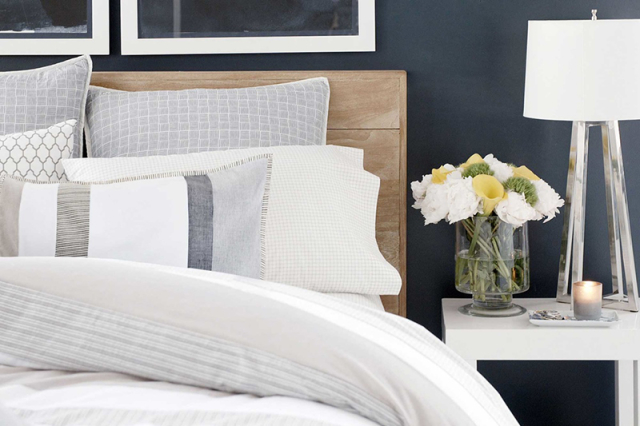 Everyone knows the rule: No white after Labor Day. But Coco Chanel completely ignored it, and you can too. If anything, why not use the summer staple year-round to hold onto that feeling of breeziness? White-on-white has reached new heights, from linen shirts to cotton sheets and in myriad ways to mix textures and tones. To get the look, dress your bed the way you'd dress yourself: with the right fit, fabrication and details.
1. Start with clean, crisp fabrics.
It's how you build an outfit, right? In your closet, you might start with a breathable linen or cotton shirt. On your bed, begin with cotton percale (a tightly-woven, medium-weight fabric) or linen sheets. Natural-fiber fabrics breathe well and keep you cool in the summer and warm in the winter.
2. Add lots of layers.
The way to make white clothes work year-round is to add a loose-knit sweater or lightweight jacket. In the bedroom, get the layered look by putting a coverlet or quilt over your sheets, then layering on a comforter or duvet. In warm weather, you can fold the duvet at the foot of the bed.
3. Bring depth to a white bed with pattern.
Stripes and small-scale geos break up the flatness of white-on-white. When picking a pattern, look for something that's neutral and/or not too big, since subtler variations in scale will keep the bed looking modern and monochromatic.
4. Use khaki or ocean-inspired colors for contrast.
In the same way that a straw sun hat or faded blue jeans pair perfectly with summer whites, a woven jute rug, reclaimed wood headboard or chambray-printed pillow can be just the thing to add some cool, neutral contrast.
5. Be playful with pillows.
You know how gold sneakers or a bright scarf can loosen up the all-white look? On a bed, pillows are the accessories that make the outfit. Be bold with a print, color or texture. Pillows are low-commitment, and you can always swap the covers out if you want to update your look later.
This post is sponsored by Nautica Home.
Thank you for supporting the brands that make Apartment Therapy possible.