Bookworms, Carry Around Your Favorite Novel As a Purse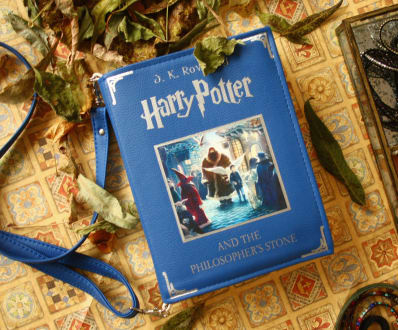 (Image credit: Krukrustudio)
If you have an unapologetic love affair with books, it's probably not unusual for you to carry at least one of your most beloved reads with you everywhere. Thanks to Krukrustudio founder and artist Max, these bookworm-friendly purses inspired by your favorite novels offer a fashionable new way to tote your belongings while openly pledging your allegiance to your dog-eared copy of Harry Potter and the Cursed Child.
Of the Moscow-based studio's literary-inspired Book Bags, Max told Mashable, "The idea just came from above. We just finally decided to work together on something creative. So we decided to make bags (because everyone needs a bag) but to make it the most unusual."
(Image credit: Krukrustudio)
And these accessories are unusual—in the best way. The bookish bags are made from leather, faux leather and wool felt and some are available in three different sizes. Obviously, there are loads of Harry Potter designs, along with an Anna Karenina felt book purse, The Count of Monte Cristo bag and there's even a dictionary Book Bag that is sure to lure logophiles in its direction.
Also, if a purse that pays homage to your favorite TV show or Shakespearean play better suits your fancy, Book Bags inspired by popular series like Grey's Anatomy and Doctor Who are also available.
(Image credit: Krukrustudio)
According to its creators, the process to construct a Book Bag from start to finish is handled with the same level of care book-lovers tend to give their precious page-turners.
"Each bag is different. We may have many ideas that stay on paper for years. But if we finally start working on a specific bag then it takes one to seven days to make it," Max said. "We start from a tiny image that becomes a pattern, which becomes a prototype. Then we make corrections according to our taste and then finalize it as a finished bag."
Krukrustudio's Book Bags are priced between $99 and $175 and are available for sale on their website and Etsy.