Best Way to Celebrate Queen Elizabeth's Birthday? 90 Corgi Pillows, Of Course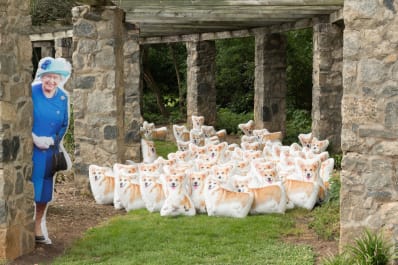 (Image credit: Spoonflower)
The Queen loves corgis. Her 90th birthday celebration is on Saturday. What better way to mark the the occasion than with... 90 corgi pillows?
The tribute was created by Spoonflower, a website that lets users design, print and sell their own fabric – including fabric printed with photographs of their pets and then made into pet-pillow clones of their dogs or cats.
(Image credit: Spoonflower)
Spoonflower also created a body pillow of the Queen herself, resulting in some seriously adorable (and fluffy) photos.
While they hope to someday present the pillows at Buckingham Palace, Spoonflower may consider auctioning them in aid of one of the Queen's favorite charities.
Want to make your own doggie doppelgänger? There's a tutorial for that.
(Image credit: Spoonflower)