Believe It Or Not, This Roof Is Solar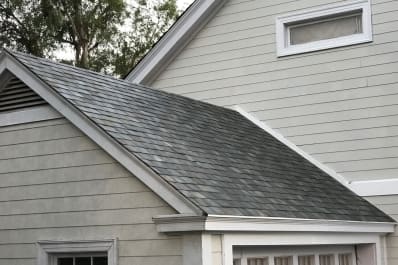 (Image credit: Tesla)
Leave it to Tesla to finally make solar power less ugly. On Friday, Elon Musk unveiled Tesla's new Solar Roof, and if you're wondering where the panels are, they're hiding in plain sight.
Tesla's solar panels are glass tiles that look surprisingly like your average shingle or roofing material from the street, but are nearly as efficient as a traditional solar panel.
Created in partnership with 3M, the companies are working to improve the current prototypes so that they have the potential to go above normal energy efficiency by trapping more light.
The quartz glass is super durable, and has two to three times the longevity of an average asphalt roof. Plus, when you pair the installation costs with the energy savings, it becomes less expensive than a regular roof, though no specific pricing was quoted at the event.
Solar Roof is starting with four styles: Tuscan, Slate, Textured, and Smooth, with one or two styles available starting summer 2017.