Before and After: An 1860s Home in New Orleans Gets a Major Kitchen Upgrade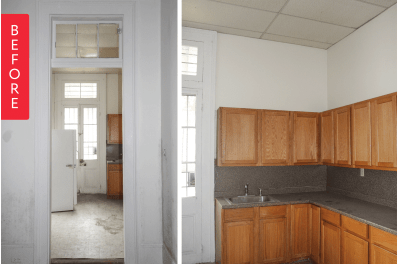 (Image credit: Tim Sheehan)
When Tim Sheehan bought an 1860s Greek Revival home that had been abandoned for six years, the kitchen was crammed into a small room at the end of a hallway. The house was used as a rectory for 80 years, so a full kitchen wasn't necessary when the home was first constructed.
So Tim gutted the back hallway, knocked down a wall that once enclosed the tiny, impractical kitchen and removed sheet rock and a drop ceiling to reveal wood walls painted white. He decided to maintain a rustic vibe in the hallway and relocated the kitchen to an adjacent room.
The room he decided to convert into the kitchen was painted deep red and had dated wallpaper trim. As he tore through sheetrock and drop ceilings, he discovered walls made of 5 1/4" wide tongue and groove heart pine. He sanded the wood and kept some of it exposed to achieve a warm, rustic look and save money, and painted the rest white. He hired local woodworker Jeremy Gresham to build kitchen cabinets using heart pine salvaged from the wall he removed in the back hallway.
Tim stripped the white paint from the wood doors and trim and kept the overall design of the room simple, allowing the beautiful salvaged pine to shine.
A hand-carved cypress medallion was hidden behind a drop ceiling. Tim stripped the white paint, restoring it to its original beauty.
He added an antique hutch to display a collection of bottles unearthed during the renovation of both his childhood and current homes and Shearwater Pottery from his hometown, Ocean Springs, Mississippi.