Before and After: A Cramped Condo Living Room Gets a Gutsy Mural Makeover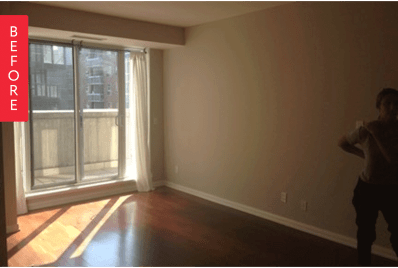 (Image credit: Margo Haines)
This tiny living room was the first challenge for sisters Kate and Jennifer when they were preparing to move into their condo, a home they wanted to be able to share with visiting friends and family. Unsure of how to make their limited space as functional and stylish as they hoped, the sisters hired design team Margo Haines and Jill Finney at Margo Inc. to help solve their space and style dilemmas.
Since the already tight space couldn't afford to lose an inch of room to swinging doors, the first order of business was to replace the door leading to the master bedroom with a space-saving modern barn door, which could easily slide behind the couch.
Because the girls wanted their parents and friends to have somewhere to sleep when they visited, Margo and Jill prioritized a high-quality sleep sofa over other decor options and chose a deep-seat Lee Industries sectional for maximum comfort and style.
Instead of crowding the wall with picture frames, the designers commissioned artist Kristine Oke to paint a subtle Pinterest-inspired mountain mural on the wall. Kate and Jennifer are avid snowboarders and fell instantly in love with the concept.
Fashion books, designer accents, and a glass and chrome coffee table complete the look without cluttering the remaining space. Media items stay hidden away inside the custom built-in cupboard, giving the appearance of chic spaciousness.
---