Before & After: Maria's Custom Cabinet Kitchen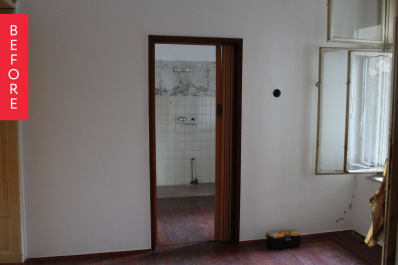 (Image credit: Submitted by Maria )
I often think of custom made cabinets as a luxury, but for Maria, they're a necessity. There's no IKEA in Serbia, so Maria had to do all of the measurements and design herself, the result is a cool & sleek European kitchen.
(Image credit: Submitted by Maria )
From Maria: I bought this one bedroom in July 2015 and had only month to renovate it. All major demolition, plumbing and electric work was done by contractors. By the time they left the place, I was almost broke. The entire kitchen was designed by me, and assembled with the help of my brother in law. In Belgrade, Serbia where I live, all kitchens are custom made, we have almost no pre-cut and ready to assemble cabinets. There is no IKEA in Serbia yet. But you can measure, calculate and have laminated sides and fronts cut to your specifics. You will notice that I have no drawers, since they where harder to calculate and assemble.
The washer, dryer, refrigerator and dishwasher are concealed. To cut costs I used chalkboard black paint as backsplash. For visual openness I decided to skip upper cabinets. The cost of entire kitchen, excluding the appliances, was around $800.
Thank you, Maria!