Before & After: A Sticker-Covered Cabinet Gets Sophisticated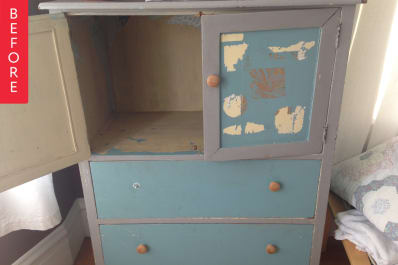 (Image credit: Submitted by Rosa)
If a cabinet can survive years of kid style wear and tear, you know you've got a sturdy piece of furniture on your hands. After removing any trace of Brontosauruses and sharks, Rosa set to work giving this old cabinet new life.
(Image credit: Submitted by Rosa)
From Rosa: This cabinet was purchased about 25 years ago in a thrift store to use in a child's room. It was covered with stickers of animals, surfboards and all kinds of kid stuff.
First I removed the doors and the many, many layers of paint with the least toxic paint remover I could find, then lightly sanded and primed it. This took a lot of time because I wanted it to be a clean surface.
Finally, the fun part, to pick a paint, and so many to choose from!! I tested a couple of colors and chose this dark gray with just a hint of blue by Benjamin Moore called Abyss.
The knobs are from the store, Bauerware in San Francisco, but they have an online site as well. They are dark bronze and called French Button.
Because I wasn't in a hurry and took my time, it was kind of relaxing and I'm very pleased with the result.
Thank you, Rosa!