Before & After: A Quick & Cost Effective Rental Kitchen Fix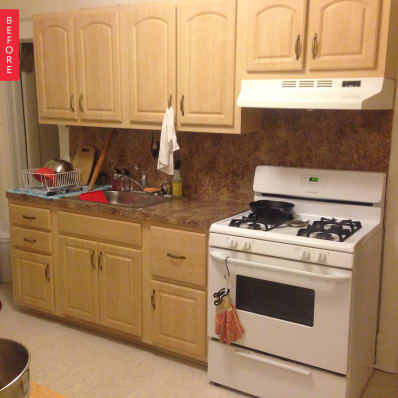 (Image credit: Submitted by Kathryn)
Our kitchen has really tacky fake granite particle board counters. Someone at some point in our building's history thought it would be a good idea to cover the backsplash in this same ugly material, which not only draws attention to how absolutely fake the "granite" is, but also just generally looks horrendous.
(Image credit: Submitted by Kathryn)
Since my husband and I are renters, we aren't allowed to paint it, so we needed a solution that we would be able to remove before moving out some day in the next few years. We opted for a chalkboard backsplash, which (I know) has kind of been done to death, but we are both teachers and I guess we have a soft spot for chalk. I'm really happy with the result and it's fun doodling a new design every so often. The whole project only cost $17 and I have a bunch of contact paper left over. The next step will be replacing the cabinet pulls with something less 1998!
Thank you, Kathryn!