Before & After: A Dingy, Boring Basement Gets a Colorful, Playful Makeover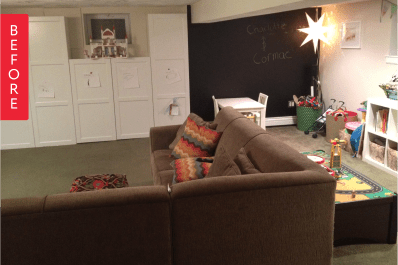 (Image credit: Courtesy of Sarah Hackett )
Sarah and Keith had just begun a transformation on the basement space in their house prior to this "before" photo being taken. While previously a functional space, they wanted a basement the whole family could really enjoy together. They wanted a space that was as inspiring to be in as it was lovely to look at. IKEA shelving and some new chalkboard walls were the first step, but something was going to have to be done with the dingy wall-to-wall carpeting.
But the real transformation came with new, clean hardwoods replacing the old carpeting. Colorful area rugs add a playful feeling to the space, but the patterns of the rugs and leather accents add a sophisticated edge. Now it's a bright, open area where the adults and kids can both have fun!
"We try to incorporate different styles that we like without adhering to one specific aesthetic. We have a mix of traditional, rustic, Chinoiserie, and mid-century furnishings," wrote Sarah.
After renovating the kitchen, half-bath, outdoor space, and basement, they're proud of their home, but Sarah does still have a more renovations in mind. Not surprising for the vibrant house of an energetic family!
"I inherited my love of interior design from my mother. Her taste is more traditional than mine, but she has always taken great pride in how her house looks. Also, my paternal grandmother had an interesting style and I always admired it growing up," Sarah writes in their house tour. "Your house is a continual work in progress. If you want to truly love your home, don't think you can decorate it overnight."
Thank you Sarah and Keith!
See their whole home in their house tour → A New England Craftsman Colonial Goes Contemporary
---