Before & After: A Dark Master Bedroom Brightens Up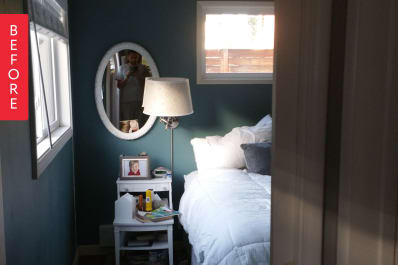 (Image credit: Submitted by Amanda)
Amanda writes: "When we first bought the house, I painted our bedroom this deep, dark teal. I had rented so long, I just wanted to cover every surface with paint and wallpaper! While a pretty color, it made our room very depressing, dark, and cave-like."
When our contractor was taking out the walls and ceilings, we realized we had an awesome pitch to the ceiling. We decided to keep it lofty, and add a faux beam. This room is now so light and airy. We also decided to take down a hallway door, scoot the opening to include the master bath and purchase all new doors. By moving the door down the hallway, we created an en-suite bath. It's been great!
(Image credit: Submitted by Amanda)
(Image credit: Submitted by Amanda)
I basically picked and designed everything. Our fantastic contractor Julien let me know when I was making a bad choice! When I start with a room, I make a "vision board" with a word document. I cut and paste all the things I like, then I bring them to Mike, my husband, and he weighs in. We make all decisions together. Then I source everything. I compare prices on Google shopping, and I hunt high and low for coupons, promo codes and sales. I made spreadsheets for each room so I could keep track of everything I spent.
What Amanda and Mike did to their master bedroom:
Scooted the hallway door down to include our master bath, creating an en suite
Raised the ceiling
Added a faux beam
Purchased two IKEA desks and used them as a long shelf
Added a chandelier from HD buttercup
Purchased bedside lamps from West Elm
Bought a bed from Wayfair
Added a camp blanket from Pottery Barn
---