Before & After: A Bold & Bright ( But Not Too Tropical) Wyoming Kitchen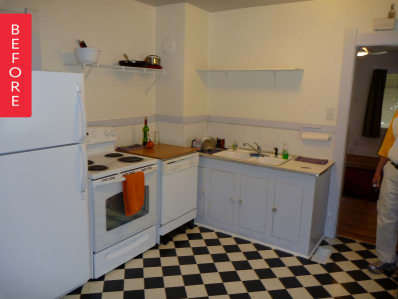 (Image credit: Submitted by Lindsey)
When we bought our little Laramie, Wyoming bungalow, we knew with a little work we could take the bland kitchen up a notch with some imagination, rearranging, and color. Given that the main floor is was so small (642 square feet), revitalizing the kitchen improved the vibe of the whole house.
(Image credit: Submitted by Lindsey)
First we put in a pass-through window/bar to open up the space, then we broke up the straight line of appliances (that was clearly a product of technology evolution in this old place), by retrofitting and installing the dishwasher, which had formerly been on wheels. After that we added in the penny tile, butcher block counters, farmhouse sink, and gas pipe shelving.
Since winter can be long in Wyoming, we opted for cobalt penny tile, pewter grey painted cabinets, and a warm turquoise to breathe some life into our house all year round. The dark wood counters and crisp white trim kept if from taking on a tropical vibe.
Through our DIY adventure we learned a lot and are proud of the work we invested. Although we had to sell the house shortly after the remodel was complete, the new owner loved the kitchen just as much as us and hasn't changed a thing!
Resources:
Sink and butcher block counters - IKEA
Waterlox food-safe sealant on counters with Minwax Walnut stain underneath.
Knobs - Hobby Lobby
Hinges - Antique Hardwear
Penny tile - Overstock.com
Thank you, Lindsey!