Before & After: A $9 Thrift Store Upcycle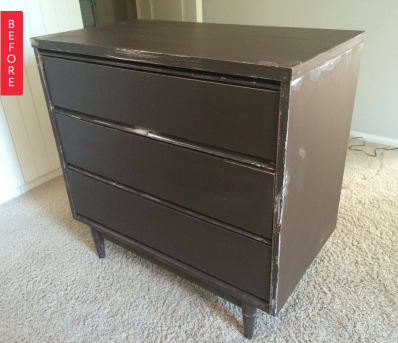 (Image credit: Submitted by Ellen)
My daughter picked up this sad little dresser at a thrift store thinking I might have some fun with it. It had suffered an unfortunate paint job and was nicked and bruised and cried out for some love to bring it back to life. I began by patching any problem areas with lightweight spackle and gave it a vigorous sanding. After I was sure I had really roughed up the finish, I decided to forego primer and went straight for a glossy latex paint in a rich, deep blue-green.
(Image credit: Submitted by Ellen)
After a few coats and allowing it to dry thoroughly for a couple of days, I masked off the triangular areas with frog tape (miracle stuff!) and painted them grey. When this was done I felt like it was still lacking some pizzazz so I applied a patterned paper (that perfectly matched the blue-green paint) with spray adhesive just inside the lines of the grey paint. It was a good choice as it brought the interest I was looking for. To top it off I painted the bottoms of the legs gold to mimic brass fittings, and added Mid Century brass drawer pulls in three styles just to give it an unexpected kiss of fun. I topped it with glass and put photos underneath to replace all the frames that used to clutter my dresser. Now my ugly duckling has found new life and works perfectly in my bedroom!
Thank you, Ellen!
Re-edited from a post originally published 1.17.16-NT